Blissful burger buddy
This simple sauce is summer's best burger hack, and other tips
The beginning of the summer isn't the only time to get creative with your burgers. I appreciate the home cooks who hold back a trick or two to keep the rest of grilling season interesting.
If you're like me, here's a secret weapon to upgrade midsummer burgers, courtesy of chef Chris Kronner: a cheese mayonnaise, which combines the rich creaminess of the condiment with the sharp kick of aged cheddar.
The former Bar Tartine chef, who now runs the kitchen at Henry's in Berkeley, California, introduced the Kronnerburger to the world six years ago and won dedicated fans in the process. His over-the-top version includes an extra meaty, dry-aged beef patty; specially grilled onions; a housemade bun that's the same diameter as the patty and the crowning touch: warm, salt-roasted bone marrow.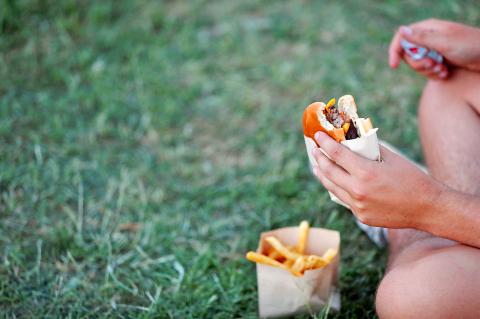 A concertgoer in April eats a cheeseburger at the Coachella Valley Music and Arts Festival in Indio, California.
Photo: Reuters
But for me, the genius part is the cheese mayo. Kronner isn't anti-cheese, but if you're cooking high-quality beef, a slice of cheddar can obscure the meat's funky flavor and texture.
"For all the care that goes into a dry-aged patty, it is better highlighted by a sauce as opposed to melting cheese over it," he says.
His sauce has the texture of a very thick mayo that melts slightly onto the warm bun and meat; its flavor is the platonic ideal of a sharp cheddar, turned into a creamy, melt-in-your-mouth sauce.
In May, Kronner published A Burger to Believe In with Paolo Lucchesi, food editor at the San Francisco Chronicle. The cookbook highlights every element that goes into building the Kronnerburger at home, plus hacks for less ambitious cooks. Following is a recipe for the exceptional sauce, plus Kronner's tips for making an exceptional burger.
And if you want to taste Kronner's version in person, keep your eyes open for a series of pop-ups across the country. Or wait for the as-yet unnamed restaurant he's opening in the fall near Union Square in San Francisco. The chef says a Kronnerburger will be on the menu.
CHEDDAR MAYO
Makes about 1.5 cups (enough for 8-10 burgers)
3 large egg yolks
1 tablespoon distilled white vinegar
Three-fourths teaspoon mustard powder
Three-fourths teaspoon kosher salt
1 cup vegetable or other neutral oil
3 oz grated aged sharp white cheddar
In a food processor, combine the egg yolks, vinegar, mustard powder and salt. Process until combined and doubled in volume, about 30 seconds.
With the machine on, slowly pour in the oil as the mixture thickens to a mayonnaise. Add the cheese and process until smooth. Refrigerate for up to 2 weeks.
BURGER TIPS
If you want to replicate the Kronnerburger in full, be prepared. A Burger to Believe In has recipes for everything from the buns (pain de mie style, moist and light) to the dill pickles (there are 17 ingredients), as well as pages on dry-aging meat at home. But he also recognizes the different levels of burger connoisseurship from the "Extremely Lazy" (have burgers delivered) through the "Really, Really Dedicated" — "build a small dry-aging chamber, dry-age your beef and scream at family or roommates about how they don't appreciate anything."
For those who fall somewhere in between, Kronner has the following tips.
USE BEEF THAT'S GROUND FRESH
This will help control the amount of fat — ideally around 30 percent — and the texture, which should be coarse. Find a butcher who will grind a blend for you, or buy a grinding attachment.
If you don't have a grinder, you can hand-cut your beef. (Kronner sees his burger as, essentially, a seared steak tartare.) To do that, chill the beef in the freezer until firm but not frozen, then cut it into quarter-inch slices, then into quarter-inch strips, and then into small cubes. This version works well in a cast-iron skillet, but not so well on a grill.
Cooking over wood matters
At least, as opposed to gas grills. "It makes a bigger difference than you realize," says Kronner, who's also OK with charcoal. Seared in a cast-iron skillet works, too, but to accentuate the crust, rub one side of the patty with a little softened butter before cooking over high heat.
COMPROMISE OVER ONIONS
Because people are divided about how they want their onions on a burger, find a half-measure and grill red onion slices on one side only, which gives you the benefit of crunchy texture but also caramelized sweetness.
SAVE TOUR BUNS
You can resuscitate even the saddest burger bun by buttering the cut sides and then griddling until crispy. If the buns are stale, cover them with a lid so they steam a little bit. (But really, you shouldn't be using stale buns in the first place.)
GO MAYO CRAZY
The cheese spread goes way beyond burgers. You can mix it into potato salad, use it as a dip for French fries, or spread it on a club sandwich or BLT.
Comments will be moderated. Keep comments relevant to the article. Remarks containing abusive and obscene language, personal attacks of any kind or promotion will be removed and the user banned. Final decision will be at the discretion of the Taipei Times.