Highlight: French Bastille Day in Dihua Street
This weekend, Association des Francais de Taiwan (台灣法國人協會) will host their annual event celebrating Bastille Day, a French national day that symbolizes glory and unity. This event provides an excellent opportunity to interact with local French citizens. The venue, Ivy Palace (草御殿), a traditional tea room hidden within old storefronts on Taipei's Dihua street (迪化街), creates a simple yet novel aesthetic.
In celebrating Bastille Day, this event will display many aspects of French culture. Starting at 3pm, the "Gourmet afternoon" will feature a selection of delectable French desserts (crepes, macarons, pastries) and drinks (French wine, beer, soft drinks). Then, at around 6:30pm, live and off-stage performances by dance groups, magicians, acrobats and various artistes will begin. As an exclusive event, the organization has invited an iconic DJ group named French Torch and numerous dance groups, most notably Fuzzy Wall.
The entrance fee for students (NT$300) and children under 12 years old (free) makes this party an ideal destination for a family or a group of friends looking to expand their horizons (NT$400 for adults). The entrance fee includes one raffle ticket and a NT$100 dining voucher.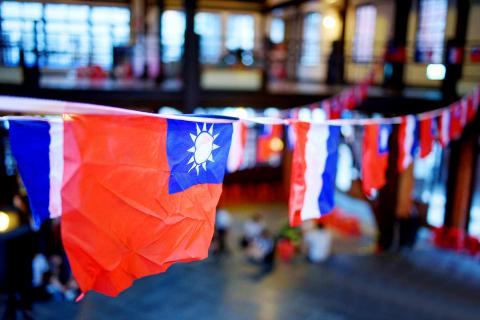 The formation of the French and Taiwanese flags represents the cross-cultural nature of the Bastille Day celebrations tomorrow at Ivy Palace in Taipei's Dihua Street.
Photo courtesy of Association des Francais de Taiwan
■ Ivy Palace, 368, Dihua Street, Sec 1, Taipei City (台北市迪化街一段368號)
■ Tomorrow from 3pm to midnight. For more information, visit the official Web site www.taiwanaccueil.com or www.facebook.com/events/1739996592745866/?active tab=discussion
Comments will be moderated. Keep comments relevant to the article. Remarks containing abusive and obscene language, personal attacks of any kind or promotion will be removed and the user banned. Final decision will be at the discretion of the Taipei Times.