Highlight: Liu Chen-hsiang photo exhibition: Their Life Story
To the younger generation, the 228 Incident may seem distant and difficult to understand. Fortunately, many victims and their family members kept photographs and oral testimonies, allowing future generations to gain access to this foundational bit of modern Taiwanese history.
The Deng Nan-jung Liberty Museum (鄭南榕自由紀念館) currently has a photo exhibition that showcases portraits of women affected by the 228 Incident. Shot by Liu Chen-hsiang (劉振祥), these portraits of the wives and daughters accompany the short blurbs about the incident's influence on their life. Through these portraits, Liu provides these women a platform to tell their stories about losing their fathers or husbands.
In addition to the exhibition, the museum invites audiences to join them tomorrow from 2pm to 4pm for a chat with Chen Ming-cheng (陳銘城), a culture and history worker, Lin Li-tsai (林黎彩), the Director of the 228 Incident Memorial Foundation and Yang Tsui(楊翠), an associate professor from the Department of Chinese Studies at Dong Hwa University.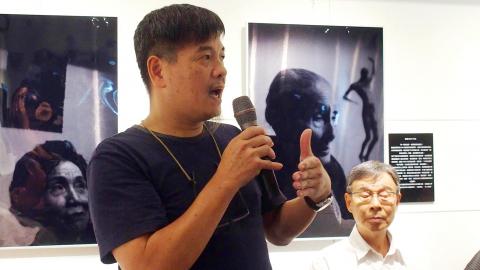 An exhibition of portraits of women affected by the 228 Incident is being held from now until July 21. The photos were taken by Liu Chen-hsiang, pictured here speaking at the opening of the exhibition.
Photo Courtesy of Deng Nan-jung Liberty Museum
On the exhibition's last day, July 21, the museum will again invite visitors to participate in a closing discussion on oral history from 2pm to 4pm. Attending experts include Hsueh Hua-yuan (薛化元), a professor of history from the Chengchi University, Chang Wen-yi (張文義), a historian, and Shen Hsiu-hua (沈秀華), an associate professor at Tsing Hua University.
The talks are in Chinese.
■ Deng Nan-jung Liberty Museum (鄭南榕自由紀念館), 11, Lane 3, Alley 106, Mingquan E Rd, Taipei City (台北市民權東路三段106巷3弄11號3樓); open from 10AM to 5PM;
■ Until July 21. Admission is free; registration is required for tomorrow's talk. Register at: goo.gl/forms/7m86TMAAy6FY7aVd2
Comments will be moderated. Keep comments relevant to the article. Remarks containing abusive and obscene language, personal attacks of any kind or promotion will be removed and the user banned. Final decision will be at the discretion of the Taipei Times.