Art exhibition listings
Program X-Site is an annual outdoor architectural project commissioned by the Taipei Fine Arts Museum. The museum reviews a number of open-call submissions each year and selects one project to be realized and presented on the museum plaza. This year 36 entries were submitted and STUDIOLIN's proposal, OO, was chosen. STUDIOLIN is a Taipei-based architectural studio established in 2014. Led by Lin Pei-jung (林佩蓉), the studio's practice adheres to its design principle of "establishing the general to reveal the specific." OO features two cylindrical spaces made with scaffolding and corrugated plastic sheets, which create layered effects of light and space that change according to natural lighting. Inside the two cylinders, three bubble machines create a constant flow of ephemeral shapes. "The installation encourages us to reconsider past bodily experiences, [and to] doubt … what is assumed to be open or public," writes the museum in a press release. The project will be on view at the museum plaza until July 29, and during its exhibition period, a program of performances and installations will take place inside the work. White Resting in the Air is an endurance performance by Sean Hsu (許生翰) and Lee Lu (李律) that explores ideas of consumption and labor. Eight Stories of Science Fiction Radio Drama is a series of fictional stories that viewers can tune into as they tour through the exhibition spaces.
■ Taipei Fine Arts Museum (台北市立美術館), 181, Zhongshan N Rd Sec 3, Taipei City (台北市中山北路三段181號, tel: (02) 2595-7656. Open Tuesdays to Sundays from 9:30am to 5:30pm
■ Through July 29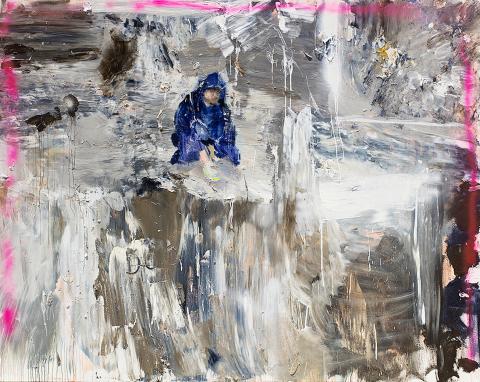 Wei Jia, Hero (2017).
Photo Courtesy of Michael Ku Gallery
The paintings of Liu Shi-tung (劉時東) are often based on assemblages of objects and images from daily life. He takes inspiration from a variety of material, including printed images, advertisements and magazines. Liu's solo exhibition, Strata, Liu Shih-tung's Labyrinthine Forests, is currently on view at Lin & Lin Gallery. The show features 32 square paintings of forest life displayed in a tight grid format. In this series, Liu uses wallpaper as his painting surface. Each painting is an image of its own, while together they form a collage of diverse perspectives. According to the gallery, the artist combines Western and Eastern elements and explores the relationships between objects, pictures and compositional methods. His assembled images evoke the aesthetics of Chinese still life paintings, while incorporating western methods of collage making. "[My paintings] are kaleidoscopes formed by fragments of materials; different universes are visualized based on changing proximities and points of view," says the artist. Flying with the wind II features a cluster of butterflies surrounding two blossoming branches depicted against a rich, green background. Flying High is a composition of birds, butterflies, peaches and abstract ornaments.
■ Lin & Lin Gallery (大未來林舍畫廊), 16 Dongfeng St, Taipei City (台北市東豐街16號), tel: (02) 2700-6866. Open Tuesdays to Sundays from 11am to 7pm
■ Until July 22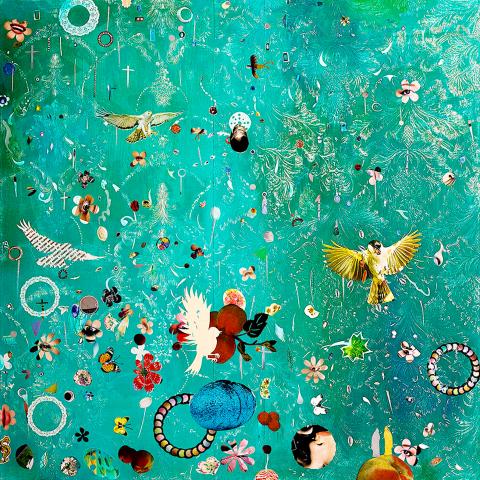 Liu Shi-tung, Flying High (2018).
Photo Courtesy of Lin&Lin Gallery
Tainan's Fotoaura Institute of Photography presents Buzzing Scenery, a solo exhibition by Kaohsiung-based, multimedia artist Hsiao Sheng-chien (蕭聖健). The artist combines readymade objects with industrial machinery to create sound installations. Hsiao is known for kinetic projects that utilize both high and low technologies. To reference his daily environment and its ongoing industrial developments, Hsiao often uses objects commonly found in his city. In this exhibition, a projection of tree shadows and a full moon create a simulated natural environment. Arranged around the space are spot-lit objects made with fans, baking molds, wood parts, bells and machines that create a soundscape of biomimetic sounds, such as birds, frogs and insects. Summer Night. Bird in the Cage is a classical Chinese birdcage elevated by a wooden pedestal. The cage is empty of birdlife, but a computer run machine creates haunting sounds of fowl. By creating these artificial impressions of nature, the artist seeks to promote awareness of our endangered natural habitat as a consequence of the progress of human civilization.
■ Fotoaura Institute of Photography (海馬迴光畫館), 2F, 83 Chenggong Rd, Tainan City (台南市成功路83號2樓), tel: (06) 222-3495. Open Wednesdays to Sundays from 1pm to 8pm.
■ Until July 1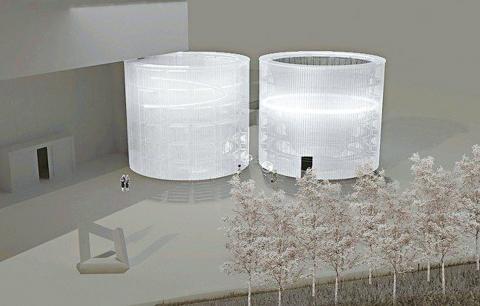 Three-dimensional rendering of OO.
Photo Courtesy of Taipei Fine Art Museum
To commemorate its 10th anniversary, Michael Ku Gallery opens a celebratory group show that reflects upon the gallery's activities over the last decade. The gallery represents a spectrum of established and emerging artists based in Taiwan, China, Japan and Southeast Asia. Its program has included pioneering shows that introduced artists from different Asian regions to the Taiwanese community. Michael Ku Gallery 10th Anniversary features a selection of works by five represented artists, including Song Kun (宋琨) and Ay Tjoe Christine. Wei Jia (韋嘉) is a Chinese artist based in Sichuan who creates paintings about personal sentiments and social relationships. Chiang Hsun (蔣勳) is one of Taiwan's most prominent art writers and educators who is engages in a number of cultural fields, including art history, literature, cinema, dance and theater. Lao Lianben is an iconic Filipino modernist known for monochromatic, abstract paintings. "His muses are surprising in their simplicity… [T]here is always a word, a sound, a shape haunting the hallways of his mind," writes the gallery.
■ Michael Ku Gallery (谷公館), 4F-2, 21, Dunhua S Rd Sec 1, Taipei City (台北市敦化南路一段21號4樓之2), tel: (02) 2577-5601. Open Tuesdays to Sundays from 11am to 7pm
■ Until Aug. 26
Tsui Kwang-yu's (崔廣宇) videos of social interventions reflect on the social systems and collective experiences in urban settings. In his work, provocative social commentary is often conveyed through disarming humor and absurd actions. In his solo exhibition, Exercise Living, at Double Square Gallery, Tsui presents a series of video documentations of his recent performances staged in typical Taiwanese city spaces, such as convenient stores, display vitrines and public parks. The artist performs in these familiar settings, redefining everyday spaces as performance sites that allow viewers to see familiar city scenarios in a new light. "Our imagination and expectation of life is like an onion, wrapped in layers…we wait for a chicken to be born from an egg...but discover that another egg is born out of the egg," says the artist, pointing out the endless nature of consumerist dreams and its generation of predetermined life experiences. "How can we be sure that what we experience are not sensory simulations or mediated experiences?" asks the artist. In the series of videos on view, Tsui continues his guerilla-style street actions to challenge our awareness of our daily behaviors and the conditions we live in.
■ Double Square Gallery (雙方藝廊), 28, Ln 770, Beian Road, Taipei City (台北市北安路770巷28號), tel: (02) 8501-2138. Open Tuesdays to Sundays from 10:30am to 6:30pm
■ From June 23 to Aug. 4
Comments will be moderated. Keep comments relevant to the article. Remarks containing abusive and obscene language, personal attacks of any kind or promotion will be removed and the user banned. Final decision will be at the discretion of the Taipei Times.