Taiwan in Time: Taiwan's 'Magic Feet'
Despite the sport's dismal status today, Taiwan enjoyed two stretches of soccer greatness, first with its Hong Kong player-dominated men's team in the 1950s followed by the Mulan women's team in the 1970s and 1980s
June 11 to June 17
A 13-year-old Chou Tai-ying (周台英) was sitting on the sidelines when Hsia Tsui-feng (夏翠鳳) broke away from a swarm of defenders, launched the ball from 25 yards and scored the winning goal. The home crowd of more than 25,000 jumped up and cheered as the "Mulan" soccer team captured Taiwan's first female soccer championship during the 1977 Asian Football Confederation (AFC) women's cup.
Three years later, Chou led the team to another AFC championship, leading all players with five goals, and was named tournament MVP.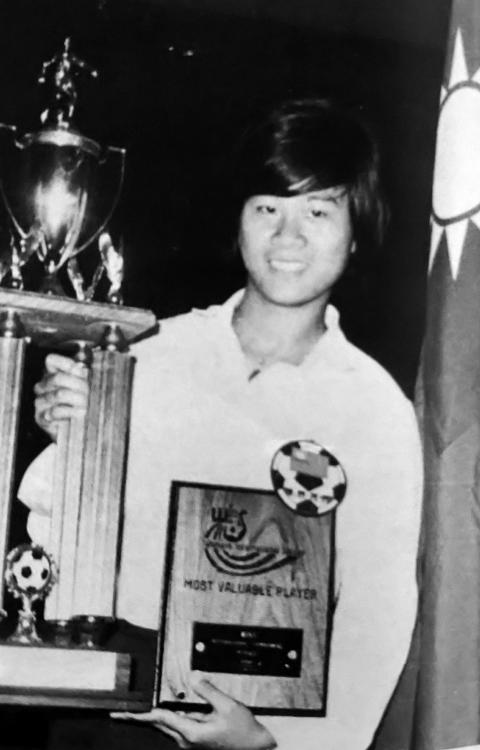 Chou Tai-ying displays her MVP trophy after the 1981 Asia Football Confederation tournament.
Photo courtesy of National Central Library
The team's glorious decade was marred by political disputes over Taiwan's political status — including using the name "Mulan" because it couldn't compete under "Republic of China" — but it continued to win battle after battle, including a third AFC gold in 1981.
But all good things come to an end. The team has not won another AFC medal since it finished second in 1999, and failed to even qualify for the past three tournaments. It's male counterpart, also once the hottest team in Asia, is ranked 121st in the world today. As the FIFA World Cup kicks off on Wednesday, this week's Taiwan in Time takes a brief look at the times when Taiwan was considered Asia's "soccer kingdom."
HONG KONG ANGLE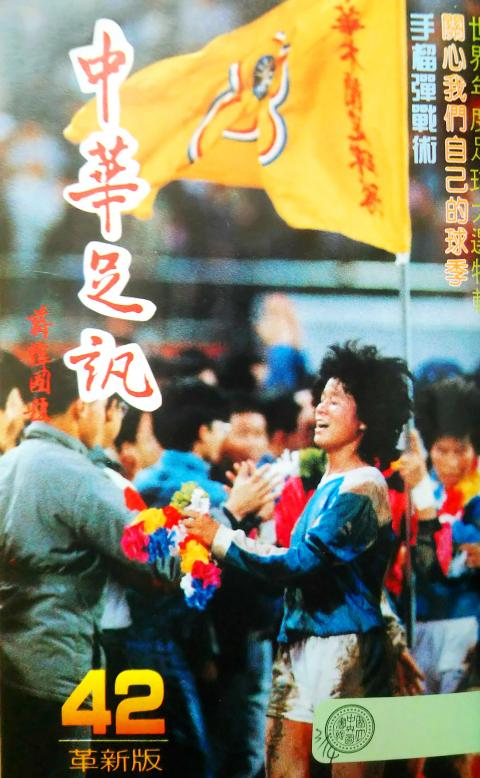 This cover of Zhonghua Zuxun shows Chou Tai-ying celebrating after winning the "China Cup" world invitational tournament in Taipei in 1987.
Photo courtesy of National Central Library
Taiwanese fans were ecstatic about the 1977 win as it had been a while since Hong Kong-born "Asian King of Soccer" Lee Wai-tong (李惠堂) led the men's team to two consecutive Asian Games championships in 1954 and 1958, defeating powerhouse South Korea both times.
Lee first coached the Republic of China team during the 1948 London Olympics, and kept his allegiance toward the ruling Chinese Nationalist Party (KMT) after its retreat to Taiwan in 1949. But the success of those teams largely depended on Lee's connections in Hong Kong.
Chuang Ting-chen (莊庭禎) writes in the book, The Development of Football in Taiwan after Social Changes in 1970 (1970年社會變遷後台灣足球運動的發展), that "before Taiwan started training its own players, the national team completely relied on Hong Kong mercenaries recruited by Lee during major international games."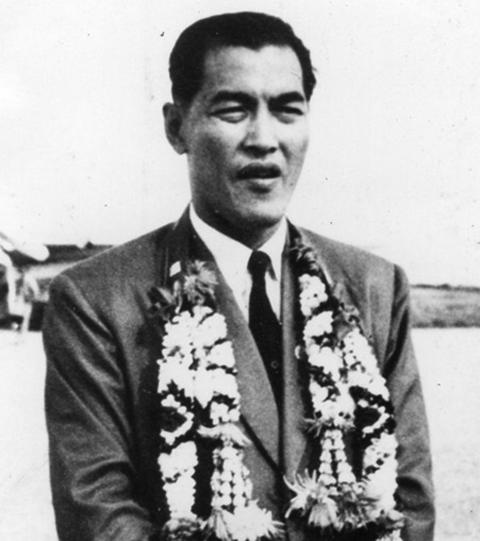 Hong Kong-born Lee Wai-tong led the Taiwan's men's soccer team to two Asia Games championships in the 1950s.
Photo courtesy of Wikimedia Commons
The team made it into the 1960 Olympics, and Hong Kong star Mok Chun-wah (莫振華) scored Taiwan's first Olympic goal ever. The squad had a shot at a third straight championship in 1962, but the Indonesian hosts refused to issue visas to the Taiwan and Israeli teams due to political reasons.
After capturing two more championships at Malaysia's Merdeka Tournament in 1963 and 1965, the team's glory days came to a halt in 1971, as Hong Kong stopped allowing its players to play for the Taiwanese team due to the rise of professional soccer in Hong Kong as well as the decline of Taiwan's international status.
The team would not win another international championship until December last year, in a self-hosted tournament facing three low-ranked opponents.
'GODDESS LEGS'
Chou, who today serves as the head coach of National Taiwan Normal University's women's soccer team, suddenly found herself a celebrity during her third year in high school. Not only did she kick off the year with an AFC championship and MVP selection, she was named Best Offensive Player at a summer invitational in Los Angeles with a team-record 12 goals in four games.
Chou attended Taichung's I-ning High School, whose soccer team members made up the backbone of these Mulan squads. It was grueling training, as she would bike more than 10km to school for 5am practice, attend classes and finish with another afternoon practice.
As the team prepared for the AFC tournament in 1981, Sports World (體育世界) magazine ran a long feature on the team, introducing every player and quoting coach Kao Yung (高庸) as saying, "We should have no problem defending our championship."
Chou performed brilliantly, scoring 10 goals — more than half the team's total — as team Mulan beat Thailand for its third straight gold medal. Chou was nominated for Sports World's female athlete of the year, naming her "Goddess Legs" (女神腿) and "Magic Feet" (魔腳).
The team's run in the AFC was interrupted when China joined the confederation and Taiwan's team applied to transfer to the Oceania Football Confederation, picking up where they left off by winning it all in 1986 and 1989.
Along with the name Mulan, this miraculous team's success also came to an end with its return to the AFC as Chinese Taipei in 1989. Although it hovered between second and fourth place until 1999, it won no more championships, and Taiwan's status as a soccer power was no more.
Taiwan in Time, a column about Taiwan's history that is published every Sunday, spotlights important or interesting events around the nation that have anniversaries this week.
Comments will be moderated. Keep comments relevant to the article. Remarks containing abusive and obscene language, personal attacks of any kind or promotion will be removed and the user banned. Final decision will be at the discretion of the Taipei Times.