Picasso's ties to the kitchen explored at Barcelona show
For the first time, the intimate connection between Pablo Picasso's work and gastronomy is on display in his Barcelona museum
A deformed bottle of wine, a colander in the place of a woman's head or a ceramic plate with inlaid fish bones: For the first time, the intimate connection between Pablo Picasso's work and gastronomy is on display in his Barcelona museum.
"It's a new vision of Picasso," Emmanuel Guigon, director of the Picasso Museum in the Mediterranean seaside city, said last month at the inauguration of the exhibition "Picasso's Kitchen."
"It seems weird but it isn't. Cooking is a theme that is in all Picasso's work and in all formats: paintings, sculptures, pottery and even poetry."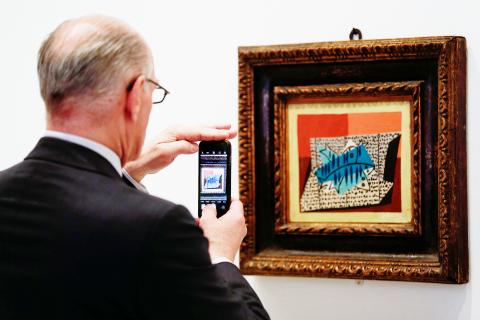 A man last month takes a picture of Four Fish by Spanish artist Pablo Picasso during the presentation of the exhibition "Picasso's Kitchen" at the Picasso Museum in Barcelona.
Photo: AFP
Strolling through the exhibition is like making one's way through a multi-course meal, with more than 180 works of art — some of them borrowed from other museums or private collections — scattered in 10 rooms.
Cherry on the cake — one room has been designed by Spanish gastronomy's Picasso, molecular gastronomy chef Ferran Adria, who has imposed his vision of the creative process in the kitchen with diagrams and photos of his dishes.
Adria, founder of the El Bulli restaurant which was voted world's best five times before closing in 2011, said Picasso and former FC Barcelona player and coach Johan Cruyff, one of football's most visionary figures who died in 2016, were his "two creative references."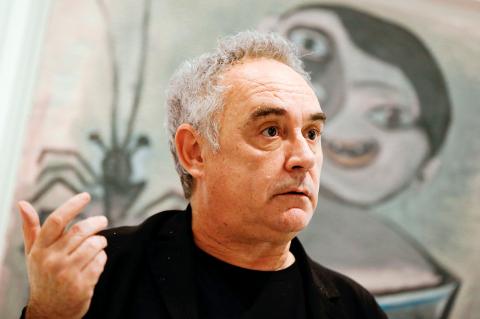 Spanish cook Ferran Adria last month speaks next to Young Boy with Lobster by Spanish artist Pablo Picasso during the presentation of the exhibition "Picasso's Kitchen" at the Picasso Museum in Barcelona.
Photo: AFP
"To be here is a dream, 20 years ago this would have been impossible," he said.
"But today in art there are people who are interested in what we are doing, an entire generation of chefs who want to be on the forefront."
"In a 100 years my dishes can't be shown in any museum," Adria joked.
"But to understand his system of creation and how he worked helps us to analyze and compare it to ours."
'METAPHOR OF CREATION'
The exhibition, which will run until Sept. 30, "is not a catalog of ingredients ... it is a metaphor of creation," of how an everyday object becomes art or a memory, said the curator of the show, Androula Michel.
Everyday objects such as a bottle of wine, a roasted chicken or fish are depicted by Picasso as disfigured still lifes in his cubist style.
A colander represents the head of a woman in one sculpture while a painting of two leeks next to a skull depict the hardships in Paris during the World War II.
The exhibition has borrowed works from around 30 museums and private collections, including some of Picasso's most famous creations such as his 1914 sculpture Glass of Absinthe and his 1914 painting Restaurant.
Also on show is his Bullfight and fish ceramic plate in which Picasso incrusted the fish bones of a sole.
It is displayed alongside a photo taken by David Douglas Duncan of Picasso while he ate the fish in Cannes.
The relationship between Picasso's work and the kitchen "is something obvious that has never been explored before," said Guigon.
"I hope people will enjoy this menu a great deal," he added.
Comments will be moderated. Keep comments relevant to the article. Remarks containing abusive and obscene language, personal attacks of any kind or promotion will be removed and the user banned. Final decision will be at the discretion of the Taipei Times.