Off the Beaten Track: There be dragons in them there hills above Neihu
Neihu District (內湖) has changed beyond recognition over the last two decades. In the 1990s, it was just another slightly gritty Taipei suburb, and unless friends or family lived in the area, there was no compelling reason to visit, except perhaps to enjoy the fantastic city view from Bishan Temple (碧山寺), or take a walk in Dahu Park (大湖公園) to visit its over-rated Moon Bridge (錦帶橋).
NEIHU'S NEW FACE
Today, Neihu has undergone a dramatic reinvention. It's become one of the most sought-after areas of the city, both to live and work, and features some of Taipei's most impressive architecture, from ultra-modern, high-rise apartment and office blocks gleaming with glass and steel, to the Miramar Ferris wheel.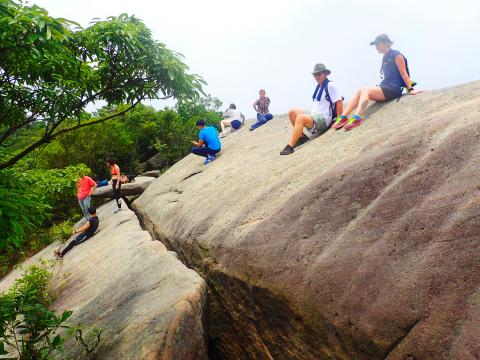 Dragon Boat Rock is an impressive outcrop of sandstone on a wooded ridge high above Taipei City's Neihu District.
Photo: Richard Saunders
Not everything has changed though. Getting to Neihu by public transport is still a bit of a pain for those of us living in the north of the city, who continue to wait impatiently for the planned MRT yellow line, which (fingers crossed) may one day provide a direct MRT link between Shilin MRT Station (士林捷運站) and the Neihu area.
Meanwhile it's well worth my braving the less-than-convenient journey from Guandu District (關渡) to Neihu to enjoy the area's surprisingly excellent hiking opportunities. Neihu lies at the foot of the western end of the 25 kilometer-long Wuchih Mountain Range (五指山山脈), which extends in a long, narrow "finger" of wooded mountains from Taipei's Grand Hotel to Keelung, where it meets the sea at Dawuluan Mountain (大武崙山), crowned with a Japanese-era fort.
Bishan Temple, visible from all over the city, owes its remarkable panorama to its position on the southern slopes of the range, and is easily reached by minibus S2 which connects central Neihu with the temple and several of the area's other attractions.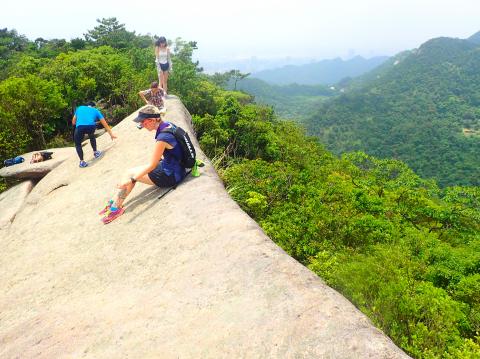 Dragon Boat Rock in Taipei City's Neihu District commands a panoramic view over Taipei city.
Photo: Richard Saunders
Visitors who'd rather explore the area under their own steam can make a great half-day hike, starting at Dahu Park MRT Station (大湖捷運站), right next to Dahu Park (大湖公園) and its far-famed bridge. The so-called Moon Bridge has always been a minor Taipei tourist attraction, but in May 2012, a tabloid from my native Britain, called the Daily Mail, published several heavily-Photoshopped pictures (taken by a local photographer) of this humble structure. Online they soon went viral.
Perhaps it's best to keep those beautiful images, undisturbed by the lowly reality, in your mind's eye, and from the MRT station head directly north, away from the park, and up Dahushanzhuang Street (大湖山莊街) towards the mountains.
THE UNDERWHELMING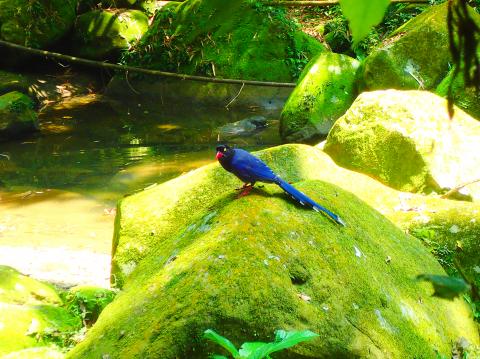 The wooded gorge below Yuanjue Waterfall is the haunt of the beautiful Formosan blue magpie.
Photo: Richard Saunders
In about 10 minutes you'll see a park. Walk up the steps into it, and follow the little brook that runs through it. At the end, when park meets natural woodland, continue upstream along a stone-surfaced path, ignore turnings on the left and right, and in another 10 minutes you'll reach pretty Yuanchue Waterfall (圓覺瀑布).
The concrete "parasol" seats and stone paths are a lamentable remnant from an earlier, less environmentally aware Taipei, and are fairly hideous, but the waterfall itself, just upstream, is unspoiled and attractive, if underwhelming except after heavy rain.
There are more falls above, reached by a rough and slightly tricky side trail.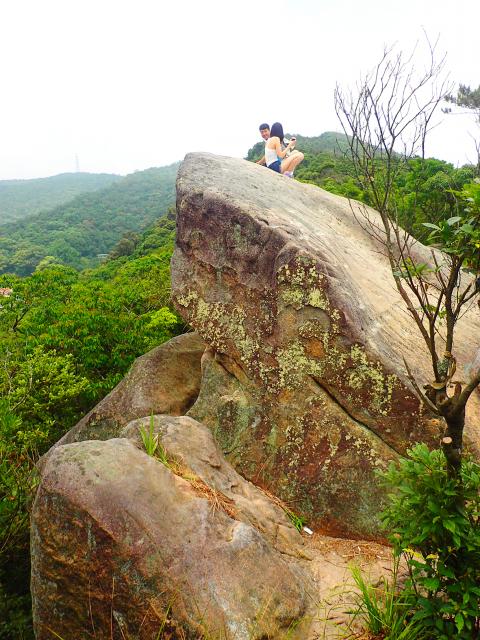 Dragon Boat Rock is an impressive outcrop of sandstone on a wooded ridge high above Taipei City's Neihu District.
Photo: Richard Saunders
Retrace steps back down the brook for a minute or two and take the trail across the stream on the left over a make-shift bridge, then up the far side of the little wooded gorge. This trail soon becomes steep and mildly challenging in places as it quickly gains several hundred vertical meters (avoid going up here after a rainfall as the rocky surfaces become dangerously slippery). Several lengths have fixed ropes to make the scramble easier.
At the top is the Neihu area's most magnificent viewpoint: Dragon Boat Rock (龍船岩), a natural, roughly rectangular outcrop of coarse grey sandstone that rises at an angle out of the surrounding forest on one side, then on the other drops in a sheer cliff occasionally used for rock climbing practice.
IMPRESSIVE VIEWS
The view is a near-360-degree panorama, and even though it's finally been discovered and visitors are more common than a decade ago, it's still far less popular than that other famous viewpoint in the area, Jinmian Mountain (金面山), further west along the ridge.
Traverse the sloping rock face carefully, take note of the mysterious, Sanskrit-like scrawls carved long ago into the southern end of the rock, and follow the path at the far end to a junction. Turn left, and after a five-minute stroll, you'll reach the old houses of Shikan (石崁), a tiny settlement that seems to have been left largely untouched by the great upheaval that's overtaken Neihu below.
Shikan marks the end of minibus route S2, which is the reason that the Dragon Boat Rock is finally seeing more visitors than it did in the past. The bus is a quick and convenient way to get back down into the city, but first walk along the road, turn left at the junction, and walk gently downhill past several fruit farms.
Shikan is one of the main fruit growing areas around the capital, taking advantage of its rich, volcanic soil and sun-drenched, south-facing location. Strawberries are the main crop here, and even out of season, frozen berries are turned into refreshing (if pricy) milkshakes by any number of roadside stalls and restaurants that have sprung up here over the last decade or so.
Everything's well signposted, and getting to Bishan Temple and other attractions up here is simple, and when you've finished, minibus S2 will whisk you back to central Neihu in no time. But first pay a visit to the 116 meter-long Baishuhu Suspension Bridge (白石湖吊橋). This impressive structure is said to resemble a dragon flying across the lush valley. That's a little far-fetched, perhaps, but it's certainly a far more impressive spectacle than its deeply over-rated counterpart down in the city below.
Richard Saunders is a classical pianist and writer who has lived in Taiwan since 1993. He's the founder of a local hiking group, Taipei Hikers, and is the author of six books about Taiwan, including Taiwan 101 and Taipei Escapes. Visit his Web site at www.taiwanoffthebeatentrack.com
Publication Notes
IF YOU GO
Getting there
Bus S2 starts at the National Taiwan College of Performing Arts (國立臺灣戲曲學院),on Neihu Road (內湖路), two blocks north of Wende MRT Station (文德捷運站), and runs to Shikan every 20 minutes to one hour during the week, and every 20 to 30 minutes at weekends.
Comments will be moderated. Keep comments relevant to the article. Remarks containing abusive and obscene language, personal attacks of any kind or promotion will be removed and the user banned. Final decision will be at the discretion of the Taipei Times.