Lost for words: language exchange with India
Language learning programs are starting to fill in the void in understanding between Taiwan and India, but there remains much work to do
Priya Lee Lalwani Purswaney says Taiwan is in real need of multilingual talent for developing ties with India.
Being the first Indian university student to study in Taiwan, Lalwani knows how important language education is for bridging societies.
Studying at Tatung University in 1978, where her father was the first Indian professor at a Taiwanese university, Hindi instructor and interpreter Lalwani has been a vital linguistic and cultural link for India and Taiwan ever since.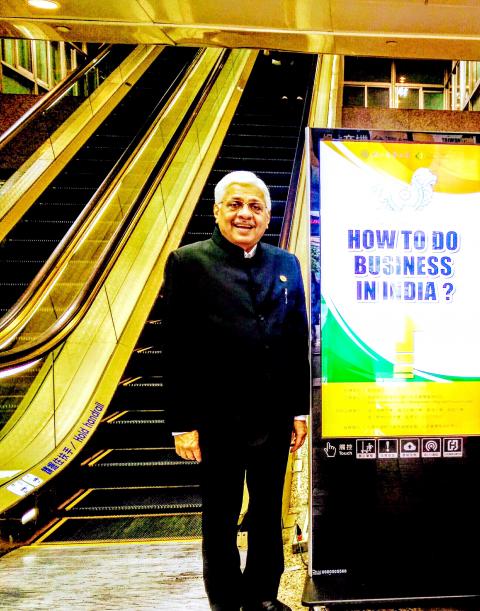 Mohan Rao of Indian Education Society's Management College, one of Mumbai's top ranked business schools, pictured at the Taipei World Trade Center in November last year.
Photo courtesy of Miru Mehta
But Lalwani's daughter, a third-generation Taiwan resident, is now seeking opportunities in the Netherlands after being ineligible for both international and local student scholarship programs here.
"Taiwan's government focuses efforts on children of Southeast Asian migrants, but has neglected the potential of multilingual Indian children here to build bridges," she says.
A recent survey by Indian Education Society's Management College (IES) in Mumbai found language to be the biggest stumbling block among a sample of 20 Taiwanese companies based in India.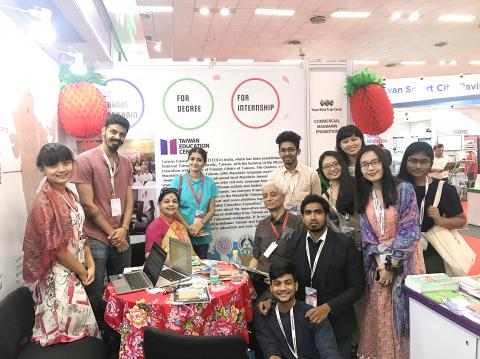 Audrey Chen, senior program manager for the Taiwan Education Center in India, far left, gathers with teachers and other center staff at the Taiwan Expo held earlier this month in New Delhi.
Photo courtesy of Taiwan
Several language programs are currently operated so as to develop bilingual talents needed to foster closer ties with India, one of the New Southbound Policy's core target countries. Mandarin and Hindi courses hold great potential to bridge gaps across education, business and even national defense, but a wide range of obstacles, from the financial to the diplomatic, are stalling progress.
EDUCATION EXCHANGE
Kaohsiung Normal University will this week host Learning and Teaching Mandarin in India (季風亞洲印度華語的風華), a conference where scholars will speak on evolving demand for Chinese-language learning in India as well as the impact of Taiwan's current educational initiatives.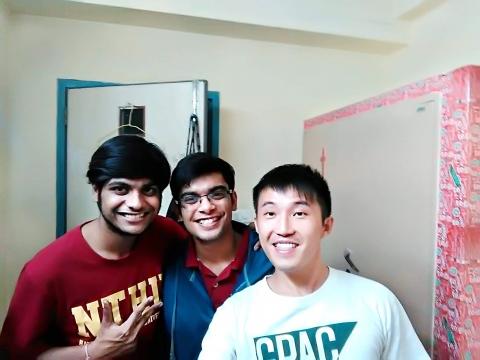 Ceasar Shu, right, with some Indian classmates in their dormitory together at Indian Institute of Technology Bombay on Jan. 21.
Photo courtesy of Ceasar Shu
The Taiwan Education Center (TEC) is one such endeavor in India. Operated by National Tsing Hua University and funded by the Ministry of Education, it was the first official Taiwanese-led Mandarin program in India, with its first center opening at New Delhi's Amity University in 2011. The center broke new ground for bilateral ties in 2013 when Indian troops began taking Mandarin classes at its center in Jindal Global University with similar courses continuing in the years since.
Despite its early success, though, Audrey Chen (陳安琪) says that her department can't take advantage of the surging demand for Mandarin due to a shortage of funding and teachers. The program manager for TEC in India says that of the eight centers it operates, the Ministry of Education only covers tuition fees for three.
"Our budget is over-stretched," she says. "The only way to increase the centers past the current eight would be if the Indian partner university agrees to cover teacher salaries."
Chen adds that higher pay is needed to encourage Taiwanese teachers to choose India, adding that the current salary of US$1,500 — the same pay as those in Southeast Asian countries — is unreasonable.
"It's much easier to teach Mandarin to students from countries that have cultural or linguistic ties to China, as in much of Southeast Asia," she says
Chen says her section has repeatedly requested the education ministry for higher pay for Indian-based teachers, but to no avail.
Widely-held negative perceptions of India are another factor holding back the growth of teacher numbers.
Chen says chief among parent's concerns is women's safety, which has a big impact on numbers given that an overwhelming majority of Taiwan's Mandarin teachers are female.
She adds that despite partner schools providing on-campus accommodation, sexual harassment officers and often personal chauffeurs, many families won't allow their daughters to go to India.
Lalwani says the media is responsible for Taiwanese' unbalanced perceptions of India by reporting extreme cases of sexual violence in the country but little else.
Shen Ming-shi (沈明室), an adjunct associate professor at Tamkang University's Graduate Institute of International Affairs and Strategic Studies, says one solution to the teacher shortage is to use Indian teachers fluent in Mandarin.
"We can train Indian students who come to Taiwan to become full-time Mandarin teachers upon their return to India," he says, adding that paying local salaries would lower hiring costs.
Mohan Rao of IES says that while TEC is an effective education exchange tool in drawing Indian tech talent to do postgraduate research in Taiwan, the next target should be India's business community.
Rao says IES signed an MOU with the Taiwanese government in 2016 for the school's graduates to find work at Taiwanese companies based in India, but many students don't apply due to the need to speak Chinese. He is now requesting that TAITRA set up a center in one of IES's 67 campuses.
BUSINESS HINGLISH?
Rao says the need for Hindi competency is even more urgent for Taiwanese enterprises based in India.
Rao has taught courses tailored to solve the specific challenges they face in India. He adds that 60 Taiwanese firms have come to India and left within six months. The largest issue they face is language.
Lalwani says Hindi is a useful tool for warming relations but not necessary as English is mainly used for international trade, while the southern half of the country speaks other languages.
But Rao insists Hindi is key for creating a level playing field with business partners in India.
"You will get very different interaction with Indians depending on the language used," Rao says.
Rao adds that Indians understand the nuances of dealing with compatriots from other regions.
"We know how to handle the different expectations Punjabis have than say, Bengalis," Rao says.
"Taiwanese companies first reacted to this headache by employing mostly Taiwanese workers, which is costly and ineffective," he adds. "Though those we've worked with are starting to adjust."
Operations managers of Western companies that are based in India, he says, are almost entirely made up of second generation Indian migrants.
"Taiwan doesn't have a large pool of Indian diaspora to draw upon. So more bilingual speakers with cultural acumen are needed."
Ceasar Shu (許庭毓), who did a four-month exchange at Indian Institute of Technology Bombay, says the Hindi textbooks of his Chinese classmates were far superior to even those found in Indian bookshops.
Shu says Peking University is one of many Chinese universities that have whole Hindi and Urdu foreign language courses as well as South Asia Studies Institutes.
"Taiwan doesn't have the same level of resources," he adds. "We really need to catch up."
Chen says she is aware of the issue and TEC is now coordinating with Amity University and Sharing Publishers (新學林) to bring Hindi and Tamil textbooks to Taiwan.
"We hope Amity can do Hindi textbooks for Taiwanese elementary school students too," she says, which would make more Taiwanese familiar with the language from an early age.
'COMMON STRATEGIC INTEREST'
It is in the realm of national security that these language courses have reached new levels of significance.
After last year's Doklam border incident, a military stand off between the Indian army and China's People Liberation Army, Shen says the Indian military has made all soldiers on border patrol proficient in 50 to 60 Mandarin phrases.
"Their officers will need more than this," Shen says, adding India won't trust Chinese-lead schools to teach their military.
"We're not comfortable learning from them," says Rao, adding that Chinese curriculum contains propaganda and Communist party rhetoric.
"This is Taiwan's opportunity," says Shen, referring to a proposal for Indian officers to take Mandarin courses in Taiwan.
"I'm certain this will [happen]," Rao says. "Our governments just needs time to work through formalities."
Lalwani says that India and Taiwan have a "common strategic interest" in regard to China, and both can benefit not only from language but also intelligence exchanges.
Rao says that there were many diplomatic hoops to jump through before TEC could train regular troops in India in 2013, and hopes sending officers to Taiwan won't take as long.
Shen says that the ball is in India's court and that Taiwan is ready to receive officers. He adds that there are many ways to minimize potential fallout with China, such as conducting the course at a private college, with National Defense University covering tuition.
Shen says these language courses can open the door to deeper collaboration between the two sides militaries and points to the large overlap not only in Taiwan-Indian strategic interests but the similarity of their weapon's technologies, such as India's anti-naval cruise missile BrahMos and Taiwan's new Hsiung Feng III.
"There is also room to work together on our submarine building programs," he adds.
Despite prioritizing India within the New Southbound framework, Taiwan's paucity of Indian language skills and cultural understanding makes the nation of 1.3 billion people more inaccessible than other target countries.
Considering the work needed, Mandarin courses in India need to be given higher priority and greater funding, while more needs to be done to develop Taiwan's own resources for Indian language learning, especially Hindi.
Additionally, the government needs to give its small but valuable Indian diaspora more opportunities to be play a role in forging connections between Taiwan and their homeland.
If India is to feature as TAITRA's chairman James Huang (黃志芳) put it this month, the "biggest highlight of the New Southbound Policy," deeper investment is needed not only in languages, but also the people who speak them.
Bountiful South is a fortnightly column that covers Taiwan's cultural, diplomatic, business and tourism connections with New Southbound Policy nations. Liam Gibson is a freelance reporter based in Taipei, where he researches regionalism as a postgraduate student at National Taiwan University's Graduate Institute of National Development. You can reach him at liamtaipei@gmail.com
Comments will be moderated. Keep comments relevant to the article. Remarks containing abusive and obscene language, personal attacks of any kind or promotion will be removed and the user banned. Final decision will be at the discretion of the Taipei Times.