A Taiwan-Italy silver screen romance
In a picture-postcard tiny Italian town, popular Taiwanese commercial films that are usually overlooked in Europe take the spotlight every April
In the heart of northeastern Italy, something is brewing. It's only 8.30am on a Sunday morning, but snaking queues have formed outside the Teatro Nuovo, a sprawling, luxurious theater located in the tiny picturesque province of Udine, just an hour's drive from Venice and populated by 100,000.
But these Italians are not lining up to watch the latest Hollywood blockbuster, or listen to Mozart's melodies by a symphony orchestra. They're here for the screening of Take Me to the Moon (帶我去月球), Hsieh Chun-yi's (謝駿毅) time-traveling romance drama that hit local cinemas a while back.
Come late April every year, the sleepy city of Udine transforms into a vibrant cultural melting pot where East meets West. It's the time of the year when the Far East Film Festival (FEFF), the biggest showcase of East Asian cinema in Europe, screens the latest popular commercial films over nine days to visitors from across the world.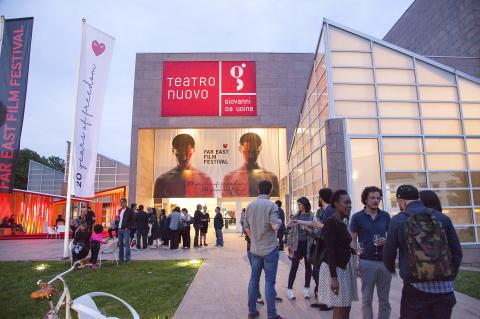 Asian movie buffs gather outside the Teatro Nuovo in Udine, Italy last month during the Far Eastern Film Festival.
Photo courtesy of Paolo Jacob
BIGGEST SHOWCASE OF ASIAN CINEMA
FEFF is the brainchild of co-founders Sabrina Baracetti and Thomas Bertacche, who had sought to bring exciting genre cinema from Asia to Western audiences. Beginning in 1999 with a focus on Hong Kong film, the festival has since evolved to become a unique cornerstone event in the European film festival circuit.
To celebrate its milestone 20th anniversary this year, a total of 81 titles from 11 Asian territories were screened, attracting over 60,000 spectators and 150 stars including elusive screen icon Brigitte Lin (林青霞), who received FEFF's prestigious Golden Mulberry Lifetime Achievement Award.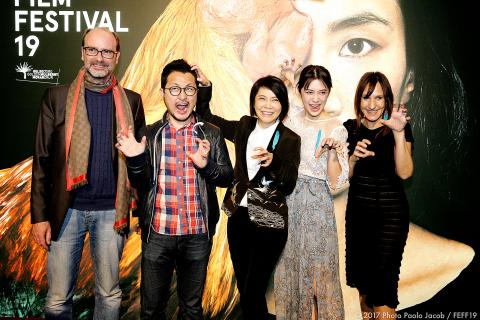 Giddens Ko and Eugenie Liu at last year's FEFF.
Photo courtesy of Far East Film
Alongside the festival's steady growth, more Taiwanese films have subsequently made their way to Italy. Today, about four to six homegrown films premiere at FEFF every year — though not the titles one might expect.
A DIFFERENT FACE OF TAIWAN
In Udine, it's a different kind of Taiwanese cinema that reins in the crowds. Horror, action, romance and slapstick comedy are the order of the day, an accessible selection far removed from the social-realist, independent works of the 1980s Taiwan New Wave Cinema movement most cinephiles in the West would be familiar with.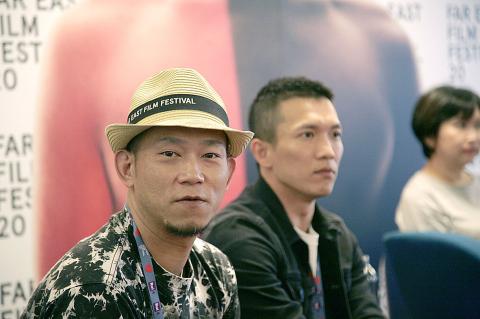 Taiwanese director Yen Cheng-kuo at last months FEFF in Udine Italy.
Photo courtesy of Ricky Modena
"When we first started this event, we had the impression that Taiwan was more for art house films — Taiwan was very well-known all over the world for Hou Hsiao-hsien (侯孝賢) and Edward Yang (楊德昌), especially in the mainstream film festivals. So we thought there wasn't any popular cinema back then," Baracetti says.
Hou and Yang may have put the nation on the map at Cannes and Venice, but at FEFF, a new generation of audiences clamor for another set of names: Wei Te-sheng (魏德聖), Giddens Ko (柯景騰) and Hsieh Chun-yi (謝駿毅), a trio that has contributed to the renaissance of Taiwanese commercial cinema in the last decade.
All three Taiwanese directors have made appearances at Udine — Hsieh for Apolitical Romance (對面的女孩殺過來, 2013), Wei for 52Hz, I Love You (52赫茲我愛你, 2017) and Ko, twice, for You Are The Apple of My Eye (那些年,我們一起追的女孩, 2011) and Mon Mon Mon Monsters (報告老師!怪怪怪怪物!, 2017).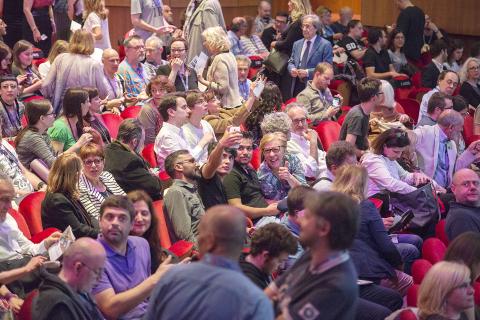 An audience member takes a selfie at FEFF last month.
Photo courtesy of Alice BL Durigatto 4
"Most of the Taiwanese movies shown in the earlier days of our festival were big portraits following periods in Taiwan's history and on the Chiang Kai-shek (蔣介石) times, what happened before and after," Bertacche says. "Nowadays, the movies we see are all about the youth of Taiwan: how they live, enjoy, meet and love each other."
Nostalgia-tinged youth romance dramas have certainly been all the rage at FEFF, starting with the premiere of Wei's Cape No.7 (海角七號) in 2009. In recent times, audiences have been treated to the campus-set stories of Cafe. Waiting. Love (等一個人咖啡, 2014), Our Times (我的少女時代, 2015), At Cafe 6 (六弄咖啡館, 2016) and this year, Take Me to the Moon and All Because of Love (痴情男子漢, 2017).
Freelance writer David Pountain, who hails from London, was pleasantly surprised by the range of "fun and endearing" Taiwanese films in his last two visits to the festival.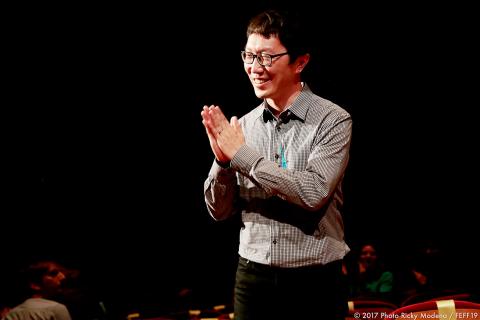 Neal Wu of At Cafe 6, at FEFF2017.
Photo courtesy of Far East Film
"Previously I didn't know much about Taiwanese cinema beyond the meditative, somewhat esoteric works from filmmakers like Tsai Ming-liang (蔡明亮)," he says.
"But last year I got to see the gleefully gruesome Mon Mon Mon Monsters, sweet musical 52Hz, I Love You and a brooding road movie like Godspeed (一路順風). It's a shame that so many of these films still don't get proper distribution in the West."
Others such as Slovenian translator Sanja Struna believe Taiwanese films are fueled by "a sense of innocence" that Korean and Japanese cinema struggle to obtain.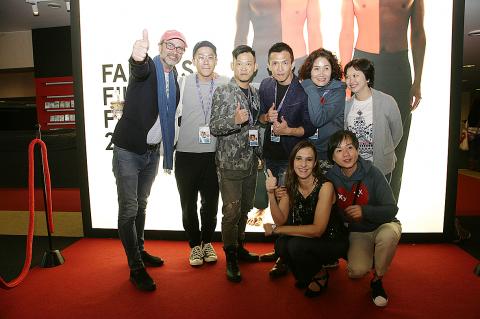 Taiwanese attendees Yen Cheng-Kuo, from third left, Huang Shan-ho, Mag Hsu and Hsu Chih-yen.
Photo courtesy of Ricky Modena
"There is something natural and genuine about Taiwanese films that deserves attention. For instance, Take Me to the Moon has a story that could have easily been featured in a Korean or a Japanese movie, but the Taiwanese cast and production gave it a simpler, more innocent feel, which I liked a lot."
FIRST-TIME TAIWANESE DIRECTORS FETED
FEFF has come a long way since its humble beginnings, but what continues to serve as the linchpin of its success is a passionate, close-knit community of Asian cinema fanatics who have supported the event over the last two decades.
"The audience here is always very enthusiastic, and they have a strong appreciation for film," says Chang San-ling (張三玲), the festival's Taiwan program consultant. "Especially for Taiwanese directors making their debut, I say it's important for them to come to Udine to experience this kind of atmosphere at least once, to build up their confidence."
At a weekday screening of Taiwanese animated feature On Happiness Road(幸福路上, 2017), director Sung Hsin-yin (宋欣穎) was nearly brought to tears when spectators erupted into a five-minute standing ovation. It was an affecting moment for the first-time filmmaker — even with critical acclaim, the animation reaped a dismal domestic box office gross in January.
"I've never received this kind of reception at other film festivals. I was really surprised at how many people came to see this film, and that a few even cried," she recalls.
And despite containing specific cultural and historical references, at the core of the festival's Taiwanese film picks reside themes with universal resonance. Sung says of On Happiness Road: "It's about how you love, yet also hate, your homeland and family, and growing up under a wave of social and political change. It's also about dreams being broken, thinking we might become 'something' when we grow up, but turning out to be nothing."
Likewise, the world premiere of Taiwanese famed screenwriter Mag Hsu (徐譽庭) and music director Hsu Chih-yen's (許智彥) family drama, Dear Ex (誰先愛上他的), left nary a dry eye in the theater.
"When the film ended, and the spotlight fell us, we felt like we were in a dream," says Mag.
"It's encouraging for us to realize," she adds, "that in a little Italian town, there's a festival paying so much attention to Asian films and filmmakers; that there are people far away looking forward to seeing our films."
NO PRESSURE, ALL FUN
With its cobblestone streets, charming Venetian architecture and plenty of good wine, Udine exudes a laid-back and spirited atmosphere that keeps filmmakers, industry professionals and cinephiles returning unfailingly each year.
For Chinese national Han Jun, who works at a travel agency in Rome, the festival's biggest draw lies in the ease of access spectators have to filmmakers. It's not unusual to spot directors and actors mingling with the masses at the theatre lobby, smoking on the lawn outside or simply catching the films of the day. Members of the public are welcome to pose questions to filmmakers at daily panel talks.
"Udine is very chill. Everything looks like a movie set. I can just sit down, enjoy the weather, have a coffee with anyone and talk as though we've known each other for a while," says Taiwanese actor Huang Shang-ho (黃尚禾), who was here for the international premiere of gangster action film Gatao 2: Rise of the King (角頭2:王者再起).
Han, who was back at the festival for the sixth time, adds: "It's one of the festival's aims to let audiences get up close and personal with the filmmakers, so they don't construct many barriers. Everyone gets a chance to interact with directors on the spot, get their autographs, take photos."
Even the biggest stars find a reason to unwind and let their hair down. Besides films, the festival offers over 100 Asian cultural events and activities such as an annual cosplay contest, origami and Japanese bento-making workshops, Chinese martial arts displays, Vietnamese "Dien Chan" facial reflexology sessions and traditional Thai dance performances.
Veteran Taiwanese director-actress Sylvia Chang (張艾嘉), at Udine to present her generational drama Love Education (相愛相親, 2017), was looking forward to attending a meditation workshop.
"Sometimes when you go to bigger festivals, you're very intense. There's a competition, there's marketing," she says. "But here, everyone's so relaxed. I've met many friends in Udine who I don't normally see in Taiwan or Hong Kong, which means that they like to come here."
A WAIT OF 20 YEARS
As daylight segues into dusk, conversations in an enchanting mix of Chinese, Italian, Japanese, Korean, English and Cantonese fill the air over the heady aroma of local Pignolo wine. At the Teatro Nuovo, spectators are already gathering in line for the 7.45pm screening of Love Education.
For European fans of Chang, it's a long-delayed but symbolically fitting, maiden visit from the multi-talented filmmaker — the festival first screened her films, Siao Yu (少女小漁, 1995) and Tempting Heart (心動, 1999), in its second edition nearly 20 years ago.
Later on, as she greets a cheering audience onstage with Baracetti, Chang quips: "It's really a warm welcome from all of you. They didn't tell me, if not I would have come earlier. I don't know why you didn't invite me before!"
Comments will be moderated. Keep comments relevant to the article. Remarks containing abusive and obscene language, personal attacks of any kind or promotion will be removed and the user banned. Final decision will be at the discretion of the Taipei Times.