Drawing from the energies that drive humanity
With funding from a patron and a new private museum, Tainan-based artist Tseng Ying-tung's intuition continues to take him into uncharted territory, even in his 60s
Chances are you've seen Tseng Ying-tung's (曾英棟) art. There are the playful hanging sculptures in Taipei's Guting MRT Station (古亭捷運站), the cartoonish lion with a sword in its mouth near the entrance of Anping Fort in Tainan and the giant red train whistle calling attention to the historic Beimen Railway Station in Chiayi.
The whimsy of Tseng's work, he says, is in part due to a decision he made in college to "stop using my brain," an act that has lead to unexpected developments in his career.
"I realized that my classmates were smarter and had better logical reasoning ability," the artist, 60, says. "We would all go have fun instead of studying, but they would still do well in class while I flunked. I've been relying on my intuition ever since. I think I've honed it well."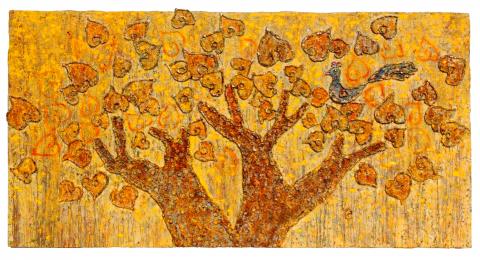 Tseng Ying-tung, Tree of Prosperity (2017)
Photo courtesy of Asir Art Museum
So when art collector and businessman Wang Ching-hsiang (王慶祥) visited Tseng's temporary studio in a former Chunghwa Telecom office building and offered him NT$1 million to turn it into an art museum if he started work the next day, Tseng said yes right away.
"I just happened to be renting that building because I needed enough space to work on a 6-meter by 12-meter piece," Tseng says. "But businessmen see things differently."
Even though Tseng ended up spending NT$6 million renovating the building and its spacious garden into today's Asir Art Museum (甘樂阿舍) near Tainan's city center, he now has a permanent exhibition space for his works as well as additional room for local and international artist exchanges. And the final surprise was that all three of his daughters are now running the museum for him as he focuses on his work.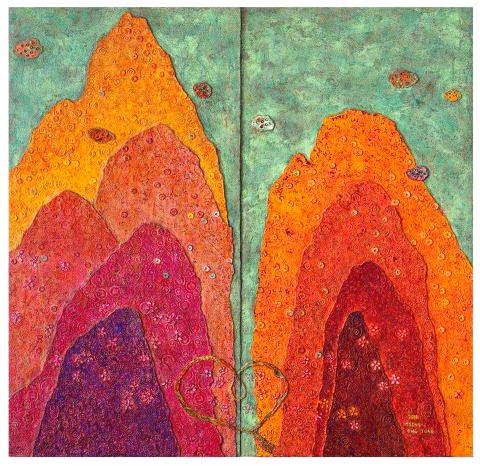 Tseng Ying-tung, New Peach Blossom Land (2014).
Photo courtesy of Asir Art Museum
"I thought, as an artist, I did not have much to pass on to them," he says. "I didn't expect this to happen at all, nor did I try to persuade them. But it's a good opportunity, especially with the connections they make through the museum."
HEARTS AND COINS
Tseng's recent work consists of colorful, three-dimensional paintings with rough surfaces and intricate motifs such as shells, bread and coral as well as whimsical sculptures, all revolving around the theme of love and money.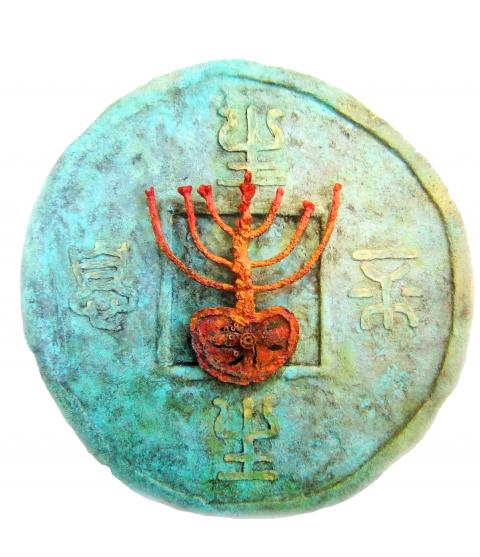 Tseng Ying-tung, Money Exchange series (2012)
Photo courtesy of Asir Art Museum
"Not many artists will touch the theme of money because they think it's tacky or tasteless," he says. "But just as love is the most powerful energy in the intangible world, money is the most powerful energy in the tangible world. It's an eternal proposition for humanity, spanning life and death, love and hate … there are endless possibilities to explore."
But it was even an accident in stumbling across this topic. Several years ago, a Chinese developer commissioned him to make a batch of commemorative works that they could give out as gifts.
"I thought, these businessmen probably love money," Tseng recalls, and created a piece that resembled an ancient Chinese coin, with a heart in the middle that was split into a man on one side, a woman on the other — symbolizing that the money can give birth to more money.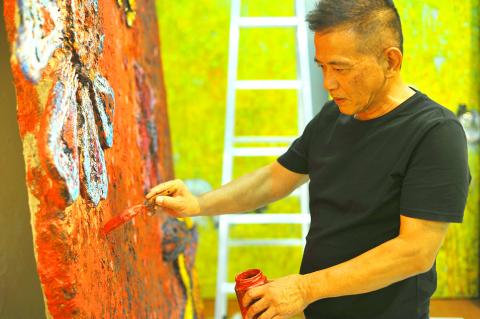 Tseng Ying-tung works on a mixed-media painting in his studio on the second floor of his Asir Art Museum.
Photo: Han Cheung, Taipei Times
The developer later balked at Tseng's asking price, but Tseng was more than happy to keep the work — in fact, it turned on a faucet of inspiration that has not stopped since.
"Now if I make a mountain it's treasure mountain, if I make a tree it's a money tree," he laughs.
His latest series, Five Loaves of Bread and Two Fish (五餅二魚), takes a slightly different approach, exploring the energy of sharing substances through the practice of love.
The first floor of Asir Museum features Tseng Ying-tung's latest work, which mostly revolves around themes of love and money.
Photo: Han Cheung, Taipei Times
SPACE OF OPPORTUNITIES
While the museum is only open to the public on weekends, Tseng has a seemingly endless stream of guests passing through on a Friday afternoon. The table is full of local snacks, and he retrieves a bottle of red wine from his wine cellar in the basement. He mostly listens to the guest chatter, but he seems to be a straightforward, affable guy who genuinely enjoys company.
While the first floor and the garden are full of Tseng's creations, he uses the basement space for guest artists or government exhibits. International endeavors, such as a group show in 2016 that included French and Chinese artists, often turn into exchanges, giving Tseng more global exposure.
Tseng says that Wang's support has tangible benefits. Instead of having an exhibition once per year, his art can be viewed year round. Instead of inviting collectors to his messy studio, the clean, chic space adds value to the presentation.
It's working, he says, as he received a delegation of about 40 people from the European Women's Management Development International Network just last week.
"I thought they were just going to look at the exhibits, but they bought several pieces," he said. "I wasn't expecting that."
Comments will be moderated. Keep comments relevant to the article. Remarks containing abusive and obscene language, personal attacks of any kind or promotion will be removed and the user banned. Final decision will be at the discretion of the Taipei Times.