Indigenous arts & crafts from Taiwan and Japan
Ainu and Kavalan people share a passion for decorative patterns in textile, embroidery and woodcarving design
The lifestyle select shop Pacific Ocean Wind at Huashan 1914 Creative Park is hosting a cultural exhibition of indigenous arts and crafts from Japan and Taiwan. Organized by Hualien-based design brand Kamaro'an and the Ainu Association of Hokkaido, the show features a number of traditional art forms by the Kavalan Aboriginal community and the Japan's Ainu people.
The two cultures share a passion for decorative patterns, which is manifested in textile, embroidery and woodcarving designs.
While the exhibition title, Ainu's & Kavalan's Ornamentation Worldview (紋飾的世界觀), seems to suggest insightful reflections on indigenous visual traditions and world visions, the loosely curated show, set up in a boutique salesroom, is a cultural sampling of Aboriginal craftsmanship that may satisfy those looking for quick touristic consumption.
Exhibition view of Ainu's & Kavalan's Ornamentation Worldview, currently on view at Taipei's Huashan 1914 Creative Park.
Photo Courtesy of Kamaro'an
Laid out on a spread of tables, beautifully knit merchandise and carved products are accompanied by hand-written captions on kraft paper that provide scattered footnotes and poetic impressions about lifestyle, craftsmanship and cultural anecdotes.
The Kavalan section of the show features a variety of banana fiber items designed and produced by Lala Ban Shinshe Banana Fiber Workshop (新社香蕉絲工坊). Established in 2005, the workshop is run by a group of craftswomen in Fengbin Township (豐濱), Hualien's largest Kavalan settlement.
The township considers banana fiber weaving a defining trait of their cultural identity, and the workshop was set up as a long-term commitment to Kavalan heritage preservation.
Exhibition view of Ainu's & Kavalan's Ornamentation Worldview, currently on view at Taipei's Huashan 1914 Creative Park.
Photo Courtesy of Kamaro'an
"We want to produce beautiful banana fiber textile to show our future generations," an introduction of the workshop quotes workshop member and 40 year veteran weaver Tiyapi Qabau (朱阿菊).
In 2015, Hualien County officially recognized the Kavalan weaving tradition as an intangible cultural heritage of the region.
From traditional rice pouches and headbands, to bookmarks, baskets and wallets, the Lala Ban workshop produces a range of products that show traditional forms and the adoption of new organic materials. Kavalan fabric is ornamented with a variety of abstract patterns inspired by nature and tribal life, such as terrace fields, canoe ores, tortoise and crabs.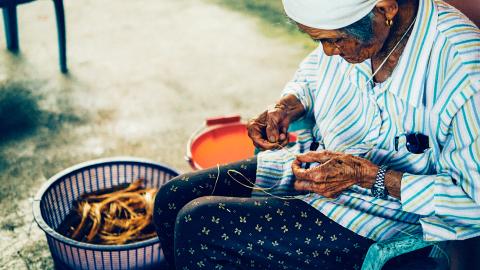 A Kavalan woman ties strands of banana fiber in this undated photo.
Photo Courtesy of Kamaro'an
"The Aboriginal people do not have a written language," reads one exhibition introduction tacked next to a hanging plain rice pouch, "images and patterns are forms of language imbued with daily wisdom and social customs."
While Kavalan culture is exclusively represented by its textile work, the show portrays the Ainu lifestyle with a greater variety of artistry, including woodcarvings, bark-fiber cloth, and embroidered clothing.
Featured on a low pedestal is a set of Nibutani Ita, which are palm-sized wooden plates styled with delicate fish scaled patterns specific to the Nibutani region of Hokkaido. While the show does not provide information about their specific authorship, a tourist leaflet available at the shop counter features four master wood artisans involved with the Ainu Association of Hokkaido.
One of the profiled craftsman, Mamoru Kaizawa, visited Taipei with his wife, Miyuki Kaizawa, last month to conduct an entry-level workshop about woodcraft and bark-fiber weaving. Mamoru Kaizawa is known for his masterfully carved plates that blend traditional wisdom with individual expression, often experimenting with carving techniques that play with light and shadow.
"When I carve … I think about what our ancestors were thinking when they carried through the same motions … and how the people who lived here first created these patterns, says Kaizawa in an interview with Sauser Miho, author of the Japanese art and craft book Honest Craft (誠實的手藝).
The show offers a preliminary tasting of the Ainu and Kavalan cultures. Seeking to accommodate cultural survey, merchandise display, and touristic appeal, the show sacrifices readability at times in service of its multiple agendas. This perhaps points to the complex reality of traditional arts preservation, which involves a continual negotiation between economic sustainability and cultural appreciation.
Publication Notes
Exhibition Notes
What: Ainu's & Kavalan's Ornamentation Worldview
(紋飾的世界觀 — 北海道愛努族與新社噶瑪蘭族紋飾聯展)
When: Until Sunday. Open Mondays to Fridays from 11am to 7pm, Saturdays and Sundays from 11am to 9pm
Where: Huashan 1914 Creative Park (華山1914文化創意產業園區), 1, Bade Road Sec 1, Taipei City (台北市八德路一段1號), tel: (02) 2358-1914.
Admission: Free
On the Net: www.facebook.com/
Kamaroan
Comments will be moderated. Keep comments relevant to the article. Remarks containing abusive and obscene language, personal attacks of any kind or promotion will be removed and the user banned. Final decision will be at the discretion of the Taipei Times.