Highlihgt: Farm life memories — and pigs — inspire choreographer
Huang Wen-jen's (黃文人), has created one to two new works for her Seed Dance Company (種子舞團) since founding the Pingtung County-based troupe 10 years ago, just three years after graduating from Tainan Women's College of Art and Technology (now Tainan University of Technology).
While Huang followed up her undergraduate degree with a masters' from Tisch School of the Arts at New York University, and now teaches at her alma mater, she has never lost her love for her hometown of Yanpu Township (鹽埔) in Pingtung or her ties to it.
The title for her latest work, 907 Kilometers (907公里數-遠離家鄉的味道), which premieres tonight in Taipei, comes from the postal code for Yanpu, 907, while she said the kilometers stand for distance and time.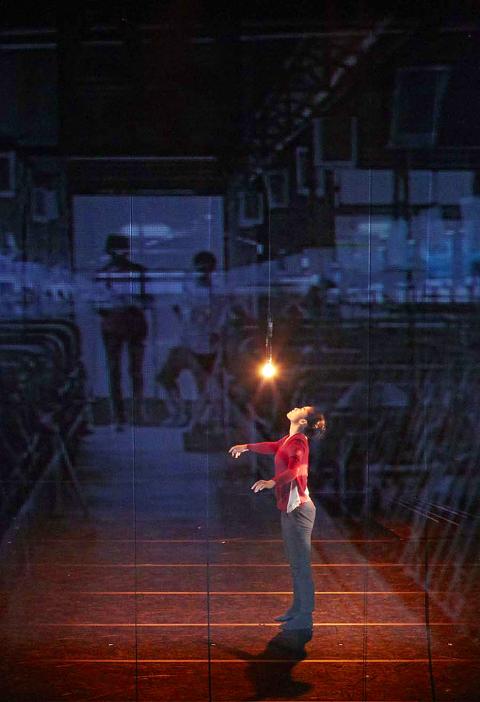 Pingtung County-based Seed Dance Company will perform artistic director Huang Wen-jen's latest work, 907 Kilometers, at the National Experimental Theater in Taipei tonight and tomorrow night.
Photo Courtesy of Seed Dance Company
"The longer the distance and time, the deeper the thoughts," she wrote in an e-mail.
Huang said she created the piece to help recall the countryside of her childhood on her family's pig farm, since Yangpu, like many areas, has seen tremendous change in recent decades, with fields turned into roads and homes.
At the center of the work is Huang's observations of pigs, not only her memories, but present day, as her father built a rehearsal studio for her company next to the farm.
"Seeing the beginning of life, struggling for survival and finding mother's taste with natural smell. When the little pigs come together under the lamps, what they want is the temperature. When the lamp disappears, they rely on the temperature of the mother's body. These are the necessary processes for the life growth," she wrote.
Huang said she also wanted to encourage Pingtung County residents who might otherwise not go to the theater to go see her show as well as to encourage more people to visit Yangpu.
Huang created the work on herself and six other dancers, with a soundscape by Chen Hsin-hsiang (陳信祥) that conjures up life on a farm: the calls of birds early in the morning, the sounds of pigs and the metallic scraping of farm equipment.
■ National Experimental Theater (國家戲劇院實驗劇場), 21-1 Zhongshan N Rd, Taipei City (台北市中山南路21-1號)
■ Tonight and tomorrow at 7:30pm; tickets are NT$600, available at NTCH box offices, online at www.artsticket.com.tw and at convenience store ticketing kiosks
Comments will be moderated. Keep comments relevant to the article. Remarks containing abusive and obscene language, personal attacks of any kind or promotion will be removed and the user banned. Final decision will be at the discretion of the Taipei Times.