Art exhibition listings
To celebrate the 100th birthday of prominent Japanese illustrator Chihiro Iwasaki, the National Museum of History is hosting Children in the World: Peace and Happiness for All, which features a number of Iwasaki's picture books and 100 of her pencil and watercolor drawings created between 1940 and 1970. Iwasaki lived through World War II and the cruelties she witnessed during wartime led her to create numerous works dedicated to world peace. She was especially concerned about the happiness of children and wished to "give children a safe and happy environment to grow up," according to the museum's press release. Iwasaki was known for her loving portrayal of children and flowers, which she published widely in newspapers, magazines, novels and picture books. Primarily using India ink and watercolors, her distinct painting style integrated Japanese and Western water-based painting techniques. Highlights include Totto-Chan: The Little Girl at the Window, a best-selling picture book written by writer Tetsuko Kuroyanagi. Based on the childhood memories of Kuroyanagi, the book tells a tale of a young girl who attended a liberal school during wartime in Japan.
■ National Museum of History (國立歷史博物館), 49 Nanhai Rd, Taipei City (台北市南海路49號), tel: (02) 2361-0270. Open Tuesdays to Sundays from 10am to 6pm
■ Until April 22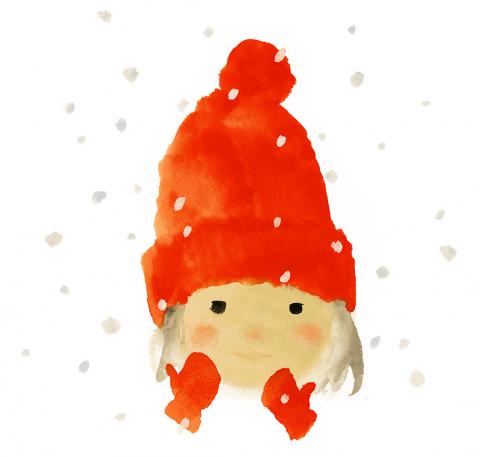 Chihiro Iwasaki, The Girl Wearing a Red Woolen Cap (1972).
Photo Courtesy of the National Museum of History
Organized by the Taipei Ministry of Culture, Dawn and Dusk: The Laurels and Controversy of Literary Awards (文學獎的光明與幽闇特展) takes us through the history of Taiwan's literary awards since the Japanese colonial period to the present. The show, in Chinese, features a collection of interviews, surveys, literary works and artifacts that offer valuable insight into how literary trends reflect Taiwan's changing social and political climate. From poetry and prose competitions during the Japanese era, anti-communist writings during the 1950's and the proliferation of newspaper and school-run award programs since the lifting of martial law in 1987, the field of literature has undergone a dynamic range of artistic evolution. Exhibition highlights include over 100 award-winning books and a series of recitations by their authors; video interviews of writers, award jurors and organizers, and publishing houses; and the impression lovers of literature have towards the Taipei Literary Awards. The exhibition is run concurrently with the Taipei Literature Festival, which also includes an ongoing lecture series and a film program that highlights the lives of Bob Dylan and Mishima Yukio.
■ Taipei Zhongshan Hall (臺北市中山堂), 98, Yanping S Rd, Taipei City (台北市延平南路98號), tel: (02) 2381-8781. Open daily from 9:30am to 9:00pm
■ Until tomorrow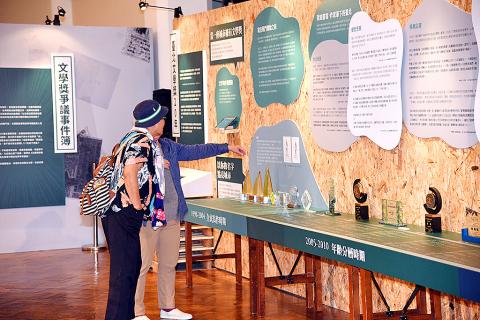 Exhibition view of Dawn and Dusk: The Laurels and Controversy of Literary Awards.
Photo Courtesy of the Taipei Literature Festival
Fineries of Forgery: "Suzhou Fakes" and Their Influence in the 16th to 18th Century (偽好物 — 16至18世紀「蘇州片」及其影響) highlights the peculiar Chinese tradition of appreciating exceptional copies of original works. The term weihaowu (偽好物), coined by the great Northern Song painter and collector Mi Fu (米芾), literally translates as fake goods and refers to imitation copies that display such fine artistic merit that they are recognized as works of art themselves. Many of these forgeries were produced in the 16th and 17th centuries, a time marked by rising popularity of paintings, calligraphy and antiques as consumer items. The market favored works by famous Suzhou masters from the Tang, Song, Yuan and Ming dynasties. Despite the wide range of attributions, forgeries created during this period are commonly known as Suzhou fakes. The forgery workshops catered to "a public seeking famous literary allusions and popular auspicious themes in art" and created popular products such as copies of Up the River on Qingming (清明上河圖) and Shanglin Park (上林賦). Though the distinction between original and fake copies was critical to connoisseurship, copying original works were accepted as part of a general culture of art appreciation. Even the emperors ordered court copies of famous Suzhou paintings, including Ding Guanpeng's (丁觀鵬) copy of Qiu Ying's (仇英) painting, Elegant Gathering in the Western Garden. The exhibition offers an interesting juxtaposition between Qiu's original work and Ding's attribution. "The Qianlong emperor…inscribed on the original about the coloring and formal likeness, which became points to be emulated in this copy," according to the museum.
■ National Palace Museum (故宮博物院), 221, Zhishan Rd Sec 2, Taipei City (台北市至善路二段221號), tel: (02) 2881-2021. Open Sundays to Thursdays from 8:30am to 6:30pm, Fridays and Saturdays from 8:30am to 9pm
■ Until Sept. 25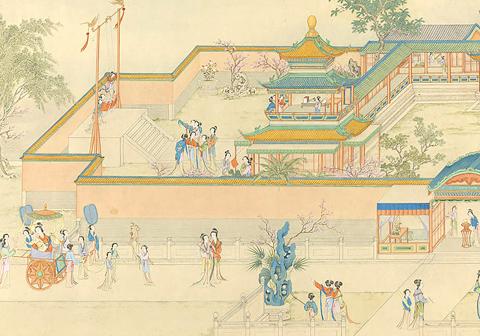 Ding Guan-peng, Detail of Imitation of Qiu Ying's "Spring Dawn in the Han Palace" (ca. 1708-1771).
Photo Courtesy of the National Palace Museum
Treasure Hill will hold a two-day exhibition, Cruel Luxuries, by resident artist Elizabeth Briel, former resident artist Monica Chou (周孟曄) and Kaohsiung-based artist Daniel Castelaz. The three artists share an affinity for printmaking and will each show a selection of works from their recent projects. Briel's Cruel luxuries is a project that explores "the brutality behind many of humanity's highest or most luxurious art forms," according to the artist's Web site. The work consists of a 20-meter scroll of silk imprinted with shark fins; a century-old recording of the last Castrato singer Alessandro Moreschi; and photographs of her father's life as a young Catholic priest. Chou is a mixed media artist with a background in anthropology. Her work explores themes concerning the relationship between people as well human relationships with their environment. Castelaz works between sculpture, drawing and poetry; for the past decade he has been continuing a sculptural project that combines techniques of woodwork, printmaking, assemblage and painting to create quasi-architectural objects layered with multiple spaces, visual narratives and meanings. These objects can be viewed from multiple angles and often offer elements of surprise in their subtle details.
■ Treasure Hill Artist Village (寶藏巖國際藝術村), 2, Alley 14, Ln 230, Tingzhou Rd Sec 3, Taipei City (台北市汀州路三段230巷14弄2號), tel: (02) 2364-5313. Opens Tuesdays to Sundays from 11am to 6pm.
■ Until Sunday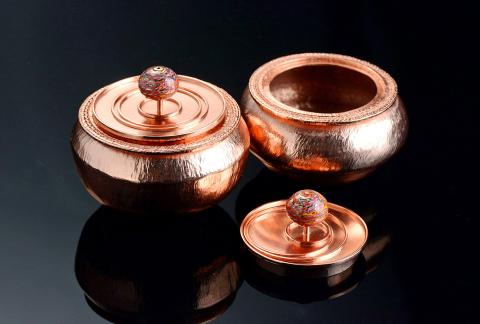 Quintas Yang Xin-biao, Tian Chu (2017).
Photo Courtesy of the National Taiwan Craft Research and Development Institute
Wandering Among the Forest Trails (豁然山行) is a solo exhibition by award-winning craftsman Quintus Yang Xin-biao (楊炘彪). Yang is currently an adjunct professor at Tungfang Design University in Kaohsiung and runs Sanfeng (三丰), a metal and lacquer art studio that promotes the conservation and innovation of traditional craft. Yang's artwork is characterized by delicate expressions, mastery of technique and innovative integration of multiple materials in search of new possibilities. The show features 55 works of metal, lacquer and bamboo that artistically interpret themes from Taiwan's natural landscape, including mountains, plants and butterflies, as well as constellations in the sky. He mediates these themes through designs of tea ware, jewelry and other forms of applied art. Exploring the boundaries between craft and art, Yang explains his vision: "The nature of art is care…beauty can be more than appearance."
■ National Taiwan Craft Research and Development Institute Taipei Branch (臺北當代工藝設計分館), 41, Nanhai Road, Taipei City (台北市南海路41號), tel: (02) 2388-7066 and (02) 2388-9969. Open Tuesdays to Sundays from 9:30am to 5:30pm
■ Until May 6
Comments will be moderated. Keep comments relevant to the article. Remarks containing abusive and obscene language, personal attacks of any kind or promotion will be removed and the user banned. Final decision will be at the discretion of the Taipei Times.