Highlight: 2018 Taipei Gypsy Jazz Festival
Vincent Tsai (蔡偉靖) wanted to bring gypsy jazz to Taiwan ever since he visited France to attend the Festival Django Reinhardt, named after the legendary guitarist who died in 1953 but continues to inspire musicians to take up the genre today. In 2015, Tsai found the perfect person to help him put together the Taipei Gypsy Jazz Festival: Denis Chang (張宏睿), a Montreal native of Taiwanese descent who has learned from well-known gypsy jazz players such as Fapy Lafertin of Belgium and Ritary Gaguenetti of France.
Chang has put together an impressive international lineup for this year's festival, recruiting violinist and singer Tcha Limberger from Belgium, guitarist Antoine Boyer from France and double-bassist Kumiko Imakyurei from Japan to hold workshops, jam nights and a finale concert on Sunday that pays tribute to Reinhardt.
While gypsy jazz is still relatively obscure in Taiwan, Chang says that he has played with the Dark Eyes Gypsy Jazz Band in Taipei in the past, always to enthusiastic response from the crowd. While Dark Eyes is the only band he knows in Taipei that is trying to recreate the music as it is originally played, Chang is open to fusing it with other styles — he says he would love to see people combine old Taiwanese swing with the genre.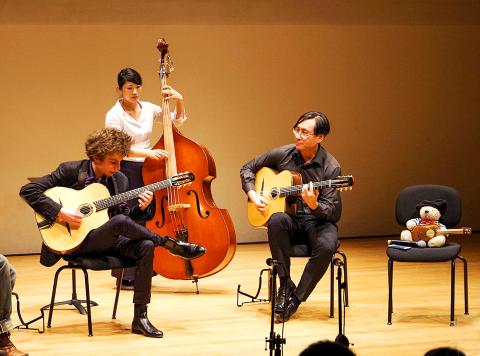 Antoine Boyer, left, Kumiko Imakyurei, center and Denis Chang play at a concert last year. Not pictured is Tcha Limberger, who will be joining the trio on Sunday.
Photo courtesy of Taipei Gypsy Jazz Festival
■ Django in Taiwan concert is on Sunday from 7:30pm to 9:30pm at Eslite Performance Hall (誠品表演廳), B2 Eslite Spectrum Shopping Mall, 88 Tobacco Factory Road, Taipei City (台北市菸廠路88號B2)
■ Tickets are NT$1,000, NT$1,200 and NT$1,500; for more information and full program, visit gypsyjazztaipei.weebly.com
Comments will be moderated. Keep comments relevant to the article. Remarks containing abusive and obscene language, personal attacks of any kind or promotion will be removed and the user banned. Final decision will be at the discretion of the Taipei Times.