Artists for ecosystems
This year's Taipei Biennial will be a social experimentation that involves collaboration across cultures, communities and disciplines both inside and outside the Taipei Fine Arts Museum
The forthcoming Taipei Biennial, organized by Taipei Fine Arts Museum (TFAM), will open in mid November with the theme "life-support, living [and] survival systems." The topic addresses an artistic trend that responds to the global urgency to speak about the earth's changing ecosystem and our relationship with it.
"The 11th Biennial [will] consider the future, and to ponder the issues of the environment and survival that intimately involve you and me," says TFAM director Lin Ping (林平).
As an artistic interpretation, the show will explore the term "ecosystem" beyond its traditionally known biological scope and delve into the cultural, economic and sociological aspects that make up the habitat we live in.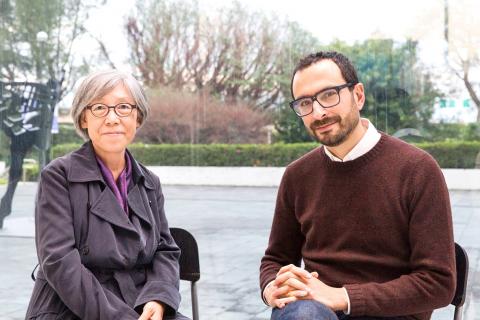 Wu Ma-li, left, and Francesco Manacorda will co-curate this year's Taipei Biennial, which begins in November.
Photo courtesy of TFAM
"While humans are inseparable from their environment, the gradually deteriorating natural ecosystem has become a source of pressure forcing every living being to face the fragility of nature and the consequences of human activity," writes the museum in a press release.
The curators appointed this year, Wu Ma-li (吳瑪悧) and Francesco Manacorda, are well known for their prior work and research into artistic explorations of natural life and survival.
Wu in particular has worked extensively with local communities to produce socially engaged projects that speak from the tradition of ecofeminism, a school of thought that reflects upon the role of women and their relationship with nature.
Wu's seminal exhibition, Art as Environment—A Cultural Action at Plum Tree Creek, won an esteemed Taihsin Arts Award (台新藝術獎) in 2012.
"The long-time community engagement efforts Wu Ma-li cultivated for years makes this biennial different from others," Manacorda says.
Manacorda is an Italian curator and art writer who has worked extensively across institutions, biennials and academia. He is currently the Artistic Director of a Venice-based Russian foundation V-A-C and visiting professor at School of Art and Design in Liverpool.
"With Francesco Manacorda's international connections and experience, both theoretical and practical, I am very excited to see how the Taipei Biennial can be a new kind of driving force for community-driven intercultural collaboration," Lin says.
Visitors may expect this year's exhibition to go beyond the museum walls. According to the TFAM, the show will be a social experimentation that involves collaboration across cultures, communities and disciplines.
By placing art back into life, Wu says, "we should focus on life itself and respond collectively to living, I hope this exhibition can be an experimental laboratory that incubates collaborations among talents from different fields."
BIENNIAL BIOGRAPHY
The Taipei Biennial was founded in 1998, after TFAM reformed its original biennial program from a locally driven art survey to a more internationally ambitious platform led by an appointed pair of local and foreign curators.
Over the years, the show has played a prominent role in fostering greater dialogue and exchange around contemporary issues between the Taiwanese art world and abroad. The biennial, along with the Venice Biennial Taiwan Pavilion, are considered two of Taiwan's most prestigious, internationally engaging art shows presented by TFAM in alternating years.
Contrary to the Taiwan Pavilion, which sparked heated protest in 2003 concerning its debatable civic duty to represent Taiwanese talent in an international setting, the Taipei Biennial has maintained a steady balance as an occasion for local exchange with other cultures.
In the last six years, The Taipei Biennial has shown consistent interest in surveying art from the perspective of the history and fate of the human race. The 2014 show, The Great Acceleration, reflected on the speedy impact of human civilization on earth's geology and life forms. The 2016 show, curated by French curator Corinne Diserens, responded to the state of human genealogy and archival of memory.
Comments will be moderated. Keep comments relevant to the article. Remarks containing abusive and obscene language, personal attacks of any kind or promotion will be removed and the user banned. Final decision will be at the discretion of the Taipei Times.