Art exhibition listings
Hui-Hsuan Hsu (徐嘒壎) is a multi-media artist who creates digital videos, photographs and installations inspired by everyday objects. Butter, onions, aluminum tubes and small pieces of jelly are among the things she zooms in on to capture their physicality, as moving lights illuminate their material characteristics. These small objects, magnified with digital technology, appear to contain expansive, cosmic universes that Hsu reconfigures into abstract narratives. Her solo exhibition, Sprinkling, presents four new videos and a sculptural installation composed of an array of 22 frosted glass drops. According to the artist, the suspended glass structure alludes to the ongoing process of encounters, collisions and disintegrations in the universe. Cream Sundial, for example, traces two different light trajectories on a creamy white surface, highlighting a particular sense of reoccurring events in different moments of time. Even though Hsu often highlights details of the physical world with meticulous detail, her ultimate aim is to create a kind of art that is independent from linear time and the tangible world.
■ Free Art Space (福利社), B1, 82, Xinsheng N Rd Sec 3, Taipei City (台北市新生北路三段 82 號 B1), tel: (02) 2585-7600, Open Mondays to Fridays from 11am to 5pm, and Saturdays from 1:30pm to 9pm
■ Until Feb. 3
Iabadiou Piko, Disturb Blue (2017).
Photo Courtesy of Nunu Fine Art
Iabadiou Piko is an Indonesian artist who creates rich, poetic paintings based on everyday life. His paintings are bold in color, sometimes sweet and delightful, at other times stormy and dark. Using a wide range of materials, including oil paint, acrylic, charcoal, volcanic ash and bitumen, he creates emotive narratives using abstracted forms and figures drawn from daily encounters, experiences and memories. Piko's painting practice is almost diaristic, distilling life events into poetic expressions that make up his playful, idiosyncratic universe. In his solo exhibition, The Storm of Perception, the artist presents 10 new paintings that feature motifs of natural landscape and abstract color fields. Landscape in Red presents a red anamorphic shape containing silhouette shapes of mountains, trees and animals. The red form is framed by a pair of embracing hands that extend from a dark, atmospheric background.
■ Nunu Fine Art (路由藝術), 5, Ln 67, Jinshan S Rd Sec 1, Taipei City (台北市金山南路一段67巷5號), tel: (02) 3322-6207. Open Wednesdays to Sundays from noon to 7pm
■ Until Feb. 28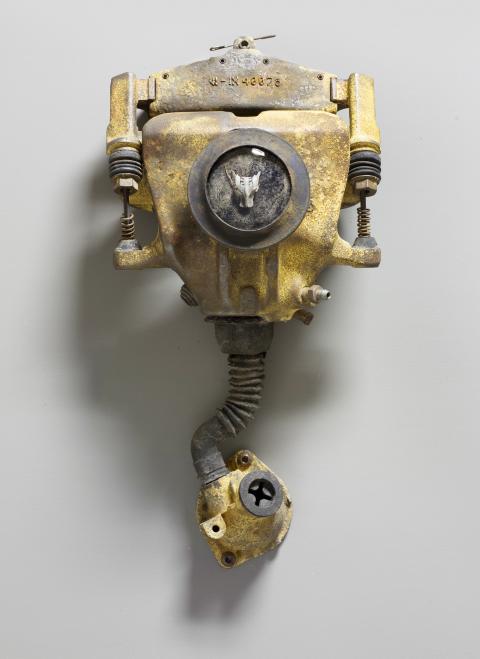 Yi Siuan, Klein Hurtz-No. 40076 Greenhouse (2016).
Photo Courtesy of Double Square Gallery
Yi Siuan's (于軒) Klein Hurtz-Greenhouse Mimicry features a collection of eccentric, scientific instruments invented by Klein Hurtz, a fictional scientist invented by the artist. The instruments are created with assemblages or casts of readymade objects painted over in realistic detail; in this makeover process Yi transforms ordinary forms into imaginative scientific devices. An accompanying mock documentary reveals that Hurtz created these objects in a failed attempt to sustain the life of unknown creatures in his laboratory. The video includes Hurtz's original sketches as well as details of his life story. Some of the devices, which appear to be worn and rusty, flicker with clues of life as the viewer approaches. Connected to kinetic sensors, the handle of a barometer fluctuates in one instrument while the sound of machinery ignites in another. "The exhibition attempts to fully restore, for the first time, Hurtz's research laboratory to its original state," writes the gallery.
■ Double Square Gallery (雙方藝廊) 28, Ln 770, Beian Rd, Taipei City (台北市北安路770巷28號), tel: (02) 8501-2138. Open Tuesdays to Sundays from 10:30am to 6:30pm
■ Until Feb. 11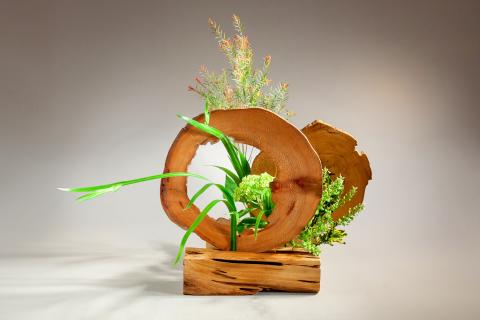 Image of the Mind (2017).
Photo Courtesy of National Museum of History
New Accents of Formosa (蓬萊新韻) is the theme of this year's Chinese floral exhibition co-organized by the National Museum of History and the Chinese Floral Arts Foundation. The two institutions have been co-organizing annual floral shows since 1984, and each year they have invited local florists to create works inspired by the year's curatorial theme. The show features new floral expressions that celebrate Taiwan's natural beauty and rich multi-cultural heritage. Flower arrangement is a cultural form closely tied to our desire to communicate with nature; the art requires spontaneous creativity and acute design instincts for various floral formations. The liveliness of each arrangement not only reflects the floral arranger's technique, but also their degree of cultivation. The exhibition is divided into four sections, including impressions of Taiwan's scenery, the merits of character and the interpretation of universal moral ideals.
■ National Museum of History (國立歷史博物館) 49, Nanhai Rd, Taipei City (台北市南海路49 號), tel: (02) 2361-0270. Open Tuesdays to Sundays from 10am to 6pm
■ Until Jan. 21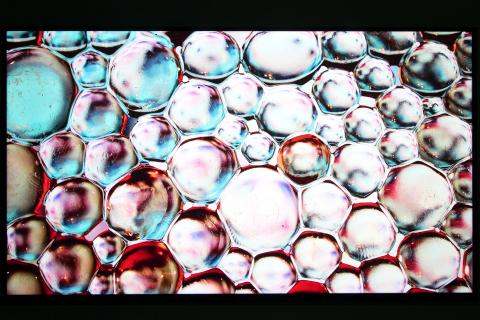 Hui-Hsuan Hsu, Supernova (2017).
Photo by Li Tsung-En
Uncanny (不可思議的生活) is a group exhibition of six well-established Taiwanese photographers who express a continued interest in exploring new ways of perceiving everyday life. Ma Li-chun (馬立群), Ben Yu (游本寬), Wang Fei-hua (王飛華), Deng Po-jen (鄧博仁), Chiu Kuo-chun (邱國峻) and Quo Ying-sheng (郭英聲) represent a generation of photographers born from the 1950's to the 1970's. Wang, Deng and Ma work between the fields of fine art and photojournalism; their work captures scenes of humanitarian interest as well as observations of daily life. Deng delves into more fantastical explorations in 2020, a cyan-blue print of a rabbit-headed woman standing against a cold and barren landscape of cement buildings. Ma's Transit01 is a black and white image of a large billboard shadow cast over a harvested rice field that lies adjacent to a long winding highway. Quo's Untitled is a seemingly staged interior scene decorated with wooden furniture and showroom props. In an empty, open wardrobe, a partially nude woman with a concealed face pushes against the inside walls.
■ Jazz Image Gallery (爵士藝廊), 2F, 431, Bade Rd Sec 2, Taipei City (台北市八德路二段431號2樓), tel: (02) 2741-2256. Open daily from 10am to 6pm
■ Until Jan. 18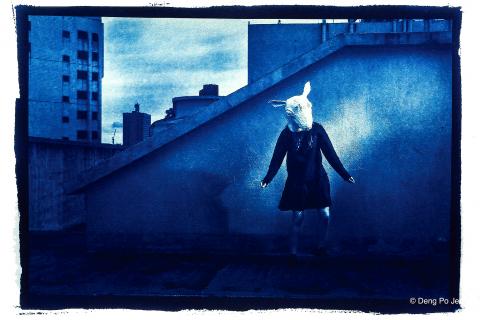 Deng Po-Jen, 2020 (2017).
Photo Courtesy of Jazz Image Gallery
Comments will be moderated. Keep comments relevant to the article. Remarks containing abusive and obscene language, personal attacks of any kind or promotion will be removed and the user banned. Final decision will be at the discretion of the Taipei Times.