Past, present, future in an era of globalization
Seven Taiwanese artists explore reality and how we interpret it in New York City exhibit
As globalization shrinks the world, dismantling boundaries that separate countries and cultures, seven Taiwanese artists explore the subject of reality and how we interpret it in an exhibition in New York City.
What Do You See? Contemporary Art from Taiwan (所見為何) features 19 works displayed at the Taipei Economic and Cultural Office (TECO) in Manhattan. It runs until Jan. 26.
The artists — among them Hou I-ting (侯怡亭), Tu Pei-shih (杜珮詩) and Liao Yu-an (廖堉安) — examine the ways in which reality is interpreted through sight and language.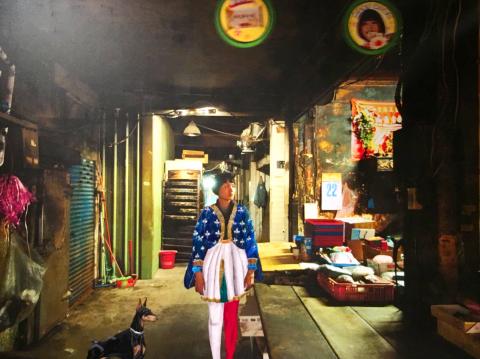 Hou I-ting, Complexing Body — Doberman and Romeo (2011).
Photo: Chris Fuchs
From paintings to sculptures, new media to installation art, the artists explore the past, present and future, reflecting the ways in which they see, conceptualize and imagine in an era of globalization and at a time when, as public intellectual Marshall McLuhan once famously put it, "the medium is the message."
"There are people of different nationalities with various cultural backgrounds in the US," curator Chen Yan-huei (陳妍卉) told the Taipei Times. "When they view the artists' work they may do so through the lens of their own culture, above and beyond what the artist had originally tried to convey."
COMBINING CULTURES
Liao Yu-an Distracted Life Journal No. 2 (2012).
Photo: Chris Fuchs
Hou's work examines the unfamiliarity Taiwanese have with the culture of their own country at a time when global cultures continue to blend together.
In Complexing Body — Doberman and Romeo (複體 — 杜賓狗與羅密歐), Hou is pictured against a backdrop of images that evoke Taiwan's history, culture and society.
Set in an traditional market, the work contains a variety objects commonly found in Taiwan. A large calendar with the date can be seen hanging on a distressed-looking wall. Filled storage boxes and red and blue bins sit on tables. A red pail rests on the floor while a red and green broom leans against the wall.
In the center of this tableaux stands Hou, clad in a blue, white and red costume redolent of the Shakespearean era, and flanked by a Doberman Pinscher.
One unique aspect of Complexing Body — Doberman and Romeo is that Hou's western-style outfit is embroidered directly onto the canvas itself. The overall result shows varying elements of Eastern and Western culture melded together from different times and different places.
"It makes us reflect on what our own traditional culture is," Chen said. "And then there's also the difficult issue of identity. To a large extent, Taiwanhas this problem because of our country's international relations."
ARMAGEDDON
Also featured in the exhibit is Tu's Nuclear World (核能世界), which at first glance evokes feelings of happiness, with images of butterflies fluttering in the silver-covered sky and children frolicking about. A Ferris wheel, large sunflowers and wildlife can also be seen in the grassy lands.
But closer inspection reveals something starkly different and disturbing. The elements that create this seeming image of beauty are actually based on what happens after a nuclear disaster.
That includes abandoned towns near the Chernobyl Nuclear Power Plant, in the former Soviet Union, where deadly explosions and fires in 1986 spread radioactive material across much of Europe.
Nuclear World also features the mutations of butterflies and flowers — as well as the enlarged, deformed heads of children — exposed to the effects of radiation poisoning.
In the end, the beauty depicted in Tu's mixed-media work serves as a hidden metaphor for the serious impact and harm potentially wrought by a nuclear world.
Contemporary ennui
Liao's Distracted Life Journal No. 2 (不專心生活誌No. 2) speaks to anyone who has ever tried to multitask amid the frenetic pace of the 21st century.
The scene in this acrylic work is set in an ordinary bathroom, though the perspective of space inside appears distorted. A bath towel hangs on a rack. A yellow rubber duckie rests on a small ledge. A mop streaks across the floor. The accoutrements of daily life are all in plain view.
There's also the work's main subject, a purple-colored body whose head is covered with a water bucket. The figure's unnatural posture is warped and twisted, limp and stiff, perhaps about to slip on the streak of water left in the mop's wake.
Yet, with all that's going on, the figure's two hands remain fixated on one task: texting on a smartphone.
"This is probably a visual that can be understood across the world," Chen quipped.
In an age where science, technology and the Internet all dominate, Distracted Life Journal No. 2 puts on full display the feelings of emptiness experienced in contemporary society.
What Do You See? Contemporary Art from Taiwan marks the first time that works from Art Bank Taiwan (藝術銀行) have been shown in New York. Begun in 2013, Art Bank is a program run by Taichung's National Taiwan Museum of Fine Arts (國立台灣美術館) that rents out artwork to government agencies and private companies, among others.
To date, it has acquired close to 1,800 pieces of art and encourages rentals for display in public places, in an effort to increase artwork circulation and to invigorate Taiwan's art market.
The exhibition, organized in part by the Taipei Cultural Center in New York, will next travel to Washington DC. It will go on display at the Twin Oaks Estate, a 26-room English Georgian Renaissance-style mansion on 18 acres of land owned by Taiwan's government.
Comments will be moderated. Keep comments relevant to the article. Remarks containing abusive and obscene language, personal attacks of any kind or promotion will be removed and the user banned. Final decision will be at the discretion of the Taipei Times.