Past and present converge at Art Basel
The sixth edition of the Hong Kong art fair will present a more diversified, updated notion of 'Asia' while invoking nostalgia and memories
Adeline Ooi (黃雅君), Art Basel's Director Asia, says art fairs are held for a simple reason.
"It's because we're all stupidly fascinated by art," she says.
We chat in front of Chinese artist Ye Yongqing's (葉永青) childlike scribbles of birds in Le Meridien Taipei last month when Ooi was in town to share the gallery list for the sixth annual Art Basel Hong Kong. The fair, which will take place at the Hong Kong Convention and Exhibition Center from March 29 to March 31 next year, will feature 248 galleries from 32 countries, including nine from Taiwan.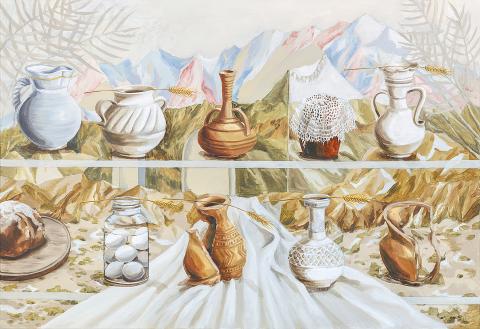 Hsu Yin-ling, When My Words Were Wheat (2017).
Photo courtesy of Project Fulfill Art Space
Ooi, who has long been a champion for making art accessible to the public, says that there are two important changes in next year's fair. First is a more inclusive and diversified notion of Asian art. Second is that although artists might be working with new media, many are drawing inspiration from the past.
"The fair is going to run the gamut between super high-tech installations that would cease to work without Wi-Fi or electricity and art that is handmade such as cut-and-paste collage," Ooi says.
THE NOTION OF 'ASIA'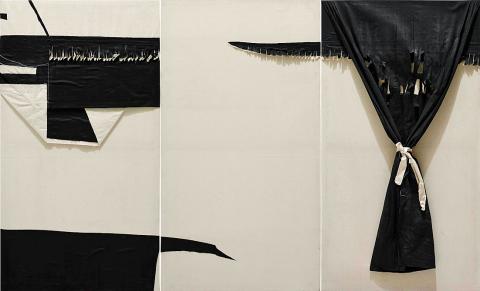 Chu Wei-bor, Gateless Curtain (1984).
Photo courtesy of Asia Art Center
Ooi, who is from Malaysia, explains that "Asia is still a very fragmented concept." For instance, people are unfamiliar with Southeast Asian art unless they are from the region. Reasons include language barriers that make it difficult to read each other's art publications as well as a tendency in Western countries to gravitate towards art from China, Japan or South Korea. This is changing, however, with the opening of museums such as MACAN in Jakarta, which displays Indonesian art within an international context.
"We're drawing a more diverse picture of Asia than what people would normally think," Ooi says.
One gallery that is complicating the notion of Asia is the Asia Art Center. The Taipei and Beijing-based gallery will be participating in Art Basel Hong Kong for the first time next year and they are highlighting two China-born Taiwanese artists, Chu Wei-bor (朱為白) and Fong Chung-ray (馮鍾睿).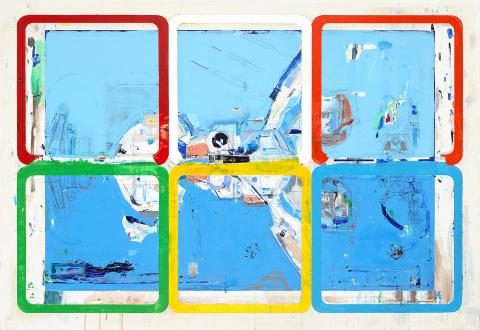 Chen Chien-jung, Aircraft 16 (2016).
Photo courtesy of Project Fulfill Art Space
"Artists of their time produced works that were an interesting blend of traditional Chinese, Western and even Southeast Asian techniques," says Asia Art Center's Managing Director Steven Lee (李宜勳).
Fong belong to the Fifth Moon Group (五月畫會), an art group founded in Taipei in 1957 known for pioneering modern, creative approaches to Chinese art. While Chu uses linen to create collages that resemble three-dimensional ink paintings, Fong blends Western abstract elements in bright colors with black-and-white calligraphy.
Lee says that while we may take globalization for granted now, the mid-20th century was a tumultuous time that resulted in artists experimenting with new techniques and media to grapple with their changing world.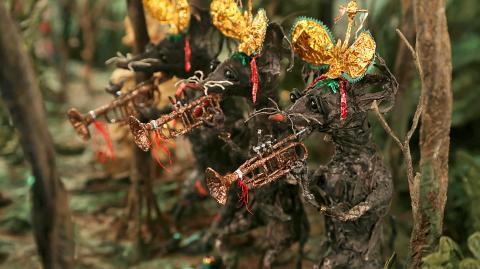 Zhang Xu-zhan, Hsin Hsin Joss Paper Store Series Room 004: Si So Mi (2017).
Photo courtesy of Project Fulfill Art Space
"If it wasn't for World War II and the Chinese Civil War, artists like Chu and Fong would not have left China, went overseas and developed the type of art that they did," he says.
Lee adds, "It's important to remember their significance and to recognize that these 80-something-year old artists were once very experimental."
THE PAST IS THE NEW FUTURE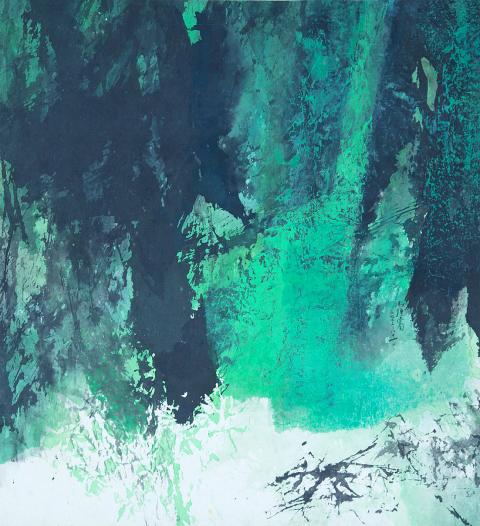 Fong Chung-ray, 1973-81 (1973).
Photo courtesy of Asia Art Center
Project Fulfill Art Space also looks toward the past, but in a different way than Asia Art Center. The Taipei-based conceptual art gallery will be participating in Art Basel Hong Kong for the fifth year in a row, an accomplishment which gallery director Lin Pei-yu (林珮鈺) says is both exciting and nerve-wracking.
"For our very first show in 2014, we did sound art," Lin recalls. "There was this wow factor surrounding sound art since few galleries did that in a commercial art fair at the time. Since then, we've felt that we've had to outdo ourselves."
For next year's fair, Project Fulfill is exhibiting works by Chen Chien-jung (陳建榮), whose paintings of used floor plans challenges the notion of space, and Hsu Yin-ling (許尹齡) who paints her own made-up realities based on scraps of information taken from real life such as newspaper clippings. The gallery is also featuring Yuko Mohri and Zhang Xu-zhan (張徐展), both of whom work with mixed media and sound.
"Although he's positioned himself as a high-tech artist, Zhang is obsessed with the past," Lin says.
The young Taipei native, who previously went by the name "Mores Zhan," has a solo exhibition at Project Fulfill Art Space, Si So Mi, which runs until January 20, after which some of the works will be shipped to Hong Kong.
It is fitting that Zhang explores the dichotomy of life and death through a mixture of old media (joss paper or "spirit money") and new media (video and sound). When Zhang's father considered closing the family's joss paper store, Zhang started making anthropomorphic mice with joss paper and dressed them in ceremonial garb. The mice symbolize life, something which Zhang learned to be precarious when he saw a mouse drowning in a bucket of water when he was a child.
He creates elaborate stages for the mice similar to Taiwanese electric funeral cars which he uses as film sets and adds the German folk song, Ach wie ist's moglich dann, about love and death, for audio accompaniment. The effect is both sentimental and innovative.
"It's telling to see young artists looking back at the past and evoking nostalgia," Ooi says.
While artists are exploring big issues, she adds the fair's overall message is uplifting: although art doesn't solve these problems, it poses creative ways to make sense of them.
"Artists create for an audience. If fairs were just about selling paintings, then we could close after a day and our lives would be easier."
Comments will be moderated. Keep comments relevant to the article. Remarks containing abusive and obscene language, personal attacks of any kind or promotion will be removed and the user banned. Final decision will be at the discretion of the Taipei Times.