Chen Wei-cheng (陳韋成) says that since he's not gay, there's even more reason for him to march in the Taiwan LGBTQ Pride Parade.
"If I were gay, I would have to consider whether I should come out to my family and friends before participating," he says. "Compared to them, I have less pressure on me. That's why there's even fewer reasons for me not to speak out."
Chen says his desire to fight for marriage equality intensified when his daughter was born.
"If society has not improved by the time she grows up and she turns out to be [lesbian], I would regret not fighting for her rights earlier," he says.
Video by Sofia Kuan
While people like Chen can easily be found at the parade, there's also a large silent majority in society — including the lesbian, gay, bisexual, transgender and queer (LGBTQ) community itself — that either feels apathetic about the issue or do not speak out for fear of revealing their sexual identity in public.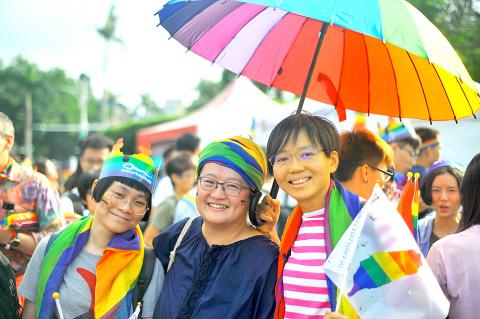 Wu Pei-ying, center, is a long time participant of the LGBTQ parade while Wang Yu-ching, right, is a first time participant who simply "never thought of attending."
Photo: Han Cheung
But this year's parade director Simon Tai (戴佑勳) says that he has noticed that more of the silent majority is willing to participate. For example, the Bondage, Discipline, Dominance & Submission and Sadomasochism (BDSM) element has grown from individual participants into marching in a formal group. Also evident is the increase in registered groups that do not directly relate to LGBTQ rights — such as the Trade Union of Electrical, Electronic and Information in Taiwan (台灣電子電機資訊產業公會).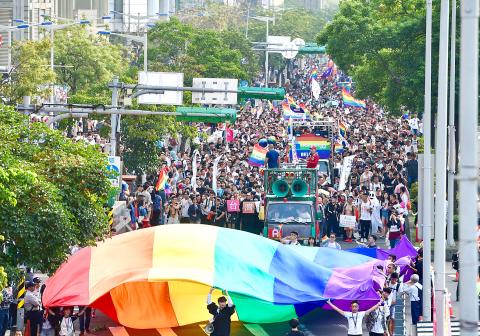 Rainbow flags are seen everywhere during the LGBTQ Pride Parade in Taipei on Oct. 28.
Photo: Han Cheung
At the same time, Tai says organizers try to be conservative with their participant estimates, fearing that it would cause an opposite effect.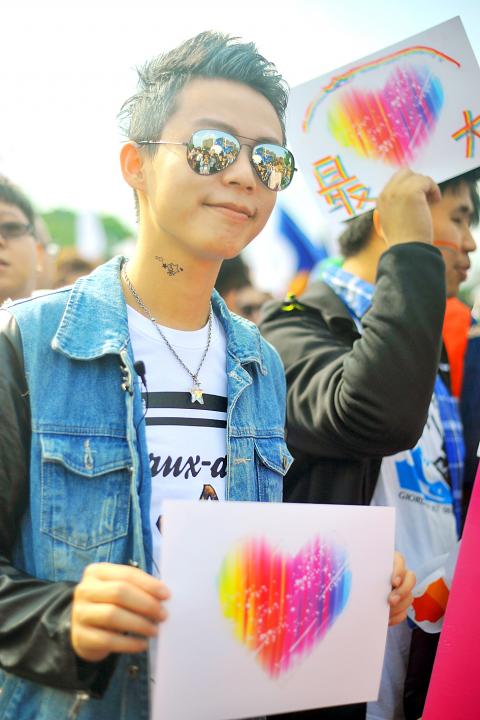 Tibao holds a sign at the Oct. 28 Taiwan LGBTQ Pride Parade in Taipei.
Photo: Han Cheung
"If the number is too high, it easily leads people to feel that the LGBTQ movement has achieved its goal," Tai says. "I also don't want our participants to get carried away too quickly."
HELD BACK BY STIGMA
Lee Hsin-fang (李欣芳) writes in the study, "Strategies and Process of the Taiwan Lesbian and Gay Movement" (台灣同志運動策略與過程之探討), that being able to march in the street as a group "doesn't mean that each individual can live their everyday lives without fear or hesitation."
This notion, says Tai, is the main reason why members of the LGBTQ community prefer to stay silent.
"In Western countries, if a public person comes out of the closet, it would be perceived as a courageous and positive act," Tai says. "But in Taiwan, going public and fighting for LGBTQ rights carries with it consequences. You'll have to bear the stigma that the entire society will place on you, whether in your private life or public."
Even with the landmark ruling on same-sex marriage in May, Tai says it doesn't mean that more people can come out. In fact, it cause even more pressure.
"People don't realize that even if the government allows same-sex couples to marry, there will be relatively few people who can get married without any worries," he says. "For example, once you're married, your national ID card will indicate that you're gay. Not everyone is able to face this amount of pressure yet."