Art exhibition listings
Veteran Japanese artist Tsuyoshi Maekawa's solo exhibition, The Strength of Matter, features a comprehensive selection of over 60 paintings that span his three-decade career. An iconic member of the mid-20th century art movement Gutai, Maekawa's earlier works align with the group's aspirations to push art beyond its post-war state via material and action-based experiments. The artist is best known for creating visceral abstract pictures that often involve gluing, tearing and sewing burlap to create relief surfaces. Untitled (1965) is one of Maekawa's earlier Gutai paintings in which burlap is creased into an array of streaming lines that contrast with crude and flat oil-paint contours overlaid on top. Maekawa worked in a post-war context shrouded by unknown frontiers. "By inventing something that never existed… I felt like art was opening up a newly discovered world," the artist says. When he left the Gutai Group in the 1970s, he began to segue into more personal interests, and for a period of time he experimented with un-dyed cloth, manipulating its materiality by techniques of assemblage, sewing and drawing. The exhibition includes works from the 60s to this year, offering an insightful view into the artist's innovative and robust career.
■ White Stone Gallery (白石畫廊), 1 Jihu Rd, Taipei City (台北市基湖路1號), tel: (02) 8751-1185. Opens Tuesdays to Sundays from 11am to 9pm.
■ Until Nov. 26
A view of the exhibition Floating Glimpse of Our Homeland.
Photo courtesy of Hsinchu city art Gallery
For the last three months, Polish artist Karolina Bregula has been sojourning in Tainan shooting her upcoming film and prepping for her solo exhibition Square at the local gallery Fotoaura (海馬迴光畫館). The recently opened show, which runs until the middle of next month, features a selection of videos, photography and handmade musical instruments that relate to the artist's ongoing interests in public spaces, social relationships and the role of art in everyday life. The musical instruments on view are part of Bregula's ongoing project Instrument for Making Noise, which involves crafting instruments out of discarded material taken from past art exhibitions and artist studios. One of the videos on view features Tainan-based sound artists Alice Hui-Sheng Chang (張惠笙) and Nigel Brown, who use these instruments for a session of improvisational performance on the streets of Tainan. The theme of staged happenings reoccurs in the exhibition, presenting moments that seem to dwell between fiction and history. The Street, for example, is a photograph depicting a busy square with multiple storylines that draw inspiration from several Korean art masterpieces. Also on view is a three-minute trailer of Bregula's upcoming film Square, which begins with an urban legend of a singing statue in the bushes of a public square.
■ Fotoaura Gallery (海馬迴光畫館), 2F, 83 Chenggong Rd, Tainan City (台南市成功路83號2樓), tel: (06) 222-3495. Opens Wednesdays to Sundays from 1pm to 8pm.
■ Until Dec. 7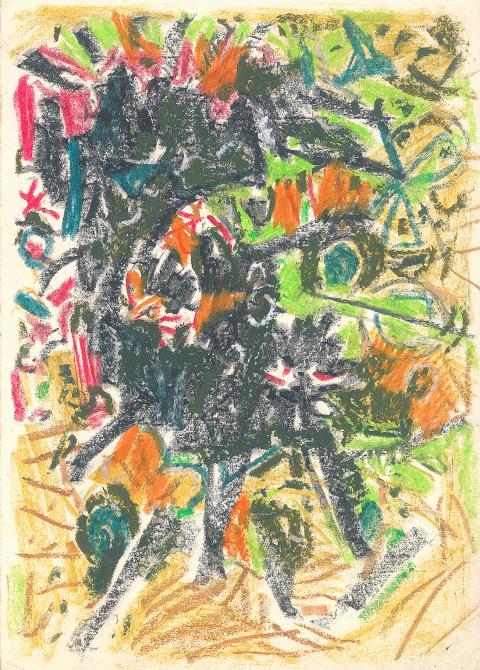 Wu Da-Yu, Untitled (undated).
Photo courtesy of Lin & Lin Gallery
To celebrate its 10th anniversary, Hsinchu City Art Gallery presents Floating Glimpse of Our Homeland, a group exhibition that explores the concept of city as an organic ecosystem continually changing with social, political and cultural developments. The show includes six artists who live in different cities of Taiwan and represent different generations. Together they share similar interests in exploring themes that concern urban spaces, such as migration, urban life, sustainability and development. Japanese artist Suzuki Takahiko uses photography to recreate 3D models and virtual renditions of buildings he finds interesting. He is particularly interested in spaces that have strong local characteristics, such as betel nut shops and other creative constructions made with metal sheets and temporary housing materials. Yang Che-yi's (楊哲一) photographs, films and original songs engage children in responding to the changing landscapes of his hometown Yilan. Drawing inspiration from a mixture of music genres, including Taiwanese opera, pop, rap and European classical music, his songs speak to the complex soundscapes of our times. The show offers multiple perspectives on the past, present and future of cities in Taiwan.
■ Hsinchu City Art Gallery (新竹市美術館), 116 Central Rd, Hsinchu City (新竹市中央路116號), tel: (03) 524-7218. Opens Tuesdays to Sundays from 9am to 5pm.
■ Until Nov. 28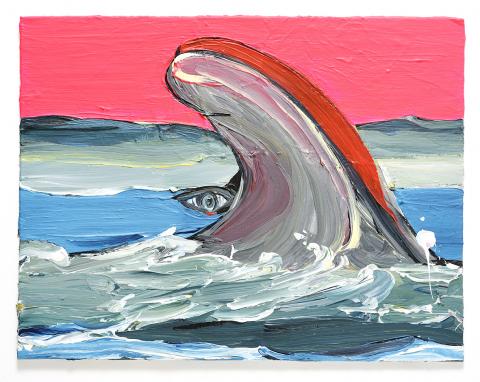 Aki Kondo, From Island to Island (this year).
Photo courtesy of tina keng gallery
This is the last week of From Island to Island, Japanese artist Aki Kondo's solo exhibition at Tina Keng Gallery (耿畫廊). The 10 luscious paintings on view are a culmination of her 45 day residency in Taipei this year, organized by the gallery and Tokyo-based Shugo Arts. The title refers to Kondo's voyage from Japan's Shodoshima Island, where she normally resides, to Taiwan, which she says is "a different world beyond the border." Before departure, she had anticipated encountering a different temporality in Taiwan and hoped to inscribe this distinctiveness into her work. Her works employ a generous use of paint, vibrant colors and spontaneous brushstrokes that accentuate the presence of the artist at work. Working intuitively between fantasy and reality, Kondo creates anecdotal narratives from life experiences and physical perception.
■ Tina Keng Gallery (耿畫廊), B1, 15, Lane 546, Ruiguang Rd, Taipei City (台北市瑞光路546巷15號B1), tel: (02) 2659-0798. Opens Tuesdays to Sundays from 11am to 7pm.
■ Until Nov. 12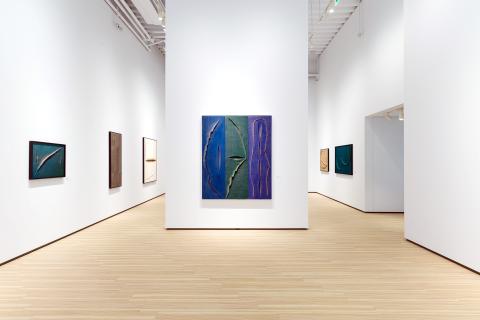 View of the exhibition The Strength of Matter.
Photo courtesy of white stone gallery
Lin & Lin Gallery is currently showing Wu Da-yu (吳大羽, an intimate show of 30 small-scale works by pioneering modern artist Wu Da-yu (吳大羽). As a prominent figure of the first generation Chinese abstract painters, Wu was among the first Chinese artists to study in France in the early 1920s. He later returned to Hangzhou, where he taught many painters who later became pioneers of the next generation, including Zao Wou-ki (趙無極), Chu Teh-chun (朱德群) and Wu Guanzhong (吳冠中). Wu's paintings have a distinct way of combining Chinese and Western sensibilities; even in his small works on paper, vibrant abstractions and lyrical brushstrokes negotiate a balance between composed elegance and passionate bursts of emotion. Fellow artist Lin Fengmian (林風眠) once said Wu is "an exceptional artist of color and with amazing creativity." According to the gallery, this is the first time these works on paper are publically exhibited. Using a variety of materials, including ink, watercolor, oil pastels and pencil, these drawings show influences of impressionism, cubism, fauvism and Chinese ink painting.
■ Lin & Lin Gallery (大未來林舍畫廊), 16 Dongfeng St, Taipei City (台北市東豐街16號), tel: (02) 2700-6866. Opens Tuesdays to Sundays from 11am to 7pm.
■ Until Dec. 3
Comments will be moderated. Keep comments relevant to the article. Remarks containing abusive and obscene language, personal attacks of any kind or promotion will be removed and the user banned. Final decision will be at the discretion of the Taipei Times.