Professional arborist Weng Heng-bin (翁恆斌) doesn't like trimming trees.
But his job can be crucial — in last month's case, it was to prevent Formosan black bears from climbing out of their enclosures at the Taipei Zoo. Weng says that if the trees have to be cut, they might as well be done by someone who cares about them and understands their physiology.
"Of course the trees suffer damage when you trim them," he says. "So before we cut a branch, we have to properly consider the impact on the tree and try our best to minimize the damage. We also try to cut in places where the tree can recover more quickly."
Video by Sofia Kuan
Weng's business, Climbing Tree (攀樹趣), boasts a formidable team: He and Maverick Du (杜裕昌) are among five people in Taiwan to receive professional certification from the International Society of Arboriculture, while Sylvia Hsu (許芢涵) is this year's national female tree climbing champion.
Weng Heng-bin feels at ease among the trees at the Formosan black bear enclosure at the Taipei Zoo.
Photo: Han Cheung
Unlike traditional arborists who operate from ladders and cranes, the trio use a rope and harness system to get up close and personal with the trees, navigating even the highest branches with ease.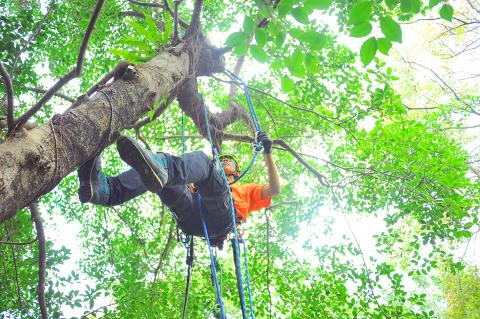 Maverick Du makes his way up a branch using a harness and rope system.
Photo: Han Cheung
"Cranes aren't able to enter the black bear enclosure," Du says. "So in this case, our skills are vital, otherwise the trimming is limited to what can be reached via ladder. With our climbing skills, we can pretty much get to anywhere we want on the tree to find the ideal spot to cut."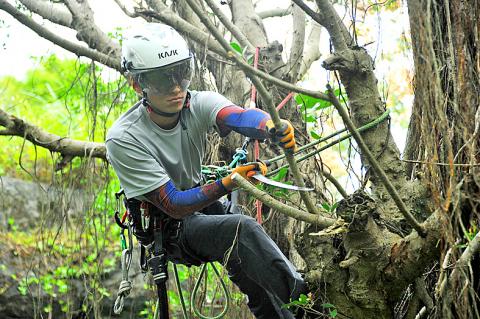 Weng Heng-bin saws off a branch at the Formosan black bear enclosure at the Taipei Zoo.
Photo: Han Cheung
Other applications of their services include helping researchers collect data and samples, building tree houses and hosting recreational tree climbing sessions — which is becoming a popular activity.
APPRECIATING TREES
Luo Hsuan-yi (羅諠憶), who oversees the zoo's Formosan animal area, says that previously the black bear enclosure's trees were trimmed using the ladder method where all branches were trimmed to about the same length.
"The benefits of this method is that it guarantees that the animals don't get out, and also we won't need to trim again for a long while," she says. "But the trees suffer more damage, and it looks less natural. That's why we wanted to try something different."
She likes what she sees, though she is a bit wary that by not cutting all the branches, the bears could still escape if they grow long enough — although the arborists say they do take future growth into consideration.
Du, Weng and Hsu all started out as recreational climbers, but became so engrossed in their hobby that they eventually made it their career. Weng encourages people to try tree climbing, as it provides a new perspective and appreciation for trees.
"I hope that people can feel how strong the trees are and start thinking about how to protect them," he says. "Then they might start wondering why the tree in front of their house has been trimmed in a certain way."
Weng rates the Formosan black bear job a four out of 10 in terms of difficulty.
"This is a warm up for our next task at the Formosan macaque area," Du says. "Those trees are larger and taller, and there's a pond underneath. We can't let the branches fall into the water, so we have to secure them by rigging."