The one-hour flight back home from Taipei used to be a 28-hour ordeal for singer-songwriter Ardor Huang (流氓阿德).
"Even if I only had three to five days off, I would hop on an illegal bus to Kaohsiung and then board a military ship for a 20-hour journey back to Kinmen," he says. "Two full days were lost to transportation. But I still wanted to go home."
Unlike most modern Kinmen youth who can't wait to graduate high school and head to Taipei or elsewhere for university, Huang, 49, left home when he was 15 to work and study in the nation's capital. With few opportunities at home, especially after he became a rock singer, returning to Kinmen was out of the question.
"I barely even had any chances to perform in Kinmen," he says. "People were very conservative and could not imagine that there were any types of music outside of standard pop," adding that his first performance at home was just several years ago.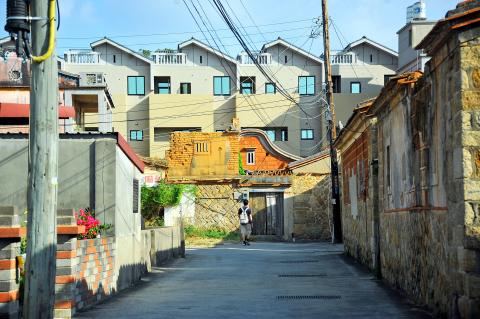 Preserving traditional villages has become a mission for the youth of Kinmen.
Photo: Han Cheung, Taipei Times
Today, moving home is a legitimate option for Kinmen natives in their 20s and 30s. But with few regular job options outside of government posts, teaching and tourism, most of them have to start their own business or look for other opportunities.
"It's not easy," says Wang Ting-chi (王莛頎), who runs art and cultural studio Local Methodology (敬土豆). "You move back because of some sort of motivation, some sort of sentiment. You don't move back for better opportunities."
But sentiment for Kinmen seems to be growing. At the recent Local-M Village Live (土豆音樂祭), which drew many young people back to Kinmen as volunteers and attendees, there was a board where people could mark whether they wanted to move back to Kinmen or not. Near the end of the night, the tally was 45 in favor and 14 against.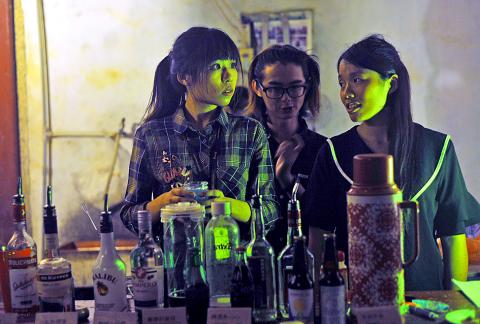 Lee Yu-ting, left, and Lee Po-wei, center, work at a traditional house-turned-pub during the Local-M Village Live festival. Warning: Excessive consumption of alcohol can damage your health.
Photo: Han Cheung, Taipei Times
LUCKIER GENERATION
Leaving Kinmen after high school is an inevitability for most young people, and usually at that point they just want to see the world.
"I wanted a change of environment," Lee Yu-ting (李雨庭) says. "I was looking forward to moving to Taipei. At that time, I thought I'd stay in Taipei until I got old, then return to Kinmen for retirement."
Lee says that she doesn't think she's ready to move back yet. But the first time she had such an idea was when she was working for an events company.
"Suddenly I had this thought that I could take what I learned at this company and apply it in Kinmen," she says, and her confidence in Kinmen has been bolstered by the popularity of the classes and events she set up during the music festival.
Lee Po-wei (李柏緯) shares the idea of bringing back to Kinmen what it doesn't have. An avid bartender, he noticed that there are very few trendy bars or pubs.
"Taipei's market is already saturated," he says. "Even if I start working at a bar, I'd probably start off washing glasses and working my way up. Kinmen has few job opportunities, but it's ideal for starting a business because it lacks many things."
Lee Po-wei notes that his generation is lucky to have the option of returning home.
"The previous generation had a lot more to worry about — not only did they have to make a living, they had to send money home. But we can pursue things we're interested in. Even if business doesn't go well in Kinmen, we can always head to Taipei and find work," he says.