Movie review: Please Love Her
Those who still believe in unrequited, borderline obsessive love leading to fairy-tale endings, will enjoy this film — otherwise it will leave you laughing maniacally at the absurdities that ensue
Only one other person was in the theater while this film was reviewed — a middle aged man, which raised questions as to why he would come watch this saccharine mush-fest, presumably targeted toward teenage girls, by himself. But that's his business.
The point is, the two of us snickered and cackled throughout the entire ordeal, which is probably the only way for realists to enjoy it — by making light of the absurdity of it all while wondering what kind of person would actually buy this stuff.
But if you do happen to be one of those rare dreamers in this dark age of romance who actually believes in fairy-tale endings, then this film is definitely for you. Here's a sample scenario: girl has crush on boy during college, boy is crying in the library after a failed exam, girl comforts boy without either one looking at each other, boy keeps the handkerchief she gives him to wipe his tears for years, vowing to marry the girl if they meet again. They finally meet again when she works for a wedding company named Seed of Happiness while he runs a date farm also named Happiness.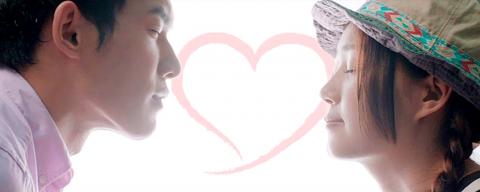 A side love story involves secondary characters played by Chang Shu-hao, left, and Yako Chan.
Photo courtesy of atmovies.com
Moved to tears? Hurry up and go watch the film.
As in all fairy tales brought into real-life scenarios, there's something rather unsettling about the kind of obsessive, unrequited love that most characters display in this film — especially the main character, A-Le (Harry Chang, 張懷秋), whose attempts to persuade Peipei (Xiang Jin, 項瑾) to forget her dead lover (who happens to be A-Le's cousin) and accept him turns zealous and unreasonable.
There's really nothing romantic about someone shoving their love in your face while you're still in mourning (even though it has been a while). Worst of all, the dead cousin also strongly encourages Peipei to date A-Le from the afterlife through his postmarked letters because he knows that A-Le truly cares about Peipei. But did anyone ask Peipei's what she wanted? Are you supposed to marry someone just because he deeply cares about you more than anything in the world, regardless of your feelings?
With many violent crimes in society committed by obsessive lovers these days, perhaps we should tone this obsession thing down a bit in the movies. It may be romantic, but it's not always healthy.
Anyhow, the plot revolves around Peipei, who runs a wedding studio financed by A-Le, who keeps showing up uninvited despite Peipei's repeated attempts to shoo him away. They become somewhat romance detectives as they solve their clients' problems — going as far as to chase down the bride's ex-boyfriend who is trying to stop the wedding in a Jackie Chan-esque (成龍) sequence. The clients come with all types of issues, and Peipei, A-Le and their comical team are here to deliver.
Despite the aforementioned gripes, there is entertainment value in this film. The pacing is brisk, there are plenty of laughs, you have romantic interludes with the lyrics on screen and they manage to make the sappiest moments silly to relieve some of the cringe. Despite all the questionable dialogue and ridiculous premise, at least it's not boring, and the fairy-tale mood keeps you from questioning the absurd parts as it's clear that the movie is not rooted in reality.
The production, while not particularly impressive, is slick and steady except for one problem: most of the character don't seem to deliver their lines directly. Instead, they sound obviously dubbed and cartoonish. This includes both male and female leads. This is fine if done right, but it brings up an issue this reviewer has had with movies and cartoons dubbed in Chinese for decades: why do they never sound like how real humans speak?
Finally, as in most Taiwanese films of this ilk, the characters have to live in super picturesque, European-style dwellings that are always conveniently located on a hill by the ocean with marvelous views. In fact, it looks almost exactly like the house in the film previously reviewed by the Taipei Times, Never Ending Road (地圖的盡頭).
Well, it's a fairy tale, after all.
Publication Notes
Film Notes
Please Love Her 請愛我的女朋友
DIRECTED BY:Ker Choon Hooi (郭春暉)and Lin Ching-chen (林清振)
STARRING:Harry Chang (張懷秋) as A-Le, Xiang Jing (項瑾) as Peipei, Danny Liang (梁正群) as A-Chih
RUNNING TIME:90 Minutes
TAIWAN RELEASE:In theaters
Comments will be moderated. Keep comments relevant to the article. Remarks containing abusive and obscene language, personal attacks of any kind or promotion will be removed and the user banned. Final decision will be at the discretion of the Taipei Times.