Taiwan in Time: The brightly glowing wall of Taipei City
Once Taipei's hottest shopping spot in the 1960s and 70s, the eight-building China Plaza was demolished 25 years ago this week
OCT. 16 to Oct. 22
It had a been a long time since Taipei's China Plaza (中華商場) saw this many people on Oct. 19, 1992. Stores were giving all kinds of specials as customers shopped and soaked in the atmosphere, reminiscing about the shopping center's glory days several decades back.
The next day, a Chinese Television (CTV, 中視) reporter films a special segment as excavators hack at the buildings in the background.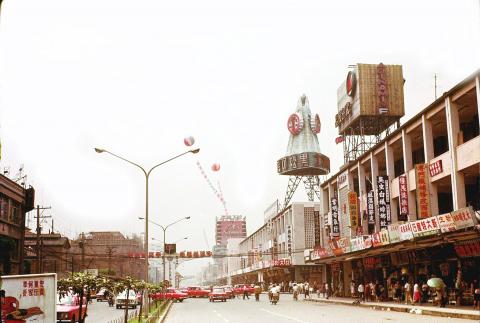 This photo shows China Plaza in 1967.
Photo courtesy of the Official Facebook Page of China Plaza, www.fb.com/ChungHuaMarketBazaar
"Thirty-one years ago, Taipei's China Plaza was built to beautify the city," she says. "But today, for the same reason as well as to improve traffic, it is being demolished. Although there are people who lament and resist, the reality is clear: something that cannot keep up with the times will become history."
The excavators continue their work as the camera turns to a woman wiping away tears. Six months later, the eight-building shopping complex that spanned over a kilometer on Zhonghua Road (中華路) was no more. It was the premier shopping center in Taipei in the 1960s and 70s, with more than 1,000 stores ranging from traditional crafts to modern electronics to various restaurants.
"It was a place where bamboo steamers didn't look out of place right next to speakers," the segment narrator says.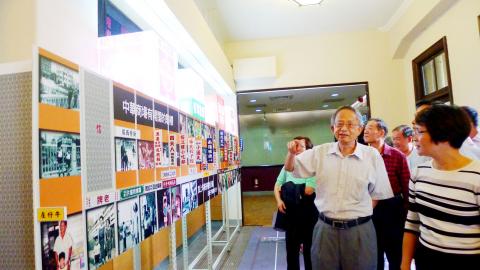 Zhongshan Hall hosted a special exhibit on China Plaza in 2014.
Photo: Yu Pei-ju, Taipei Times
SHODDY BEGINNINGS
China Plaza loosely followed the path of the former west wall of Taipei City, which was demolished by the Japanese in 1900 and turned into a street alongside a railroad. In 1949, the Chinese Nationalist Party (KMT) built crude bamboo shelters next to the railroad for new arrivals from China who had no place to stay. Soon, the residents started setting up small shops out of their dwellings.
"At that time the structures were shabby, and being next to the railroad it was terribly noisy," late actor Wei Lung-hao (魏龍豪) says in the video. "But whether you wanted Northern Chinese food or Taiwanese braised pork rice, you could find it there."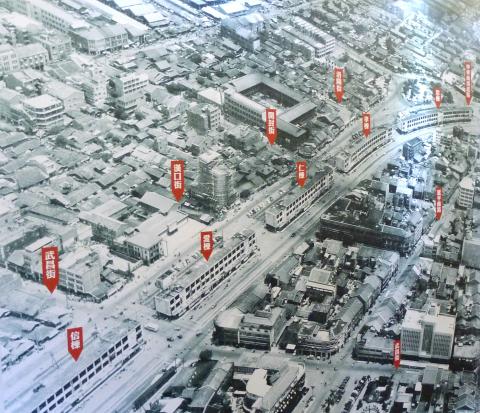 Five of China Plaza's eight buildings can be seen in this 1963 aerial photo.
Photo: Yu Pei-ju, Taipei Times
By the 1950s, the shelters turned into wooden and concrete structures, expanding into a giant sprawl that was criticized as an "appendix of the city" that had to be removed.
"The conditions there were not that much better than a typical slum area," Shih Hsin-chen (施欣辰) writes in A Study on the Transformation of Urban Spaces in Taipei — Taking Zhonghua Road for Example (台北市中華路都市空間轉移歷程之研究). "And as time went on, things only worsened as the number of residents grew."
To ameliorate the problem, the construction of China Plaza began in 1960 and was completed on April 22, 1961. The buildings were divided into tiny units, with the largest being 12 square meters according to A Study of the Commercial Activity in China Plaza (中華商場商業活動之研究) by Lu Fang-bin (呂芳斌). Published in 1985, Lu's study shows that while some shops had expanded their spaces, many still remained the same size.
The study also indicates that clothing and electronics shops were the most common in the plaza, making up 16.3 and 15.6 percent of individual businesses respectively. About 9 percent were restaurants, with crafts and gifts each at 8 percent.
Shih also writes that it became a hotspot for youth culture, where one could find American records, tie-dye shirts and bell bottoms. Schoolgirls would come here to ask tailors to shorten their skirts. In Kenneth Pai's (白先勇) novel Cryshis stal Boys (孽子), which revolves around gay culture in that area, the plaza was the place to be for young people.
Perhaps writer Lu Yao-tung (逯耀東) put it best: "It's as if Taipei regained its city wall, but this time it's a wall that glows. At night, it's still ablaze with lights."
DECLINE AND END
As time went on, newer buildings sprung up around China Plaza while the city's commercial center gradually shifted to the East District. The exterior concrete and interior materials started decaying, and the unsanitary environment drew complaints from neighbors and passersby.
Since the railroad was being moved underground and the MRT was also under construction, traffic in that area became horrific, and the government saw demolishing China Plaza as the solution.
After a dispute and much resistance from business owners, the court ruled that the Taipei City Government owned the building, and its fate was sealed. The plan was to transform Zhonghua Road into a tree-lined avenue like the Champs-Elysees in Paris to improve the city's appearance and traffic.
"We had been talking about demolishing it for a long time," then-mayor Huang Ta-chou (黃大洲) writes in his book Renewal — The Rebuilding of Zhonghua Road (重建 — 中華路的重建). "But because of the complicated issues revolving around compensation, relocation and property rights as well as resistance from the residents, it has been repeatedly delayed."
This delay, he writes, would severely affect the railroad and MRT projects as well as the rejuvenation of Ximending (西門町).
"I felt that things would just keep getting more complicated, so I resolved to demolish China Plaza no matter what," he writes.
Huang's insistence garnered him much public backlash. Letters started pouring in, banners directed at him were hung in the area and angry residents screamed at him in public. But he pushed the plan through.
To this day, some business owners don't think that the building needed to be torn down. Jiajia Record Store (佳佳唱片) owner Chen Chin-feng (陳錦鳳) tells Wanghua Legend (艋舺傳奇) magazine in an 2008 special, "The government couldn't be bothered to fix the place. The eight buildings were very practical, they just lacked maintenance. But back then, it was mostly we business owners who were protesting. The public didn't care."
She says that only in recent years have people started to lament the loss of China Plaza.
"I wonder why no one supported us and pressured the government to preserve at least one of the buildings. It could have been a living museum today."
To see more old photos, visit www.facebook.com/ChungHuaMarketBazaar.
Taiwan in Time, a column about Taiwan's history that is published every Sunday, spotlights important or interesting events around the nation that have anniversaries this week.
Comments will be moderated. Keep comments relevant to the article. Remarks containing abusive and obscene language, personal attacks of any kind or promotion will be removed and the user banned. Final decision will be at the discretion of the Taipei Times.