Mr. Tang (湯) has perfected the science of hiding his toys from his parents. The college student makes new purchases every three months or so, which he hides in an empty CPU case. If he had to recommend one toy, it would be the R20. Yes, the R20 that many local netizens have deemed a "dangerous product" that, once used, would make a man never want to touch a woman again.
"It's a ploy by the Japanese [manufacturers] to drive Taiwanese to extinction," wrote one of numerous reviewers on PTT, Taiwan's largest online bulletin board system.
Essentially an artificial, portable vagina, the R20 is the best selling product at Dream Paradise Toy (情趣夢天堂), located on the second floor of a Taipei building that houses jade shops. Formerly known as Digital Paradise (數位夢天堂), the shop is shedding its image as a somewhat clandestine video game, porn and rental marketplace, recently putting up new signage that makes clear its new goal of becoming the premium adult toy shop in Taiwan.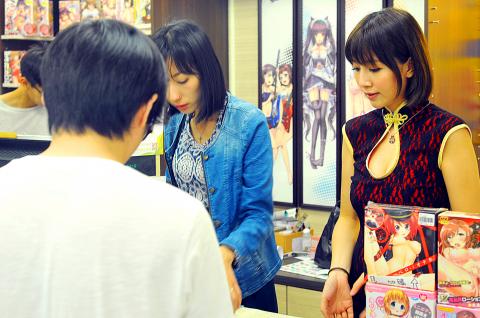 Annebabe, far right, a popular model among the zhainan community, is guest manager at Dream Paradise Toys for a day. She later auctioned off the qipao she is wearing.
Photo: Han Cheung, Taipei Times
"You hear Wowprime and you immediately think of steaks," store manager Lai Chi-hung (賴騏鴻) says. "We want people to hear our name and immediately think of adult toys."
'ZHAINAN' PARADISE
Located a stone's throw away from the electronics and technology mecca of Guanghua Digital Plaza, Lai says the store at this point mostly caters to zhainan (宅男), or nerdy guys immersed in comics, cartoons, computers and online games, who rarely leave their bedrooms.
Tang fits the description perfectly. A hobbyist computer builder who's never had a girlfriend, he usually visits Dream Paradise after shopping for parts at Guanghua. He says he spends most of his money on hentai — anime porn — comics, artificial vaginas and lube.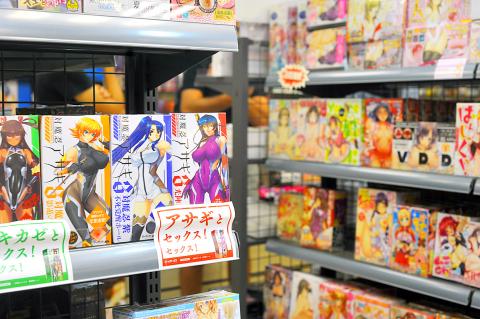 A sample of artificial vaginas modeled after anime characters.
Photo: Han Cheung, Taipei Times
"I was nervous the first time I visited, but really, it's normal to buy these things," he says. "If I had a girlfriend, I wouldn't — nah, I'd probably still come here. But these products only satisfy your sexual urges. I want to satisfy my desire for love too."
Lai and his marketing team is looking to open a female-only section with a separate entrance and are working on events that cater to couples. But for now, about 80 percent of the in-store customers are men, Lai say, adding that about 70 percent of the online customers are women.
"Women tend to be shy," he says. "They might come look at products, but they'll order them at home."
The demographic is evident as the stairwell leading up to the shop is plastered with displays of sex toys, Japanese porn stars and sexualized anime characters. Visitors are greeted by a life-size sex doll sitting on the counter with her legs spread wide open.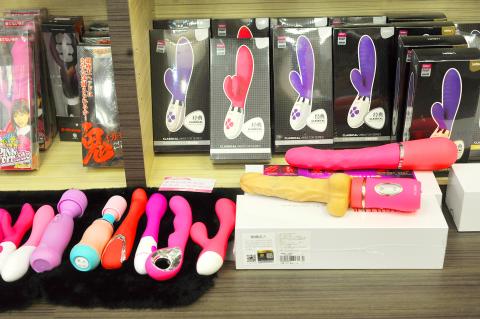 A selection of dildos on display at Dream Paradise. The store is hoping to attract more female customers.
Photo: Han Cheung, Taipei Times
Annebabe (安安), a popular "zhainan goddess" is working the cashier as guest store manager for the day, wearing an otherwise modest qipao dress that has an opening in front to reveal her cleavage.
It's the sheer variety of the products that cause visual overload. The R20 is what Lai would recommend to a first-timer, but there are several shelves completely dedicated to fake orifices with cross-sections of selected products on display.