When everything old is new again
Techno meets tribal in a unique workshop that sees international e-textile artists and Aboriginal artisans innovating together
Think of locations to hold a meetup for international hi-tech apparel experts and the Aboriginal community of Siangbi (象鼻部落) in Miaoli County may not be the first that springs to mind, but this village has something the professionals are after: tradition.
Mika Satomi, a Japanese textile artist based in Germany, has come to learn fabric making traditions and engage with Aboriginal culture.
"The traditional artisans are so highly skilled and willing to share everything with you, it's so humbling," says Satomi, who is in Taiwan for the first time.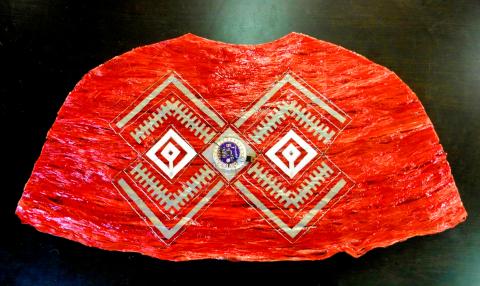 An object made by Aniela Hoitink, as part of a 10-day e-textile workshop in Miaoli County.
Photo courtesy of red room
Satomi is participating in Tribe Against the Machine, an e-textile summer camp that brings together artists from around the world to this Atayal community to engage in a workshop that fuses technology with culture, creating new artistic networks for Aboriginal artisans to collaborate with. Pieces from the workshop will be showcased until Sept. 15 at Taipei's Red Room (紅坊國際村).
Project founder Shih Wei-Chieh (施惟捷) says it's about expanding contexts and expanding communities.
Atayal artists have a deep understanding of textiles, while the visiting artists are more familiar with new technological forms, Shih says. The Aboriginal artisans are seeking these new methods and the Atayal provide the visitors with a strong cultural matrix on which to base their work.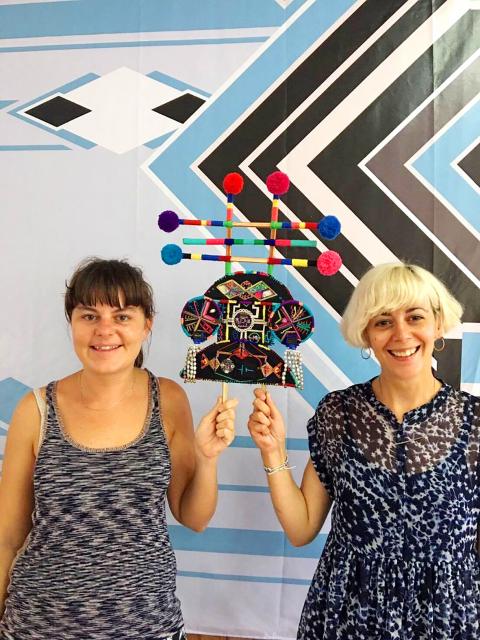 Afroditi Psarra, left, and Claire Williams hold a bridal head piece, which they made as part of a 10-day e-textile workshop in Miaoli County.
Photo courtesy of red room
Shih, who gained experience working in the cultural and creative industries in Mexico by making action figurines inspired by Aztec folklore, has a clear vision for the project.
"We're reversing the thinking that views tradition and technology as opposing forces," he says. "We've found a cultural role for technology, one that is more than just a profit-generating tool."
The participants lived together in the remote Atayal village for 10 days. They are diverse in their artistic and cultural backgrounds and have come from all over the world. The artists were paired into four groups based on their expertise and given a framework for the collaborative workshop.
For most of the visiting artists, this was their first time to Taiwan.
"The warm hospitality from the villagers made us feel at home. I extended my stay for two more days. I didn't want to leave," says Satomi. "It feels so strange coming back to Taipei, I wanna go back to the village already. I experienced such a calm, peaceful way of life there. I feel I'm going to miss it very deeply."
Yuma Taru of the Lihang Workshop (野桐工坊) is the lead Atayal collaborator. She says that having these international artists is really valuable for the village, as each artist brings a different method of interpretation to the project.
"It's about opening new windows, and letting the light shine in from new angles, allowing us to delve deeper into our art." Yuma says.
Yuma says that interacting with artists of such a caliber is incredibly stimulating.
"These artists are artworks in themselves," she says. "Their way of viewing, way of being, is imbibed with an intangible quality, they embody of their own artistic qualities."
Yuma likens bringing the artists to her village to inviting someone into your home.
Some people fear bringing strangers into their homes, but she only feels pride and joy.
Yuma has a different take on how to view tradition and technology today. She says tradition is no longer part of our daily routine, and can only be learned outside of it, through workshops or classes, she tells the Taipei Times.
"So tradition is also something that is new for us now," she says, adding that tradition and technology are both things that are learned.
It is from this artistic framework that Tribe Against the Machine has renegotiated the relationship between technology and tradition and opened up space for new possibilities.
"We hope to deepen the dialogue next year," Yuma says.
The exhibition runs until Sept. 15.
Publication Notes
Exhibition notes
What: Tribe Against Machine e-textiles Exhibit
When: Until Sept. 15
Where: Red Room, Taiwan Air Force Innovation Base (TAF 空總創新基地), 177, Sec 1, Jianguo S Rd, Taipei City (台北市建國南路一段177號); tel: 0910-947-307
Admission: Free
On the Net: www.redroomtaipei.com
Comments will be moderated. Keep comments relevant to the article. Remarks containing abusive and obscene language, personal attacks of any kind or promotion will be removed and the user banned. Final decision will be at the discretion of the Taipei Times.