Book review: A classic Korean drama
Yi In-hwa's enthralling murder mystery captures the drama of courtlife in 19th-century Korea
Earlier this month, Eastbridge Books was acquired by Taiwan's Camphor Press, bringing a wide range of English-language titles relating to Asia into Taiwan's publishing orbit. All prices will be cut, some books re-issued under the Camphor imprint and many issued as e-books in a Kindle-friendly format.
A best-selling historical novel about Korean court life, set in the year 1800, can stand for this newly-acquired backlist. Everlasting Empire, the work of Yi In-hwa, was a best-seller in Korean, selling over a million copies. In its English translation it's a perplexing, enigmatic murder mystery that uncovers many of the long-standing complexities that marked life at the summit of Korean society.
To get an idea of the flavor of this book, readers might recall the 1994 debut by Italian novelist Umberto Eco, The Name of the Rose. Both novels feature murders in and around a gigantic library in an exotic historical period, both feature either monks or eunuchs and both are very long. Both also make considerable demands on the intelligence and acumen of their readers.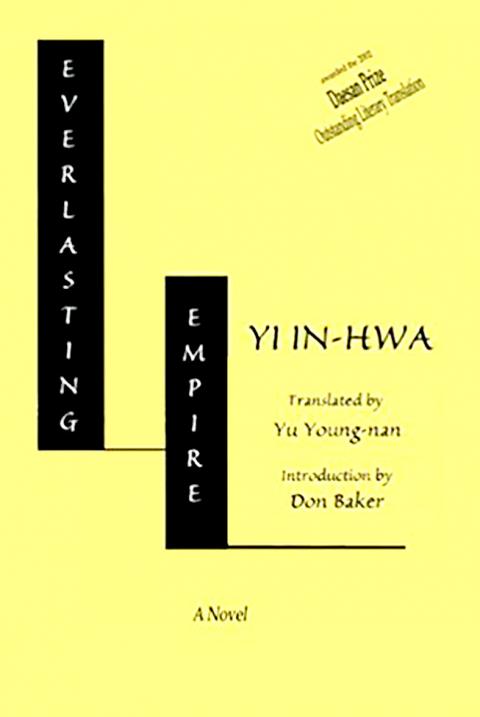 EVERLASTING EMPIRE: A novel of the Choson Dynasty, by Yi In-hwa.
SCHOLARLY SECRETS
Yi In-mong, a lowly, solitary scholar in the Royal Library, discovers one winter morning that the Book Examiner, Chang Chong-o, has died in unexplained circumstances. Soon after he's informed King Chongjo of the death, he's beaten in a palace garden. A second individual then dies of cold and torture while imprisoned by the Board of Punishments. Meanwhile, a volume that the Book Examiner had been preparing for the king's attention, 'Notes on Humble Thoughts on the Book of Odes,' disappears.
The background to these events is explained at length. Korea's culture was essentially based on China's, we're told, and the writings of Confucius, Mencius and others are crucial to affairs of state. The Royal Library is a private institution directly under the king's control, and few have access to it. Bookshelves are padlocked or cordoned off, and "neo-Confucian orthodoxy" is much discussed.
Yet besides being the source of all wisdom, books are also presented as a musty, dusty weight whose influence the living have to suffer in silence. The smell of mildew spores from them stings In-mong's nose. However, because books were seen as being authoritative, changes to them were perceived as acts of sedition. At one point a potato features, not as a form of food (as that it was still unknown in Korea), but as a vegetable that, when cut, could be used for making perfect copies of the prints of seals on documents, an act punishable by decapitation.
In addition, the state has long been divided by devotees of a Southern Faction and an Old Doctrine Faction. Christianity, in the form of Roman Catholicism, has also entered the country under the guise of "Western learning." Being a follower of this is a criminal offense, but books such as the Jesuit missionary Matteo Ricci's A True Disposition about the Lord of Heaven are available on underground networks.
EXOTIC YET FAMILIAR
Many features of modern Korean life, such as ondol (under-floor heating) and ginseng, are present, as well as classical Chinese preoccupations such as mahjong and acupuncture. Chinese books, of course, such as the Analects of Confucius (論語) and the Book of Changes or I Ching (易經) with its 64 hexagrams, are ever-present. I also saw here for the first time a "magic square," in this case a three-by-three grid whose numbers add up to 15 in all directions, including the diagonal. This was known in China two-and-a-half millennia ago.
The combination of scholarship and state power may seem exotic to us, but it was a reality for many centuries, both in China and, as this well-informed novel demonstrates, in Korea. In-mong thinks King Chongjo, who spends part of each day teaching his own scholars, is so learned that he is a true "sage king," such as only appears once every thousand years. Yet he doesn't trust anyone, as the Controller of Eunuchs discovers to his cost in a rare dramatic scene involving a mysterious "triple dagger." And books really do contain secrets in this novel, as the previous king's "tale of the metal-bound coffer" testifies.
A Bureau of Slave Administration is in operation, despite the king's active interest in establishing the rights of concubines' offspring, as opposed to those of legitimate spouses. And Chongjo is depicted as a noble and enlightened figure. One memorable scene early on has him setting out to shoot 50 arrows as a morning exercise. The first 49 of them hit the bull's eye, but he refrains from shooting the last arrow because he doesn't want to set an example that can't be bettered.
A Chronology at the end of the book sets out the bare facts of the years 1790 to 1801, which goes to show how vividly the author has fleshed out his actual narrative. This isn't to say there aren't tiresome passages of scholarly background, but by the end the accounts of the fortunes of the main characters, In-mong in particular, are completed and seen in perspective.
This is a major work by any account, well-informed and with a popular touch. Mythic features, such as the past murder of the Crown Prince in a rice chest, continue to perplex its characters, reminiscent of the death of the Duke of Clarence in Shakespeare's Richard III by being drowned in a "butt of Malmsey" (barrel of sweet wine). The repeated historical explanations, some lengthy, recall Tolstoy's theorizing on the causes of human mass movements at the end of War and Peace.
Altogether, Everlasting Empire can be recommended to those with a stomach for the long haul, and curiosity about intriguing events in unfamiliar places and relatively distant times. The book is engagingly translated by Yu Young-nan. She's a freelance translator based in Seoul.
Publication Notes
Publication Notes
EVERLASTING EMPIRE: A novel of the Choson Dynasty
By Yi In-hwa
314 pages
EastBridge Books
Softback: Taiwan
Comments will be moderated. Keep comments relevant to the article. Remarks containing abusive and obscene language, personal attacks of any kind or promotion will be removed and the user banned. Final decision will be at the discretion of the Taipei Times.