Restaurant review: Mama Inca (印加媽媽)
Ever since my friend became obsessed with Mama Inca's ceviche three weeks ago, we have been visiting the Peruvian joint every Friday for it's mouth-watering, tangy cured raw fish dish.
And I've willingly gone along because the ceviche is just that good. Only available on Fridays and Saturdays, or by ordering a day in advance, it is a perfectly refreshing way to end a long work week.
Hidden in a quiet street parallel to Fuxing S Road (復興南路), Mama Inca is a splash of vibrant colors in an otherwise drab neighborhood, with a bright red facade and an interior of rich oranges, blues and purples. The quaint atmosphere falls somewhere between the other two Peruvian joints in Taipei that I've been to: Polleria, a hole in the wall eatery, and Pico Pico, a fancy restaurant.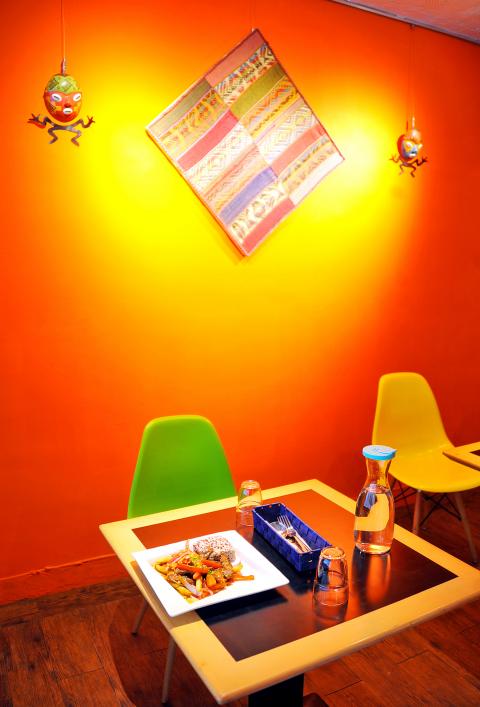 The interior of Mama Inca is awash with rich hues of oranges and purples with Peruvian decorations.
Photo: Han Cheung, Taipei Times
The restaurant is run by a Peruvian and Taiwanese couple who met in Cusco, with the Peruvian husband in charge of the cooking. The country's cuisine is an amalgamation of various influences, ranging from indigenous to Spanish to Chinese. Some of the most common Peruvian dishes are relatively modern creations by immigrants: the ubiquitous pollo a la brasa, or chargrilled chicken, was developed in the 1950s by two men from Switzerland, while lomo saltado is a beef fusion dish created by Chinese immigrants at the turn of the 20th century. These are the two entrees we order.
The drinks menu is Peruvian as can be, including chicha morada, a sweet purple corn drink (NT$120); lemon juice with egg white (NT$120); Peruvian coffee (NT$120), pisco sour, the national cocktail (NT$200) and the country's distinctive bright yellow-colored Inca Kola (NT$120). There's also a chia seed (a "superfood" originating from Peru) lemonade (NT$140).
Even though I no longer drink soda, I feel compelled to order the Inca Kola for a nostalgic trip back to my time in South America. I never made it to Peru, but its cuisine was popular in Argentina where I resided. We also order the chicha morada.
Mama Inca's ceviche, a tangy cured raw fish dish, is the reason my friend and I keep on coming back.
Photo: Han Cheung, Taipei Times
Created by a British resident in 1935, Inca Kola is another immigrant concoction turned national sensation. The taste is difficult to describe — very sweet and fruity, it falls somewhere between Coca Cola and cream soda. The distinctive ingredient is lemon verbena, a versatile plant native to Peru often used as a citrusy garnish in meat dishes, salad dressings and drinks.
The chicha morada is even more puzzling, having little corn taste, instead resembling flat cola or grape soda, with diced apple chunks floating on the top. The owner tells us that they added pineapple and lemon juice to a prepackaged chicha mix since the type of corn is difficult to obtain. I'm probably biased because I am not fond of overly sweet drinks, but it was not my favorite.
The meals come with a basic salad and soup with rice and quinoa. The ceviche (varies by market price, we paid NT$430) came first as an appetizer. Cured in lemon juice with a healthy serving of cilantro and onions, the first bite is very sour but in a light and refreshing way. The dish can be prepared with a number of seafood ingredients, but the star at Mama Inca is the cobia fish, which is firm and chewy. Sweet potatoes are added to balance the sourness, and the mushy texture adds an appealing dimension to the dish. It's a great palate opener, even though it's more expensive than the entrees.
The pollo a la brasa, or chargrilled chicken, is one of the most popular dishes in Peru, but Mama Inca's offering, though tasty, was a tad dry.
Photo: Han Cheung, Taipei Times
My friend ordered the lomo saltado (NT$300), stir-fried beef in a soy-and-vinegar based sauce with onions, tomatoes, bell peppers and french fries. The thinly-sliced beef is tender and juicy and the tomatoes and bell peppers provide the crunch and tang. But the most satisfying element were the french fries. Despite soaking in the sauce, the fries retained their crispiness, creating a sensation much like the American chili cheese version, but less thick. It came with a mixture of rice and quinoa, which has a crunchier texture than just plain rice.
I ordered the pollo a la brasa (quarter chicken for NT$200), which is served with the same rice and quinoa mixture and two dipping sauces — mustard and a spicy mayonnaise-like concoction.
The chicken was flavorful, grilled in typical Peruvian fashion. The outside was well-done with a savory layer of skin, but the inside was a bit dry without enough sauce to eat it with. Overall, the flavors paired well with the rice and quinoa, but it would have been better if the meat was juicier.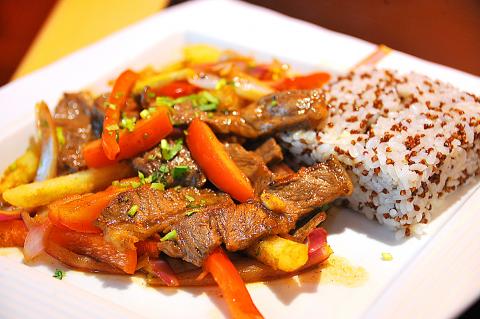 Lomo saltado is a beef stir-fry created by Chinese immigrants to Peru at the turn of the century.
Photo: Han Cheung, Taipei Times
My friend wants to go again this week, and I plan on trying the aji de gallina (NT$340), which is shredded chicken with sauce made with peppers, walnuts and milk. And this time, she wants an entire ceviche portion to herself.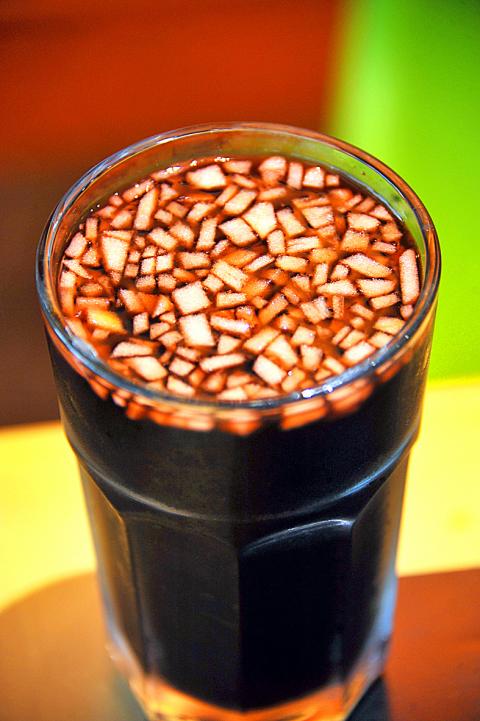 The chica morada, a sweet purple corn drink, came with diced apples.
Photo: Han Cheung, Taipei Times
Publication Notes
Mama Inca (印加媽媽)
Address: 1-1, Ruian St, Taipei City (台北市瑞安街31巷1-1號)
Telephone: (02) 2709-2832
Open: Tuesday to Friday from noon to 2pm and 5:30pm to 9pm, Saturday and Sunday from noon to 2:30pm and 5:30pm to 9pm
Average meal: NT$500
Details: Menu in English and Chinese, credit cards accepted
Comments will be moderated. Keep comments relevant to the article. Remarks containing abusive and obscene language, personal attacks of any kind or promotion will be removed and the user banned. Final decision will be at the discretion of the Taipei Times.