LAB Space's summer whodunnit
Kim Chen will take on seven roles in this murder-mystery, which begins on Friday at Taipei's LAB Space
Was the murder accidental, premeditated or inevitable? This is the central conceit examined by The Blonde, the Brunette and the Vengeful Redhead, Butterfly Effect Theater's latest production. The performance, which has a two-week run, begins on Friday at Taipei's The LAB Space.
Who deserves your sympathy? Who has reason to deceive you? The adulterous husband will deny everything, of course, and the meddlesome neighbor — well we all know that type.
ONE ACTOR, SEVEN CHARACTERS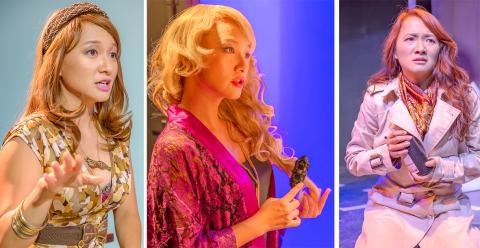 Kim Chen plays seven characters, three of them pictured, in this one-person whodunnit that begins Friday at Taipei's The LAB Space.
Photo courtesy of Michael Geier
Each of the production's seven characters, all played by Kim Chen (程鈺婷) of Taipei National University of the Arts, form a Rashomon-type narrative that is an often contradictory piece of the puzzle.
WHO CAN YOU TRUST?
Some consider the play, by Australian playwright Robert Hewett, the fall of a modern housewife. Others see it more as karma. Subtle or not, the show examines a range of emotions such as jealousy, betrayal and redemption. And when you mix the character types of a blonde, brunette and vengeful redhead into the mix, you never know what will happen or whose story you can believe.
Publication Notes
Performance Notes
WHAT: The Blonde, the Brunette and the Vengeful Redhead
WHERE: The LAB Space (實演場) 3F, 9, Beitou Rd Sec 1, Taipei City (台北市北投路一段9號3樓), tel: (02) 2898-5382
WHEN: Friday and Saturday at 8pm and Sunday at 2:30pm; July 21 and July 22 at 8pm and July 23 at 2:30 pm.
ADMISSION: NT$700
ON THE NET: www.accupas.com/go/bbvr
Comments will be moderated. Keep comments relevant to the article. Remarks containing abusive and obscene language, personal attacks of any kind or promotion will be removed and the user banned. Final decision will be at the discretion of the Taipei Times.