The hand that fanned the flames
A sudden misfortune that sends an artist on a journey of self-rediscovery
Currently on display at Apollo Art Gallery is a retrospective on painter Chin-lang Hou (侯錦郎). Hou spent most of his life in France as a distinguished scholar and painter. The Memorial Exhibition of Chin-lang Hou highlights Hou's work from the later stages of his life — one that's filled with inspiring life lessons.
Born in 1937, Hou spent his childhood in Lioujiao (六腳), a small village in Chiayi County. His passion for art was inspired in his early youth by Wu Mei-lin (吳梅嶺), another Chiayi native who had already established himself as a prominent figure in the Taiwanese art scene. After graduating with honors from National Taiwan Normal University in 1963, Hou earned a PhD in Sinology from France's elite Ecole Pratique des Hautes Etudes. Hou's aspirations to become a scholar in Sinology did not end there. Nearly a decade after his move to France, he became a researcher at the French National Center for Scientific Research (Centre National de la Recherche Scientifique). It was at this time that Hou's life took an unexpected turn.
A BLESSING IN DISGUISE?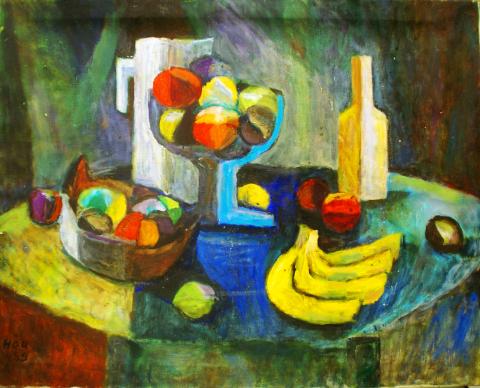 Banana and Bottle (1989).
Photo courtesy of Apollo Art Gallery
In 1984, in the midst of his research, Hou was diagnosed with a brain tumor. By the following year, two surgeries had been performed to remove the tumor, but the side effects of those surgeries would ail him for the remainder of his life. Following the surgeries, his mental and physical health rapidly declined, and subsequently robbed him of his life's most treasured joys. In his late adolescence, Hou was once quoted as saying, "There are only two things in life that do not disappoint — studying and painting."
RECOVERY AND TRIUMPH
Due to his cognitive impairment and inability to write, Hou's work in research came to a halt. Encouraged by his doctor, Hou took up the paintbrush again in 1986 to resume his life's passion as a form of rehabilitation. He moved into a house with its own enclosed tranquil garden in Sceaux, a suburb just south of Paris. Hou overcame his physical ailment by training himself to paint with his left hand and his mental and physical health steadily improved.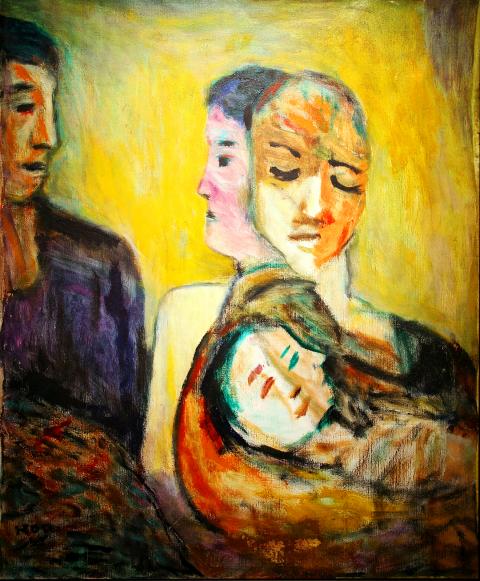 Untitled (1992).
Photo courtesy of Apollo Art Gallery
Looking at the works on display at Apollo Art Gallery, it's clear that Hou's artistry remained in the subsequent years. Hou focused less on the finer details in his paintings, and his early influences of Impressionism, Cubism and Fauvism are evident in his works on display.
"You can really see the differences in his works that were done post surgery. There's a sense of longing for his loved ones and his youth," said Huang Chung-jen (黃重仁), the gallery's manager.
The exhibition primarily showcases the pieces that were done after his surgeries. There are also books on display at the gallery that encompass his earlier works. As one flips through the pages, it is evident that the surgeries took their toll on his work. However, it was also clear that he had found a renewed sense of purpose in life.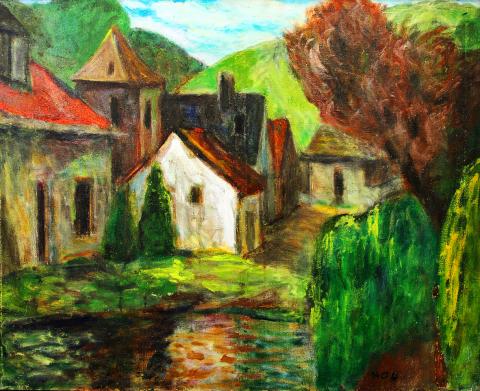 Village on a Hill (1989).
Photo courtesy of Apollo Art Gallery
"It's these life-changing moments that make us appreciate our lives more," Huang said.
One of Hou's first paintings that came post surgery is Blessing (1986), a still life of flowers in a vase. The painting is bursting with vibrant in color, suggesting a reinvigoration of his outlook on life. Hou's physical ailment might have hindered him from painting, but his sheer will power and his undying devotion to artistic expression restored his life's passion.
Hou's works are a testament to the human spirit. The Taiwanese artist remained upbeat in spite of such ailment. Over two decades of rehabilitation, Hou continued to paint and held several major solo exhibitions in Taiwan before his passing in 2008. Hou's amazing story of recovery and self-rediscovery lives on through his paintings, serving as an inspiration to others.
Publication Notes
Exhibition Notes
WHAT: Memorial Exhibition of Chin-lang Hou (候錦郎八十紀念展)
WHERE: Apollo Art Gallery (阿波羅畫廊), 2F, 218-6, Zhongxiao E Rd, Sec 4, Taipei City. (台北市忠孝東路四段218-6號2F)(阿波羅大廈A棟) ; Tel: (02) 2781-9332
WHEN: Until Sunday. Open Tuesdays to Sundays from 11am to 7pm
ADMISSION: Free
ON THE NET: www.artgalleryapollo.com
Comments will be moderated. Keep comments relevant to the article. Remarks containing abusive and obscene language, personal attacks of any kind or promotion will be removed and the user banned. Final decision will be at the discretion of the Taipei Times.