Cherishing roots and connections
There is a great line-up of three Taiwanese expatriate dancers for Meimage's New Choreographer Project this weekend while the TAI Body Theatre and French percussionist Roland Auzet will be making connections of their own
Ho Hsiao-mei (何曉玫) has built up an enviable reputation for her Meimage Dance Company's New Choreographer Project (鈕扣*New Choreographer計畫) as a platform for Taiwanese professionals working abroad and a crucible for engaging works.
The seventh edition of the program New Choreographer Project promises to live up to the standards set by previous shows.
That is a pretty high bar, considering that one of the works on last year's program, The Man by Germany-based Tien Tsai-wei (田采薇) and Jan Moellmer, was nominated earlier this year for the 15th Taishin Arts Performing Arts Award — alongside a two-time New Choreographer Project alumni Lee Chen-wei (李貞葳), for the piece she created for the National Theater Concert Hall's Innovation Series last year, Together Alone (孤單在一起) with Vakulya Zoltan.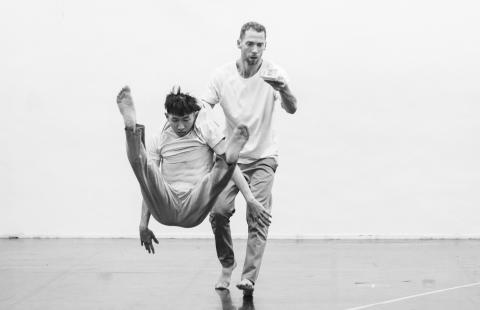 Tu Li-yuan and Jan Spotak, members of the GoteborgsOperans Danskompani, will perform this weekend at the Huashan 1914 Creative Park in Taipei as part of the MeimageDance 2017 New Choreographer Project.
Photo courtesy of Terry Lin
This year's edition, which opens tomorrow night at the Huashan Creative Park's Umay Theater, features three dancer/choreographers: Liu I-ling (劉奕伶), a dancer with the New York City-based Bill T. Jones/Arnie Zane Company, who is making her second appearance in the series; Tung Po-lin (董柏霖), a dancer with London-based Company Wayne McGregor and Tu Lee-yuan, a member of the GoteborgsOperans Danskompani in Sweden.
Liu, a 2005 graduate of Taipei National University of the Arts (TNUA, 國立台北藝術大學), danced with several local troupes before joining the Jones/Zane company in 2008.
Tu, another TNUA graduate, joined the Goteborgs company in 2013 after working with companies in London and Ho's Meimage Dance. His After the End won the Taiwan Golden Dance Award in 2010.
The TAI Body Theatre and French percussionist Roland Auzet will perform Terrace on the Hill at the Experimental Theater in Taipei this weekend as part of the National Theater Concert Hall's Innovation Series.
Photo courtesy of TAI Body Theatre
Tung studied at the TNUA's high school division, but not at the university itself, Ho said.
He joined McGregor's company last year after working with Fang Yi Sheu and Artists, the Gelsey Kirkland Ballet and the Tania Perez-Salas Compania de Danza in Mexico City.
Liu and Tung have created solos, while Tu will be dancing with one of his Goteborg colleagues, Slovakian Jan Spotak.
BACK TO THEIR ROOTS
The goal of the New Choreographer Project has always been to give Taiwan's expatriate dancers a chance to return to their roots to show how much they have grown as professionals and share with young dancers what they have learned.
Ho said coming up with a list of candidates each year is always a challenge because it is dependent upon the dancers' schedules, or more accurately, their companies' schedules.
"The program is always up to God and me. It's all down to chance," she said on Sunday, adding "the first one to say yes, then I will book the theater."
This year the first one was Tung, who said he could come in June, which is why the program is being staged earlier than in previous years.
With Tung in hand, Ho said she knew her second choice had to be a woman.
"I-ling was in the 2015 New Choreographer Project, she's doing good, so these two alone were strong enough for a program," Ho said.
Since Tu wanted to do a piece that is a little longer than normal, that also helped Ho commit to just three choreographers, compared to the four or five seen in previous years.
"I want to be more focused on the dances; not too many pieces, too many distractions," she said.
She also arranged for the three returnees to offer workshops this week for local professionals on the techniques used in their respective companies. Each day's workshop focused on one company and all three quickly sold out.
However, Ho said this year has been a bit more stressful than normal because the dancers were not able to return to Taipei until quite late. Liu and Tu arrived last week and Tung just got back on Monday.
After this weekend's shows in Taipei, the New Choreographer Project travels to Yilan County next weekend for two shows at the Chung Hsing Cultural Creative Park (中興文化創意園區), a paper factory in Wujie Township (五結) that has been turned into a Huashan-like complex.
"It's a great place. We'll be outdoors. Friday and Saturday at 7pm, and its free," Ho said.
TAKING ROOT
Over in the Experimental Theater this weekend, there is another show about roots, this one a coproduction by the Hualien-based TAI Body Theatre (身體劇場與羅蘭) and French percussionist Roland Auzet.
Terrace on the Hill (尋,山裡的祖居所) is about sharing stories of the past and searching for meaning in the future.
As the program notes say: "The trails beneath our feet conceal paths towards the future and stories of the past — and on them we must walk."
Watan Tusi, a Truku Aborigine, formed his company five years ago with dancers from the Truku, Paiwan and Puyuma communities of eastern Taiwan, seeking to breathe new life into indigenous traditions though deconstruction and recreation. Tai means "look" or "see" in the Truku language.
His production Dancing Under the Bridge (橋下那個跳舞) was also one of the nominees for the 2016 Taishin awards.
The 53-year-old Auzet is a percussionist, composer and director of the Theatre de la Renaissance in Lyon, France.
He is no stranger to building bridges between different cultures and performance arts. He and Indian Odissi dancer Arushi Mudgal were invited to perform in the Experimental Theater last year as part of the National Theater Concert Hall's Taiwan International Festival of Arts.
Their show SAMA was well received.
In one final bit of dance scene news, Taiwanese choreographer Lai Hung-chung (賴翃中), whose Raining in the Room for Kaohsiung City Ballet's (KCB, 高雄城市芭蕾舞團) Dance Shoe (點子鞋) program in January was so terrific, won both third prize and the critics' prize this past weekend at the 31th International Choreographic Competition Hannover in Germany with his Watcher.
The third prize netted Lai 2,000 euros (US$2,236), while the critics' award brought another 1,500 euros.
The KCB is working on a show for August that will feature work by Lai and Romanian choreographer Constantin Georgescu, who has collaborated on several projects with the company in recent years.
Publication Notes
Performance Notes
WHAT: MeimageDance 2017 New Choreographer Project
WHEN: Tomorrow and Saturday at 7:30pm, Saturday and Sunday at 2:30pm
WHERE: Huashan 1914 Creative Park (華山1914文化創意產業園區), East Hall 3 (Umay Theater (東3館 烏梅 劇院), 1, Bade Rd Sec 1, Taipei City (台北市八德路一段1號)
ADMISSION: NT$600; available at NTCH box offices, online at www.artsticket.com.tw, at convenience store kiosks or at the door. Tomorrow night show and Sunday's matinee are sold out.
WHAT: Terrace on the Hill
WHEN: Tomorrow and Saturday at 7:30pm, Saturday and Sunday at 2:30pm
WHERE: Experimental Theater (國家實驗劇場), 21-1 Zhongshan S Rd, Taipei City (台北市中山南路21-1號)
ADMISSION: Tickets are NT$600, available at NTCH box offices, online at www.artsticket.com and convenience story ticket kiosks.
Comments will be moderated. Keep comments relevant to the article. Remarks containing abusive and obscene language, personal attacks of any kind or promotion will be removed and the user banned. Final decision will be at the discretion of the Taipei Times.