Highlight: Tao-ism in black and white
The TAO Dance Theater (陶身體劇場) is only nine years old, but it quickly developed a major reputation in China and internationally for its groundbreaking avant-garde, minimalistic works.
Choreographer Tao Ye's (陶冶) choreography strips dance of its individuality and fripperies, including titling his works simply by the numbers of dancers used, and emphasizes uniformity.
Yet there is a method in his madness — the patterns he weaves are beautiful and the dancers' physicality and stamina are awe-inspiring.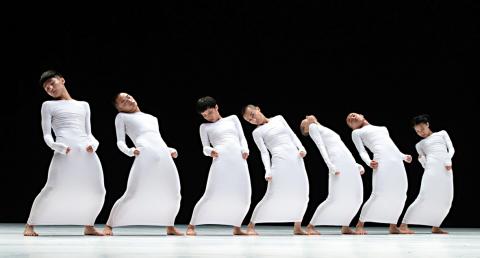 TAO Dance Theater will perform two of its cofounder and choreographer Tao Ye's works at the Cloud Gate Theater starting on June 9, including the all-white 7.
Photo: Courtesy of TAO Dance Theater
The company made its Taipei debut in March 2014 at Novel Hall, performing 2, 4, 5 and 6, as part of the long-running Novel Hall Dance Series curated by Cloud Gate Dance Theatre (雲門舞集) artistic director Lin Hwai-min (林懷民). TAO has been invited back to perform at Lin's own theater in New Taipei City's Tamsui District (淡水) at the beginning of next month, and tickets have been going fast.
It will present a monochromatic double bill of 6 and 7: the former is very dark — in lighting, costume and mood, while the latter is glaringly white.
■ June 9 at 8pm, June 10 and June 11 at 3pm at the Cloud Gate Theater (淡水雲門劇場), 36, Ln 6, Zhongzheng Rd Sec 1, Tamsui District, New Taipei City (新北市淡水區中正路一段6巷36號)
■ There are less than 40 seats left for the June 9 show, at NT$1,400 and about 70 seats at the NT$1,600 price range left each of the other two shows; available online at www.artsticket.com.tw, at convenience store ticketing kiosks and at the door.
Comments will be moderated. Keep comments relevant to the article. Remarks containing abusive and obscene language, personal attacks of any kind or promotion will be removed and the user banned. Final decision will be at the discretion of the Taipei Times.