Highlight: 520 Eat for Love Summer Charity Vegan Fair
Taiwan will join 20 other countries this year in hosting a Worldwide Vegan Bake Sale, which combines vegan delicacies with charity. The Taipei event has been sweets-focused for the past two years, but this year it will be adding savory delights for a more complete gastronomic experience.
There will be several returning mainstays such as Plants Eatery (植素), Ooh Cha Cha (自然食) and Brother Su Vegan Kitchen (布拉德施維根廚房), as well as newcomers such as Teotihuacan, a vegetarian Mexican joint that opened last year. People can also donate baked goods. Visitors are encouraged to bring their own containers and utensils, and those who don't have to pay an extra NT$5 per box.
Proceeds will benefit Bright Side Projects (臺灣嚮光協會), which focuses on community involvement with underprivileged youth and adults, as well as Mary's Doggies, a dog rescue, rehabilitation and rehoming group.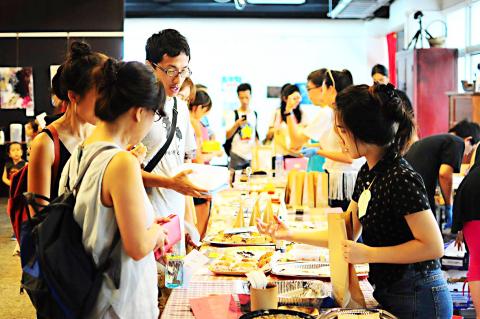 A scene from last year's vegan bake sale at the Red Room.
Photo courtesy of It's a Vegan Affair
■ 10 am to 5pm tomorrow at Water Garden Organic Farmers' Market (水花園有機農夫市集), 1, Siyuan St, Taipei City (台北市思源街1號)
■ Free admission, visit www.facebook.com/events/1863555370534076 for more information in both English and Chinese
Comments will be moderated. Keep comments relevant to the article. Remarks containing abusive and obscene language, personal attacks of any kind or promotion will be removed and the user banned. Final decision will be at the discretion of the Taipei Times.