Dancing for the ages
The five works on the program showcase diverse dance styles ranging from William Forsythe's post-modern ballet, German Expressionist Mary Wigman's 'Absolute Dance' and Lin Hwai-min's taichi-centric movements
The dance department at Taipei National University of the Arts (TNUA, 國立臺北藝術大學) has come up with an interesting program for its "Spring Dance Concert" (舞蹈學院初夏展演-速狐計畫), which opens tomorrow night at the campus in Guandu District.
The show aims, as usual, to display the wide diversity of techniques the students study at the school and feature works by alumni and faculty. However, the department is continuing another tradition of giving students and audiences alike a history lesson by showcasing a work by an early pioneer of modern dance.
There are five works on the program: Quick Brown Fox by Australian guest faculty member Leigh Warren; an excerpt from Cloud Gate Dance Theatre (雲門舞集) artistic director Lin Hwai-min's (林懷民) 2001 creation, Cursive (行草); alumni Lin Yu-ju's (林祐如) Chiu Tsai (就在, "Just") and Lin Li-chuan's (林立川) Shihchu de Shihchien (逝去的時間, "Time Gone By"); and German dance pioneer Mary Wigman's Dance of Death II.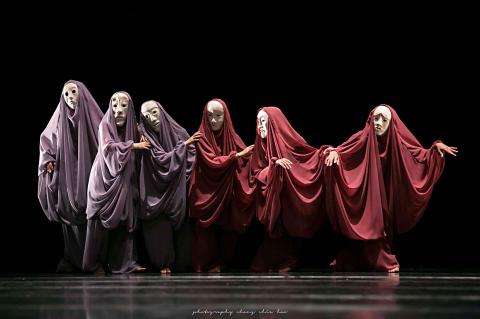 A reconstruction of famed early modern German dance pioneer Mary Wigman's Dance of Death II will be performed as part of the Taipei National University of the Arts' dance "Spring Dance Concert" this weekend in Taipei.
Photo courtesy of Chang Chia-hao
Warren's dancing career included stints with the Rambert Dance Company and Nederlands Dans Theater, and he also worked at the Australian Ballet, the Australian Dance Theater and ran his own troupe, Leigh Warren and Dancers.
For last year's Spring Concert, he restaged Esprit de Corps, which he created for the Royal Australian Ballet. Of Any if And is a new work based on the improvisation technologies of famed US choreographer William Forsythe, with whom Warren has collaborated.
The piece is set to a composition by Dutch composer Thom Willems, who created the scores for more than 60 of Forsythe's works. Forsythe himself used the music to create his own piece entitled Of Any if And in 1995, during his 20-year tenure as director of the Ballet Frankfurt.
Taipei audiences, not to mention Taiwanese dance students, have rarely had a chance to see Forsythe works, which is a shame given his influence on post-modern ballet.
'CURSIVE'
TNUA's dance students have been working on Lin Hwai-min's Cursive for several years now under the watchful eye of Cloud Gate veteran Chiu I-wen (邱怡文), and presented excerpts at both the spring and winter concerts last year — and did very well.
Lin Yu-ju also had a work in last spring's show, A Little Bit of Nudity (有一點裸體). However, this spring has been a busy one for her; in addition to working on this show, she also has a piece in the National Theater Concert Hall's Innovation Series Taiwan Dance Scene-Mixed Program, which opens on June 2 at the Experimental Theater.
A change of pace can be expected from Lin Li-chuan, a Kaohsiung-native who danced with the Atlanta Ballet and other companies abroad. The previous works of his I have seen mix contemporary dance with flashes of ballet technique.
The final piece on the program, Wigman's Dance of Death II is considered a crucial piece of her "Absolute Dance" style, which focuses on expressing emotions through rhythmic movement instead of telling a story.
Wigman, who was part of the German Expressionist movement, believed that dance could be performed without music, and that it did not need to be pretty. Her influence can be seen in the works of Martha Graham and Pina Bausch, as well as her students such as Hanya Holm, who went on to have a major influence on American modern dance.
Death was a frequent theme in Wigman's work and she created two versions of Dance of Death, in 1921 and 1925.
German choreographer Henrietta Horn, assisted by Susan Bamett, recreated Dance of Death II based on Wigman's diaries, drawings made by painter Ernst Ludwig Kirchner, who followed the rehearsals for Dance of Death II in Dresden in 1925, photographs and other historical material.
The "Spring Dance Concert" program is about two hours long.
There is a regular shuttle bus that runs from the Guandu MRT station (關渡) to the university; just get off at the first stop on campus, there will be signs or posters pointing the way to the Dance Theater.
Publication Notes
Performance Notes
What: Taipei National University of the Arts Dance Department Spring Dance Concert
When: Tomorrow through Saturday at 7:30pm, Saturday and Sunday at 2:30pm
Where: Taipei National University of the Arts Dance Theater (國立臺北藝術大學展演藝術中心戲劇廳), 1 Xueyuan Rd, Guandu District, Taipei City (台北市關渡區學園路1號)
Admission: NT$400; available online at www.artsticket.com.tw, at convenience store ticketing kiosks and at the door.
Comments will be moderated. Keep comments relevant to the article. Remarks containing abusive and obscene language, personal attacks of any kind or promotion will be removed and the user banned. Final decision will be at the discretion of the Taipei Times.