Earning an A
Powerful paintings by Ko Shu-ling are transformed by multi-media artist Ethan Wang into stunning projections that provide both backdrop and context to U-Theatre's Taoist tales-inspired production
It is too bad avant-garde Polish director and teacher Jerzy Grotowski died 18 years ago because he would surely have given his former student, U-Theatre (優人神鼓) founder and director Liu Ruo-yu (劉若瑀), an "A" for her company's latest work, Dao (墨具五色).
Liu often talks about the impact her year at Grotowski's forest retreat workshop in California had on her life and her work.
Even though she was an accomplished stage actress before earning a masters' degree in theater arts from New York University, the next year spent with Grotowski challenged Liu's assumptions about the theater, about performing and about herself.
U-Theatre's latest production, Dao, performed at the National Theater in Taipei last weekend, was a terrific return to form for the troupe.
photo Courtesy of Lin Jin-chu
He taught that theater should be an expression of an individual's attitude toward life, and that training should be aimed at nurturing the inner spirit of each performer.
While she founded U-Theatre in 1988, with a focus on Taiwanese folk rituals, it was not until she began working with Adan (黃誌群, Huang Chih-chun) a few years later that the essentials of the company took shape: a mix of drumming, martial arts and taichi, meditation and long, long walks.
Liu said that with Dao, she felt as if she had finally completed a homework assignment from Grotowski, just 35 years late.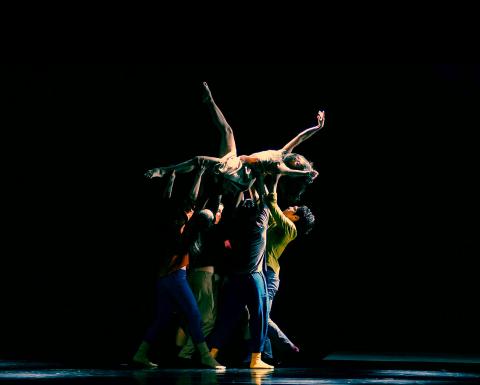 Resident Island Dance Theatre performed Lost in Grey at Huashan 1914 Creative Park in Taipei last weekend and will be in Tainan the first weekend in June.
photo Courtesy of Resident Island Dance Theatre
Dao is a near perfect compilation of all that Liu and Adan have been working toward over the past two decades, while raising the bar for theatrical visuals that they set with the swirling vortex finale to 2011's Beyond Time (時間之外).
Thanks to the ink and watercolor "splash" paintings of Ko Shu-ling (柯淑玲), the technical wizardry of multi-media artist Ethan Wang (王奕盛) and Lin Keh-hua 's (林克華) lighting, Dao is visually stunning, whether one is seated in the orchestra section or up in the nosebleed seats.
I saw the show from both places. I liked the visuals — and all the rest — so much on Friday night from my ground floor press ticket seat that I bought a ticket for Saturday night's show from the few that were left on the fourth floor.
However, it is Liu and Huang's interpretations of selected teachings of Taoist sages Lao Tzu (老子) and Chuang Tzu (莊子) that are at the heart of the seven part piece — as they cleverly bring those teachings to life.
Part one, which is about Lao Tzu's discussion of the emptiness of the universe at the beginning of time, sees white cloud-like shapes drifting across a scrim at the front of the stage as a woman holding a gong leads five others in a slow-moving procession from right to left across the stage. As they walk, other members of the troupe push drums from out of the black void at the back, while the projections shift to a lower horizontal, so it looks as if the performers are moving below the surface of a body of water.
Part four, which is about Chuang Tzu's tale of a master butcher who becomes one with the cow he must kill, is cleverly illustrated by constructing a ramshackle-looking sculpture out of five or six pieces of wood and slanted benches. Once it is built, Adan and two other men take turns thrusting a long wooden pole through it with motions that combine a powerful build-up and slow delivery — much like the dancing with drums and gongs later in the show.
Each time the pole moves through the sculpture, the audience holds its breath as if to ensure a gust of air does not topple the structure.
The segments segue from ones that focus on explosive drumming on a brightly lit stage to more reflective, slower moving ones that are infused by the blacks, greys, whites and colors of Ko's paintings as Wang teases them out from small dots of light to full-length backdrops to moving vertical scrolls to stunning waterfalls.
The audience in the upper floors can also see the rectangular pathways or square grids laid out by Lin's lighting.
The final two sections are perhaps the most beautiful: part six, about Chuang Tzu's butterfly sees Adan, draped in a long white cloak, appearing to hover in a cosmic space, becoming one with nature, while seven features a return to eternity with gongs suspended on filament from the rafters float above the floor and an incredibly vibrant painting is projected upward from the lip of the stage to the entire backdrop and then pours off the back and off the floor in torrents of colored streams into nothingness.
As the painting fills and moves the backdrop, the white portions shift from looking like storm-tossed whitecaps to a view of a planet from outer space; watching it was akin to looking for shapes in the clouds on a sunny day.
It was interesting to note how the calm movements of the performers could transform a colorful, energy-filled painting, giving it a more meditative feel, or how colors could transform the performer's simple white costumes as the paintings were projected.
It was also interesting how the powerful drumming sections seemed to give audience members permission to cough. By the last segment, however, I wanted to steal a gong mallet or two and use them judiciously on some people in the theater.
The National Theater used to have baskets of throat lozenges in the lobby for some performances where quiet was of the essence. I think it is time to bring them back.
SHORT BUT SWEET
I caught Resident Island Dance Theatre's (滯留島舞蹈劇場) show at Huashan 1914 Creative Park on Saturday afternoon. I liked Lost in Grey, a 2015 work by company founder Chang Chung-an (張忠安), as much for what Chang did as what he did not do.
It is a short work, set on five dancers and Chang himself, that explores the pressures of modern life and mental health issues — as portrayed by frenetic jerks, repetitive motions, individual explorations and a strong lyricism — with a rock score.
Lost in Grey runs just about 40 minutes, but that was alright. Chang said what he wanted to and did not feel the need, as young choreographers often do, to pad out a piece just to make an arbitrary timeframe for a full-length work. It works just fine as a standalone, or would make a nice segment of a longer mixed-bill program. The Ministry of Culture selected it for presentation last year's Edinburgh Fringe Festival.
I had not seen the company before, although I had seen two of Chang's works for the Kaohsiung City Ballet's (KCB, 高雄城市芭蕾舞團) "Dance Shoe" productions. Chang and his troupe are definitely worth watching out for.
Resident Island Dance Theatre is heading to Spain for a performance in Madrid on May 21 and then will be in Tainan for three performances of Lost in Grey June 3 and June 4 at the Tainan Municipal Cultural Center (台南市立台南文化中心國際廳原生劇場).
The show was also my first visit to Huashan's East Hall 3 since the cavernous space was converted into the Umay Theater (烏梅劇院) a year or so ago. It features a small raised floor for a stage encompassed on three sides by rows of seats. It is a nice space for very small companies.
Comments will be moderated. Keep comments relevant to the article. Remarks containing abusive and obscene language, personal attacks of any kind or promotion will be removed and the user banned. Final decision will be at the discretion of the Taipei Times.