Book review: Homecoming for both author and protagonist
Comic artist Zuo Hsuan draws from her childhood experiences to create a heartwarming, delicately illustrated coming-of-age tale that features religious and cultural elements from her hometown of Dasi
"It's simply natural to talk about things from your home," a character says in Zuo Hsuan's (左萱) debut full-length comic book, The Summer Temple Fair (神之鄉).
And that's exactly what Zuo does through her story, which is set in her childhood home of Dasi (大溪) in Taoyuan and revolves around the yearly religious procession of Santaizi (三太子), a folk deity also known as the Third Prince, which is almost like a second New Year to locals. Top spinning, which is a popular activity for children and adults alike, is also a key element in the story.
It's refreshing to read a comic that is set in Taiwan and draws upon its traditional culture, as most adults today grew up with Japanese or American productions. Works from those countries were an enjoyable staple of this reviewer's youth, so it's nice to read a comic that uses dialogue and graphics that Taiwanese can relate to.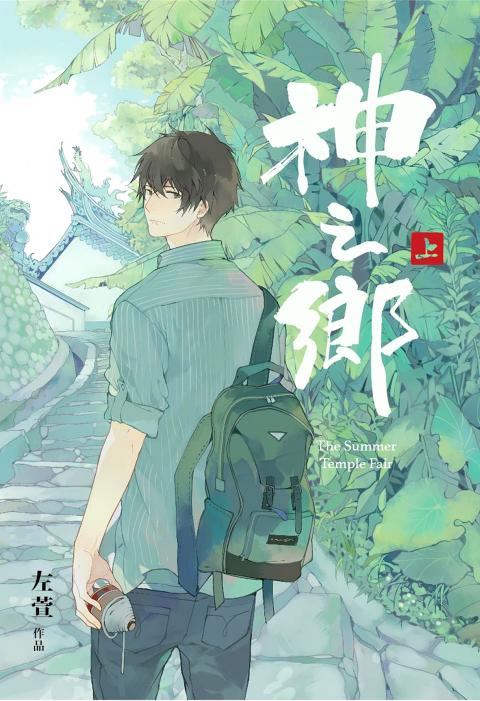 The Summer Temple Fair by Zuo Hsuan.
At the same time, as someone who does not know much about Dasi or the Santaizi ceremony, the comic also serves as an invitation to learn more. Other comics do this too, but it's good to know that the place of interest is only an hours drive away and can be visited anytime. The use of local elements, moreover, is a growing trend in Taiwan that will hopefully become the norm.
Zuo also grew up reading Japanese comics, and the influence is apparent. The artwork, especially the characters' hairstyles and expressions, are pretty similar to those in Japanese comics. Zuo does have her own flair, though, incorporating a lean and uncluttered drawing style with tasteful layouts that often bleed out of the comic panels. It's very balanced and nuanced artwork that is immensely detailed, but Zuo knows when to leave things blank. It's fitting for this type of light-hearted, day-in-the-life story, and at no point is it hard to follow, except for a section in the second volume where the pages get mixed up — but that's a publishing error.
The character types are also drawn from Japanese stereotypes — the protagonist, A-hsun (阿薰) fits the stoic, melancholy but good-looking "cool" type who is secretly admired by the main female character Nuan-nuan (暖暖), an ordinary girl who is somewhat of a daydreamer. There's also A-hsun's delinquent-looking and boisterous childhood best friend I-hsin (一心) and his precocious little cousin who somehow wants to marry him and sees Nuan-nuan as a romantic rival. Other minor characters suffer from this as well.
Zuo spent two years doing field research on the Santaizi ceremony and even had a chance to participate in the dancing, which is usually off-limits for women. Her experience and intent is reflected in the first chapter, as the story begins with Nuan-nuan leaving her college class that focuses on local Taiwanese culture. She reflects on her art professor criticizing her work as being not personal enough, encouraging her to spend the summer looking for a story that she can fully delve into. Ironically, the other students keep complaining how boring the class is, and Nuan-nuan only sticks with it because of A-hsun.
Zuo's personal history is reflected through A-hsun at this point, as both spent their childhood in Dasi but later moved to Taipei, never to return until circumstances called for them to research their unfamiliar hometown. For Zuo, it was an opportunity to work on the comic; for A-hsun, it was a class assignment.
Reading through the comic, however, it is apparent that the cultural elements only set the scene for the story Zuo wants to tell. It's probably a wise decision not to go overboard with these elements. Like the opening classroom scene indicates, not everyone is genuinely interested in learning about things like religious ceremonies, and there needs to be an engaging narrative as well. Zuo's tale is nothing groundbreaking and feels a bit cliche at times due to the character settings, but it is heartwarming and handled delicately enough that you do want to keep turning the pages. The coming-of-age theme of returning home and the transformations it may bring will be relatable to most readers, and the captivating artwork makes up for the rest. Add Santaizi and top spinning material, and the result is an original work.
The book won a bronze at Japan's International Manga Awards, and has been translated into Japanese with a French edition in the making. Zuo is promoting it at different comic fairs around the world, and hopefully there will be an English version soon.
It's a decent effort by an author who is part of a wave of young Taiwanese creatives who are increasingly drawing from local culture but incorporating it in ways that are appealing to the masses and probably to foreigners as well. Zuo does not try to represent a homogenous Taiwanese culture, but instead a regional custom that is largely unknown to people from the rest of the country. Plus, it is her personal connection and story that makes the an interesting read.
Dasi is already somewhat on the tourism radar, but if it ever needed a boost, it should be promoting this book. At least this reviewer will be visiting soon.
Publication Notes
The Summer Temple Fair
By Zuo Hsuan
212 pages (volume one), 192 pages (volume two)
Gaea Books
Softback : Taiwan
Comments will be moderated. Keep comments relevant to the article. Remarks containing abusive and obscene language, personal attacks of any kind or promotion will be removed and the user banned. Final decision will be at the discretion of the Taipei Times.