Art exhibition listings
IT Park Gallery has been doing a good job at showing the intersections between art and science lately, and in its most recent exhibition, Chiu Chao-tsai (邱昭財) uses both a telescope and a microscope to create some extraterrestrial-like installations. Light‧Scape (光 ‧ 景) piques the viewers' natural curiosity toward the unknown — both in terms of what's out there in the vast universe and the microorganisms that lurk beneath the surface. His blurry and static-filled videos both amuse and frighten, but most of all, they make us feel somewhat helpless, as if we were solely at the whim of the universe.
■ IT Park Gallery (伊通公園), 2F-3F, 41 Yitong St, Taipei City (台北市伊通街41號2-3樓), tel: (02) 2507-7243. Open Tuesdays to Saturdays from 1pm to 10pm
■ Until April 29

Peng Xiancheng, Court Lady (2012).
Photo courtesy of Tina Keng Gallery
It's ironic that Peng Xiancheng's (彭先誠) latest solo exhibition is called Best Time of Year Falls in March (四時最好是三月) since it opened in April, but the name comes from a verse in a Tang Dynasty poem about the youthfulness of spring while lamenting the idea of growing old. The Chengdu-born Chinese artist is known for his mogu (boneless) technique, a style of painting that renders forms in ink and color washes rather than outlines. His latest series of paintings explores in particular the subtleties during seasonal changes, which allude to different emotions and how quickly and drastically they can change within in a short period of time.
■ Tina Keng Gallery (耿畫廊), 15, Ln 548, Ruiguang Rd, Taipei City (台北市瑞光路548巷15號), tel: (02) 2659-0798. Open Tuesdays to Sundays from 10am to 7pm
■ Until April 30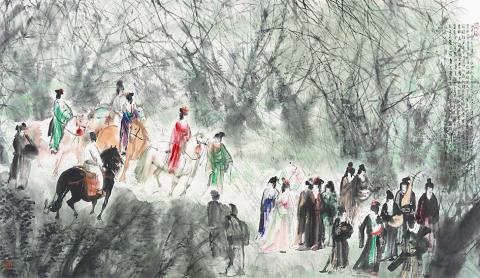 Peng Xiancheng, Demoiselles in an Outing 1 (2016).
Photo courtesy of Tina Keng Gallery
On display at Eslite Gallery are Tsong Pu's (莊普) abstract paintings made with tiny, 1 x 1 cm squares that resemble Chinese seals or stamps. Against the Quotidian Tug (晴日換雨‧緩慢焦點) examines the idea of different perceptions, something which Tsong does well — his paintings are abstract but realistic (especially the landscapes in pixelated squares), geometric but asymmetrical. The exhibition also includes five new 3D installations that complement his paintings. Tsong's work is highly conceptual in general and viewers can expect to use their brains a fair bit when visiting the gallery.
■ Eslite Gallery (誠品畫廊), 5F, 11 Songgao Rd, Taipei City (台北市松高路11號5樓), tel: (02) 8789-3388. Open Tuesdays to Sundays from 11am to 7pm
■ Until May 7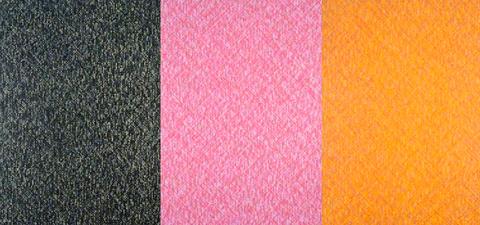 Tsong Pu, The Poetics of the Quotidian (2017).
Photo courtesy of Eslite Gallery
Art galleries can't seem to get enough of the Gutai Group — Lin & Lin Gallery featured their works several times last year and this year, Aki Gallery will be hosting Gutai — Our Spirit is Free. The group, which was founded in Ashiya, Japan in 1954, has been influential in the development of modern Japanese art, and is especially known for bringing art out of museums and galleries and into the public sphere. But those who aren't into minimalism may be a bit disappointed — a few of the pieces will have some viewers thinking that they can paint it too. For instance, Jiro Yoshihara's Circle is just a white circle set against a black background.
■ Aki Gallery (也趣藝廊), 141 Minzu W Rd, Taipei City (台北市民族西路141號), tel: (02) 2599-1171. Open Tuesdays to Sundays from noon to 6:30pm
■ Opens tomorrow. Until May 14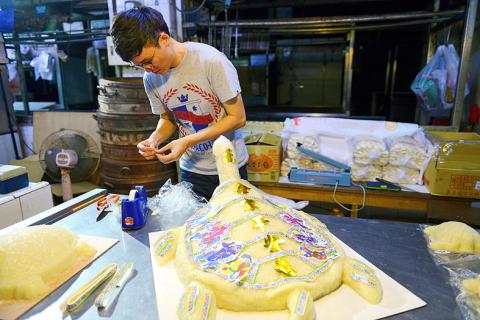 Chi Kai-yuan, Shinghou (2017).
Photo courtesy of TFAM
Chi New-york (紀紐約) goes by his real name Chi Kai-yuan (紀凱淵) in his latest solo exhibition at Taipei Fine Arts Museum. This is a first for the Kaohsiung-born artist, who is known by his nom de plume in artistic circles. Chi Kai-yuan 2017 Solo Exhibition (2017紀凱淵個展) revolves around the ideas of names, labels and the importance we attach to them. All of this is explored in relation to the artist's struggle to keep his personal and professional lives apart. Throughout his video installations, it's not clear who the "other" is — sometimes it's Kai-yuan and sometimes it's New-york. What is clear though, is the absurdity of names and social constructs.
■ Taipei Fine Arts Museum (TFAM, 台北市立美術館), 181, Zhongshan N Rd Sec 3, Taipei (台北市中山北路三段181號), tel: (02) 2595-7656. Open Tuesdays to Sundays from 9:30am to 5:30pm and until 8:30pm on Saturdays
■ Opens tomorrow. Until June 4
Jiro Yoshihara, Circle (1968).
Photo courtesy of Aki Gallery
Sadamasa Motonaga, White Streams and Ovals (2008).
Photo courtesy of Aki Gallery
Comments will be moderated. Keep comments relevant to the article. Remarks containing abusive and obscene language, personal attacks of any kind or promotion will be removed and the user banned. Final decision will be at the discretion of the Taipei Times.