An asparagus by any other name
Tuberose as a food might have come about as a result of silly political wrangling, but it has proved a boon to Taiwan's culinary culture
Polianthes tuberose (晚香玉筍) is a vegetable that has been making a steady, though almost glacial, move into the culinary mainstream in Taiwan, though as recently as 2014 the Apple Daily promoted it under the headline of "Nine vegetables in Taiwan that you've never eaten." This list admittedly also included such Mediterranean standards as zucchini flower and artichoke hearts, which would be familiar to anyone here who enjoyed classic dishes of southern Europe, but tuberose seems to be a genuine outsider.
The tuberose is important around the world in the production of perfumes and is also used as an essential oil and an element within the odiferous arsenal of aromatherapy. Its beautiful white flowers and natural fragrance have also made it popular for use within floral tributes for various occasions. It is in this form that it is probably best known in Taiwan, and under its common name of yelaixiang (夜來香), it is recognizable to every school child. Despite its English name, it is not in any way related to the rose, as its fragrance and appearance of its flower would probably make immediately apparent.
The use of the tuberose as a food does not have a long history and may well only date back to 2011, due to an event that former Taiwan president Ma Ying-jiou (馬英九) may well have had a direct, if probably unintended, role.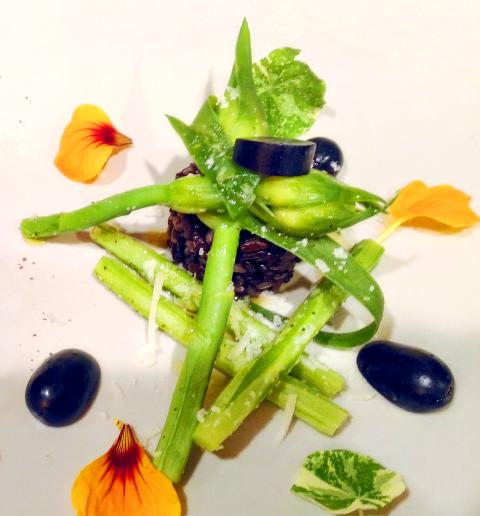 Steamed tuberose with pecorino, black rice and grapes is a dish that is simple and sophisticated.
Photo: Ian Bartholomew
According to a report published in the Taipei Times' sister newspaper, the Liberty Times, in July 2011 (news.ltn.com.tw/news/life/paper/507443), the fact that tuberose was developed as a food at all was due to the then president initiating a policy of not using flowers as gifts in the course of regular government affairs. As these flowers had been a major part of the florist's palette for making floral arrangements that beautify the ugly business of political wrangling, this policy led to a massive drop in the price for tuberose intended for the flower markets. According to the report, growers joked that they would have to eat the plants if they couldn't sell them. One enterprising grower took a bitter joke to heart, redirecting (after some tweaking to the growing process) his crop to the vegetable market.
The new vegetable won recognition at the International Food Expo in Singapore in 2010, and has made occasional appearances on various celebrity menus, but it does not seem to have made any big strides since. This is a shame, as the tuberose is my new asparagus, and since I was introduced to it, unwillingly, by a stallholder at the local market who I knew would pretty much say anything to off-load some not-in-demand produce to the weird foreigner who seemed keen on trying anything new. I am generally willing to put down my inability to make something taste nice to my own ineptitude, but there are some ingredients that I have almost become smug about when I find I cannot find a palatable version regardless of where I go. It is not a beautiful emotion to find satisfaction in the failure of others, but what the hell, you have to find support where you can.
To cut a long rant short, I did not put much stock in the casual suggestion that I should treat it just like asparagus. So it is slightly humiliating to admit that the best preparation I have found so far is to steam the tuberose stems. The good news is that they taste awesome! They are better than asparagus. Much better, certainly than most asparagus that I have been able to get here, and I will take them as an alternative anytime in both Western and Chinese cooking.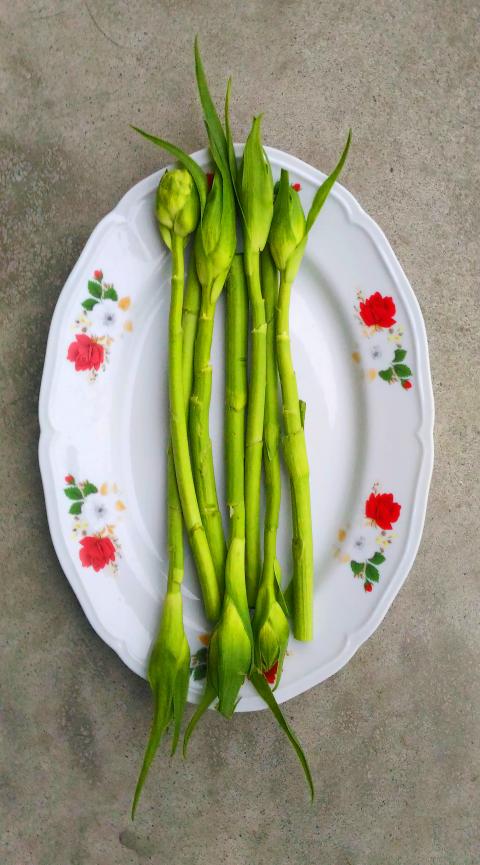 Stems of tuberose have a thick bud that provides a splendid texture and flavor boost to a dish, quite apart from looking spectacular.
Photo: Ian Bartholomew
It should be said that the flavor is more muted than asparagus, and can do with some enhancement, particularly from a robust cheese. My favorite so far, as in the recipe attached, is coarsely grated pecorino, though the more readily available Parmesan is also good. They stir fry well, needing only the lightest cooking, and look very pretty on the plate with a few other colorful ingredients such as red bell peppers and snow peas.
The stems are easy to peel, and the buds are phenomenal for the crisp texture and muted floral flavor they provide. Throw them into a veg pasta and they are a revelation (zucchini and tuberose with a few cherry tomatoes, perhaps a hint of chili and lots of garlic works particularly well with a bit of cheese and flat leaf parsley, but the permutations are endless).
It should be said the tuberose is not a cheap option. Prices are similar to standard quality asparagus, at least here in Hualien, where they clearly have yet to find a stable market. But quality is, on the whole, better than imported South East Asian asparagus, and they are really quite amazingly attractive on a plate. They are the sort of veg that you mess with at your peril, so I have followed this introduction with an unashamedly simple preparation that can be put together in minutes.
And to be honest, I have never found the tuberose a particularly attractive flower, and its unadulterated aroma is not particularly sophisticated (it is no surprise that it is most often described as "an element" on perfumery Web sites, which I take as an agreement that on its own it is the olfactory equivalent of the phrase, so much loved of noir detective fiction, of the "five-buck whore"), and its shift to the culinary scene is something to be applauded. Here it is distinctively sophisticated, and particularly beautiful on a plate, so lets make the most of this splendid Taiwanese innovation and celebrate the beneficial effects on ex-President Ma Ying-jeou's (馬英九) administrative policy.
Steamed tuberose with pecorino, black rice and grapes
Recipe (serves 4)
This dish is all about the seasonal ingredients and while the processes are simple, the ingredients are specific to the dish. The recipe is intended more as a basic guide of what can be done with this splendid vegetable.
Ingredients
- 1 bunch of tuberose (about 12 stems)
- Extra virgin olive oil, generous splash
- Salt and pepper to season
- Pecorino or other strong, hard cheese such as Spanish Manchego or Italian Parmesan
- Cooked rice (I use black rice for the color scheme, but any good quality rice is fine, though if you have a red or black whole-grain rice to add a bit of sweetness this works remarkably well)
- Seedless black grapes
- Organic nasturtium flowers and young leaves
Directions
1. Peel the stems of the most fibrous outer layer. Bring a steamer to a boil and steam for about 4 to 5 minutes. The stems should still be crisp.
2. Remove from steamer and immediately drizzle the stems with olive oil and sprinkle over a generous quantity of pecorino cheese. Season with salt and pepper.
3. Serve together with rice, sliced seedless black grapes and the flowers and young leaves of organic nasturtium.
Ian Bartholomew runs Ian's Table, a small guesthouse in Hualien. He has lived in Taiwan for many years writing about the food scene and has decided that until you look at farming, you know nothing about the food you eat. He can be contacted at Hualien202@gmail.com.
Comments will be moderated. Keep comments relevant to the article. Remarks containing abusive and obscene language, personal attacks of any kind or promotion will be removed and the user banned. Final decision will be at the discretion of the Taipei Times.