Taiwan in Time: The former oldest human in Taiwan
For almost 40 years, Zuojhen Man was considered to be between 20,000 and 30,000 years old — until a 2015 study refuted the claim by a huge margin
March 27 to April 2
Zuojhen Man (左鎮人) stood high atop its perch as the oldest human found in Taiwan for 40 years. Initially deemed to have lived between 20,000 and 30,000 years ago, its prestige came crashing down in late 2015 when a team led by Chiu Hung-lin (邱鴻霖), using the latest radiocarbon dating technologies, announced that it was only about 3,000 years old.
Zuojhen Man is named after the site of its discovery in Tainan's Zuojhen District (左鎮), which has been a hotbed of fossil discovery since 1931. The first human bones were reportedly found in 1970. They were sent to Japan, where they underwent fluoro-manganese dating — which produced the wildly exaggerated results, which were published in the Journal of the Anthropological Society of Nippon on March 31, 1976, making the Zuojhen Man officially the oldest human ever found in Taiwan.
Replicas of the original Zuojhen Man skull fragments are on display at the Tsailiao Fossil Museum in Tainan's Zuojhen District.
Photo: Wu Chun-feng, Taipei Times
Chiu says in a Rhythms Monthly article that Zuojhen Man's age was so quickly accepted because no human remains were found during the 1968 to 1970 excavations of the Changbin Culture (長濱文化) site in Taitung County, which was deemed to be Taiwan's oldest at between 5,500 and 35,000 years. Scholars were hoping for the Zuojhen man to fit within that date period — which it did — and questioned it no further, Chiu says.
Zuojhen Man soon made its way into the junior high and high school textbooks, and as of January last year it is still listed as the oldest human in Taiwan.
FOSSIL HOTSPOT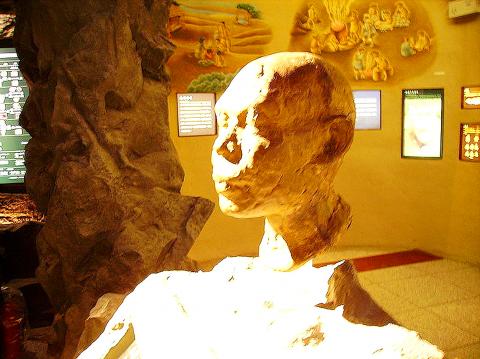 A reconstructed head of Zuojhen Man.
Photo courtesy of Wikimedia Commons
Several Taiwanese made their name at the Zuojhen site, where fossils were first discovered in 1931 by, legend has it, "Fossil Grandpa," (化石爺爺), the late Chen Chun-mu (陳春木) who was a government clerk with a fifth-grade education living in the area.
There are two versions of the story — Chen was either the first person to find a fossil at the site, attracting the attention of Taipei Imperial University professor Hayasaka Ichiro, or he was commissioned by Hayasaka to help him find fossils.
Since Chen lived close to the site, he would go looking for fossils when he was out fetching water. Apparently, he was so good at it that other interested parties would ask him to help out. This became a lifelong passion for Chen, who was even invited to a fossil conference at Japan's National Museum of Nature and Science in 1964. Unfortunately, travel restrictions were tight, and the government denied his visa, citing his "lack of education."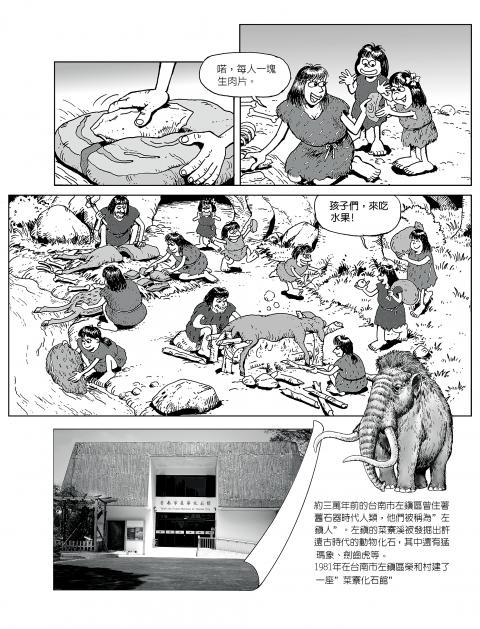 A page from A History of Taiwan in Comics, by Du Fu-an, which depicts ancient civilization in Taiwan.
Photo courtesy of Du Fu-an
In 1970, amateur fossil hunters Kuo Te-ling (郭德鈴) and Kuo Tung-hui (郭東輝) found a bone that resembled part of a human skull. Unsure whether it was human or monkey, they decided to keep it in their collection. A year later, Pan Chang-wu (潘常武), another legendary self-taught archaeologist with a grade-school education, discovered a complete rhinoceros fossil at Zuojhen, attracting the attention of several scholars in Taipei.
During their time in the area, the scholars also examined Kuo's collection and saw the skull fragment. They deduced that it belonged to a human, and eventually it was sent along with several other pieces found by Pan to Japan for further study.
Many scholars doubted the age of Zuojhen Man over the years, but for whatever reason, its place was firmly secure until Chiu announced his results.
With Zuojhen Man out of the picture, who does the oldest human fossil honors go to? Some say it's Penghu 1, a mandible fished out of the Penghu Channel by fishermen and estimated to be between 10,000 and 190,000 years old (which raises a whole set of new questions because it's different enough to possibly be a different species) — but other academics, such as archaeologist Tsang Cheng-hwa (臧振華), say more work needs to be done because the bone was found in the ocean and is not tied to any particular ancient culture.
Tsang believes that the honor goes to about 2,500 human remains found by him and his team at the Tainan Nanke Site (南科遺址) dating to about 5,000 years ago. And the debate continues.
Taiwan in Time, a column about Taiwan's history that is published every Sunday, spotlights important or interesting events around the nation that have anniversaries this week.
Comments will be moderated. Keep comments relevant to the article. Remarks containing abusive and obscene language, personal attacks of any kind or promotion will be removed and the user banned. Final decision will be at the discretion of the Taipei Times.