London calling
Important and influential works about Taiwan on screen and in print have been in the spotlight in the British capital
London's Centre of Taiwan Studies held its first combined Taiwan Film and Book Week last month, an event that brought together speakers on subjects as diverse as black-faced spoonbills, graphic novels and Aboriginal social movements.
Director of the Centre of Taiwan Studies, Dafydd Fell, was delighted about the Ministry of Culture's support for the event, which featured participants from Austria, Germany, Switzerland and the US, as well as Taiwan and the UK.
"We've been running Taiwan film weeks in February for about four years," Fell says. "This year was a little different because we were approached by the Ministry of Culture to do something in connection with the 2017 Taipei Book Fair."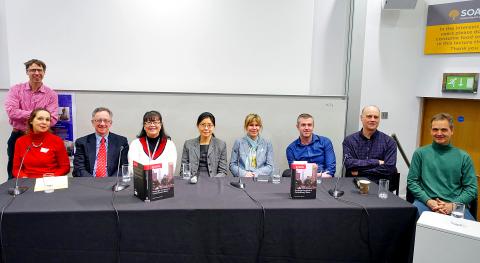 Dafydd Fell, standing far left, and other chapter authors pose for a picture at the launch of the Routledge Handbook of Contemporary Taiwan at SOAS in London on February 14.
Photo courtesy of Jewel Lo
"This was quite an attractive idea to us as we have been trying to do more literature-related events over the last couple of years and to make up for the fact that we don't have a Taiwan literature course," he says.
TAIWAN STUDIES AT SOAS
The center is part of the University of London's School of Oriental and African Studies, a world leader in the field of Taiwan Studies. The ministry sponsored presentations by writer Liu Ka-shiang (劉克襄) and graphic novelist Sean Chuang (小莊).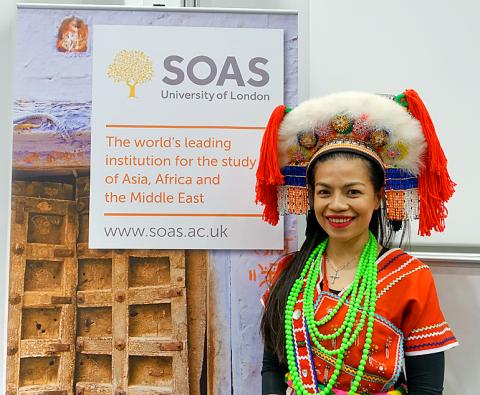 Actress Ado Kaitling Pacidal is pictured following her talk on Taiwan's Aboriginal social movements at SOAS in London last month.
Photo courtesy of Jewel Lo
"Of course the type of writers we would be interested in had to be somehow related to the Taiwan courses we run," Fell says. "So in this case Liu's appeal was in his environmental and sociological writings, while for Sean Chuang it was his cartoon portrayal of the 1980s that linked in nicely to the way we cover that period in a number of Taiwan courses here. So the selection criteria are very similar to the way we select films to be screened."
There were a total of ten public events held from Feb. 8 to Feb. 17, including film screenings, book launches and talks by authors and an Aboriginal actress.
The screen offerings were Wu Hsiu-ching's (吳秀菁) documentary Song of the Reed (蘆葦之歌) and feature film Wawa No Cidal (太陽的孩子).
The former tells the story of a group of elderly Taiwanese comfort women forced into military prostitution for the Japanese army during World War Two and was followed by a discussion led by Astrid Lipinsky from Vienna University.
The latter tells the story of an Amis woman trying to re-cultivate farmland in her ancestral village, reflecting social issues and earning lead actress Ado Kaliting Pacidal a nomination for best new performer at the Golden Horse Awards.
She took part in a Q&A session following the screening of Wawa No Cidal as well as giving a talk on Taiwan's indigenous social movements.
"We have been quite keen to do events related to Taiwan's indigenous peoples for the last five years," Fell says. "This is a topic we'll return to."
Pacidal is set to visit London in July to take part in the center's summer school program, while yesterday saw a screening of Hang In There, Kids (只要我長大), a film about three children growing up in an Aboriginal village that was the nation's choice for this year's Academy Award for Best Foreign Language film nomination.
The event also saw the launch of the Routledge Handbook of Contemporary Taiwan and the new edited volume Taiwan and The 'China Impact' — Challenges and Opportunities.
Completing the trio of events on Taiwan Book Day on Feb. 14 was a presentation by Thomas Gold on his groundbreaking book State and Society in the Taiwan Miracle, the first to apply theories of dependency, world systems and dependent development to an East Asian case.
Fell says it is difficult to pinpoint the event's highlight due to its overall success. But he did especially enjoy the Q&A sessions because they provoked lively discussion.
"One reason speakers enjoy coming here is they face challenging questions and very knowledgeable audiences," he says.
Comments will be moderated. Keep comments relevant to the article. Remarks containing abusive and obscene language, personal attacks of any kind or promotion will be removed and the user banned. Final decision will be at the discretion of the Taipei Times.