A helping paw
Saturday's wine night at NakedFood will raise funds for the Seeing Project, an endeavor that encourages people to adopt animals from shelters
When she moved to Taipei almost a decade ago, American expat Mayumi Hu was appalled to see so many abandoned puppies all over the city. Though she had always considered herself to be an animal lover, the plight of stray animals drove her to do more.
Since then, Hu has been volunteering at both government and private shelters. In addition, she organizes talks at schools where she invites guests such as dog trainers and veterinarians to speak, and frequently goes on local TV to spread awareness of the issue of animal abandonment.
On Saturday, Hu will be speaking at wine night hosted by raw vegan fine dining restaurant NakedFood about the Seeing Project, one of her endeavors to encourage people to adopt animals from shelters. Admission to the event is NT$1,000 and includes a selection of raw vegan canapes and wine. Twenty percent of ticket sales will be donated to the project.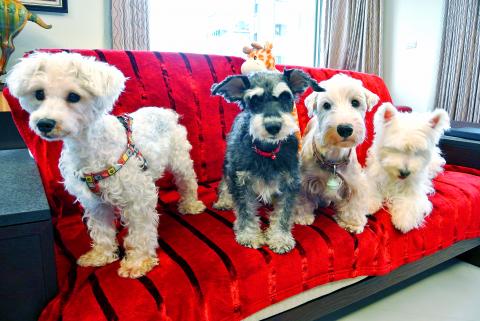 From left to right: Tai Tai, Marble, Mezzie and Habibi, dogs rescued and fostered by Mayumi Hu at her house in Taipei.
Photo courtesy of Mayumi Hu
Launched in 2015, the Seeing Project is part of the Pet Friends Alliance Program, a non-profit that promotes the adoption of stray animals. All dogs and cats adopted through the project receive advice and guidance from the alliance and free access to workshops across Taiwan.
"I think many people don't realize how powerful a simple adoption picture or short video posted on his or her Facebook or other social media can be," Hu tells the Taipei Times.
The process is simple: Participants of the Seeing Project visit a local shelter, take pictures of an animal they bonded with and write a short profile of the animal, while providing contact details of the shelter and the cage number of the animal.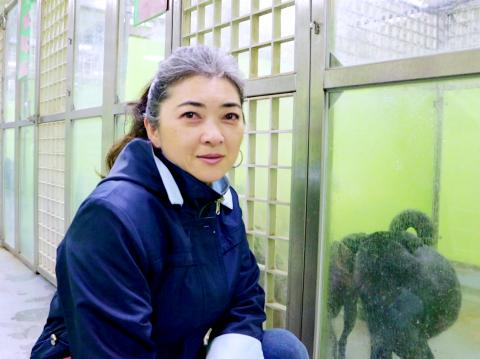 Mayumi Hu volunteers at the Taipei City Animal Protection Office's Neihu branch.
Photo courtesy of Mayumi Hu
Hu recently posted a 20-second video of a beagle she saw at a shelter and the response was overwhelming.
"In just a few minutes, it was shared by over 40 people and it even reached the beagle rescue association, which I never knew existed in Taiwan," she says.
SOCIAL ISSUE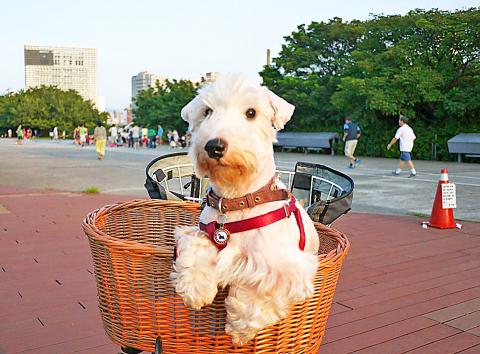 Mezzie (now), a successful adoption story.
Photo courtesy of Mayumi Hu
The plight of Taiwan's stray animals was brought to the forefront of policy discussion last year when a young veterinarian, Chien Chih-cheng (簡稚澄), allegedly committed suicide amid criticism for euthanizing animals at shelters. As a result, a new policy prohibiting stray animal euthanasia was put into effect last month.
Though Hu says that this might not be the most effective solution — the no-kill policy may mean that shelters will become overburdened — she still thinks that it's a sign that the government cares about the issue and that it is a step towards a more permanent solution.
"It's sad that a life had to be sacrificed to bring more awareness to this issue and make people see the reality behind of the walls of an animal shelter," Hu says.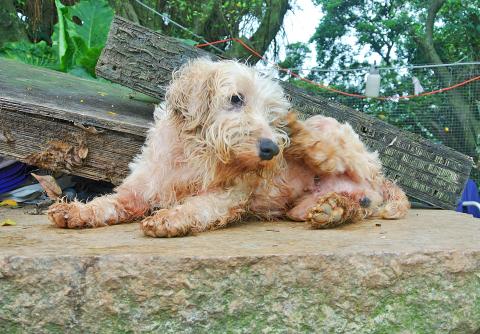 Mezzie (before) was abandoned by his previous owner because of his aggressive behavior.
Photo courtesy of Mayumi Hu
She adds that it's important to realize that this is a social issue created by people, and that continued education to spread awareness and change people's attitudes in the right way forward.
"These stray dogs or cats are not the problem, but those irresponsible, unloving and cruel people who buy and abandon these innocent lives are. There are no bad dogs or cats, [just] bad people."
One such example is an abandoned dog that Hu found a few years ago which she named Mezzie. Hu took him home and fostered him but it wasn't an easy process to train him — Mezzie bit her and her husband, sending them to the hospital. Gradually, over the course of a year, Mezzie learned how to trust people again and Hu found her a new owner.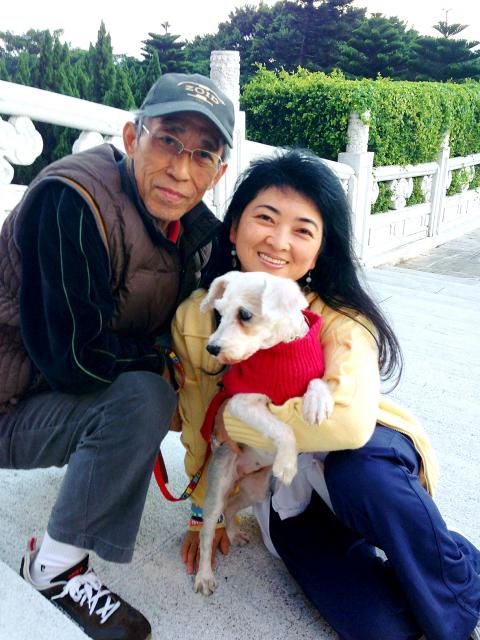 Edward Koo, left, and Mayumi Hu with Tai Tai, a rescued dog. Koo adopted Tai Tai, a Maltese-Schnauzer mix, through the Taipei International Women's Club.
Photo courtesy of Mayumi Hu
Another success story is that of Tai Tai, a small white Maltese-Schanauzer mix who was abandoned and had health problems and needed surgery to remove bladder stones. Hu mobilized her contacts at the Taipei International Women's Club to raise the NT$30,000 needed for Tai Tai's operation, and she was adopted soon after.
Though the ultimate goal of the Seeing Project is for as many strays to be adopted as possible — the project has a 70 percent adoption rate, a high number Hu attributes to her many media appearances as well as volunteers getting the word out through social media — Hu says there are other ways to get involved if you do not have the capacity to adopt. There is growing awareness these days of different ways to get involved, including fostering, sponsorship, volunteering and even donations, thanks to people posting on Facebook, Instagram, Snapchat and other apps."By saving lives, you learn kindness and compassion," Hu concludes. "Many times, we think we adopt them, but they adopt us. They enter our lives, touch our hearts, love us unconditionally and make us better person."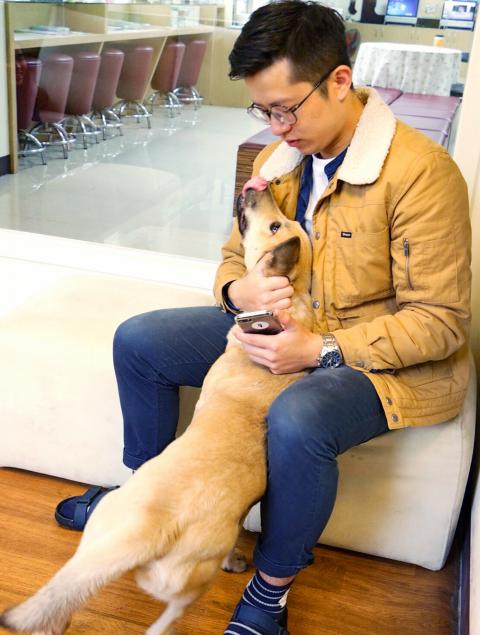 Volunteer Phil Huang plays with rescued dog, Soil, at the Taipei City Animal Protection Office's Neihu branch.
Photo courtesy of Mayumi Hu
Publication Notes
Event notes
What: Seeing Project Wine Night
Where: NakedFood, 22-1, Ln 160, Xinsheng S Rd Sec 1, Taipei City (台北市新生南路一段160巷22-1號)
When: Saturday from 7pm to 9pm
Admission: Tickets are NT$1,000, purchase online at nkdfood.delicioustaipei.com under "event." Registration deadline is Thursday
On the net: nkdfood.delicioustaipei.com
Comments will be moderated. Keep comments relevant to the article. Remarks containing abusive and obscene language, personal attacks of any kind or promotion will be removed and the user banned. Final decision will be at the discretion of the Taipei Times.