Meet the women combating fat shaming in Taiwan
Amy Lin and Mallie Hsieh are taking to social media to spread body positivity through jokes and good humor
"Where do fat people make friends?"
"Why do some fat people have three folds on their belly?"
"Are fat people's stool bigger?"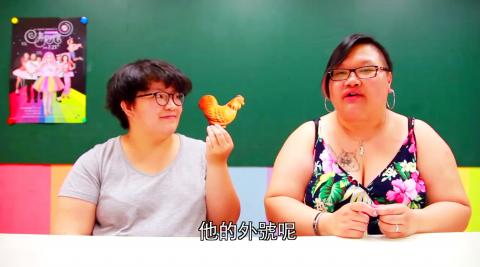 Mallie Hsieh, left, and Amy Lin discuss body image in this video on their Facebook page, Roudan Tianxin.
Photos courtesy of roudan tianxin
These are some of the questions viewers ask Amy Lin (林昱君) and Mallie Hsieh (謝莉君) in their most watched video on Facebook, which has over 33,000 views.
The two plus-sized friends started the Facebook page Lady Bom Bom Power, or Roudan Tianxin (肉彈甜心), in 2015 to combat stereotypes of fat women, a problem they believe is deeply ingrained and widespread.
In their monthly videos, they discuss the difficulties overweight women have finding fashionable clothes and laugh over spiteful remarks made by concerned relatives while suggesting to viewers effective ways to respond to such comments. Sometimes, they bring in guests to talk about their own experiences with fat shaming or skinny shaming or for being judged for being a tomboy or identifying as gay or lesbian.
"I have no friends," Lin replies jokingly to the viewer who asks where fat people make friends.
"I used to have three folds on my belly, but now it's become one big blob," says Hsieh as she grabs her stomach and jiggles it around.
As to the inquiry on poop size, Hsieh says: "I'm not sure if fat people's stool is bigger. However, mine is hard — though I think that's common for a lot of people."
EMBRACING BODY POSITIVITY
While the humor their videos convey borders on the self-deprecating, their message — that overweight people are still people — is simple and moving.
During the day, Lin works at the Taiwan Tongzhi Hotline Association (台灣同志諮詢熱線協會), an NGO that serves the needs of the LGBT community, and Hsieh, a social worker, spends her time dealing with people with HIV/AIDS.
"The people we work with don't want to be treated any differently than the rest of society," Hsieh tells the Taipei Times.
Working with people who have been ill-treated has inured Hsieh to criticism of her body size.
"What people say about me and Amy doesn't really bother us anymore," Hsieh says.
In addition to making videos, Lin and Hsieh regularly give talks at universities around Taiwan. Last year, they spoke at Tamkang University in New Taipei City, Yuan Ze University in Taoyuan and Hualien's National Dong Hwa University.
"Most people in the audience will say that we are brave. But they add that it will still take some time to change people's perceptions of feminine beauty," Hsieh says.
The duo draws inspiration from the body positivity movement in the US, which teaches people — especially women — to be accepting of different body types and forgiving of their own bodies in order to advance overall mental and physical well-being. The movement also encompasses the idea of "fat acceptance" — remedying anti-fat sentiment and reclaiming the word "fat" from its negative connotation.
Lin admits that she derives most of her body-positive education from outspoken Western celebrities such as American plus-sized model Tess Holliday, UK singer Adele and Australian actress Rebel Wilson.
The same can be said for Hsieh. "There are a lot of plus-sized YouTubers and bloggers in the West seeking to change negative perceptions of fat women," she says. "But the idea hasn't spread to Taiwan."
CONTESTING CONFORMITY AND CUTE CULTURE
Lin and Hsieh ascribe plus-sized women's lack of representation in Taiwanese media and pop culture to an overall culture of conformity.
"When you ask little kids what they want to be when they grow up, half will say doctors and the other half will say presidents," Lin says. "People aspire to be the same."
As a child, Lin couldn't help but feel that she had done something wrong for looking different than her peers. Teachers would advise her to lose weight — something that was difficult for Lin who tended to put on weight easily — rather than teaching the students who bullied her why their actions were harmful.
Hsieh adopted a funny fat girl persona to avoid being bullied, though she was still criticized by her mother and relatives for being overweight. In one video, Hsieh mentions her relatives asking her how she will ever find a boyfriend if she doesn't lose weight. She replies to the camera: "How can they be sure that I will marry a man?"
For Hsieh and Lin, shattering gender stereotypes comes hand-in-hand with fighting fat shaming.
"I could never dress like Meghan Trainor" Lin says, referring to the American pop singer whose hit music video All About That Bass featured her and other plus-sized women in pink cardigans and big hairdos and ribbons.
While Lin prefers summery dresses with plunging necklines in most of their videos, Hsieh wears t-shirts with patterns and stripes.
Hsieh believes that Taiwan's kawaii culture means that there's an expectation for fat women to dress cute so that they will not be perceived as lazy or sloppy. Lin explains that the Japanese term used to describe fat women in frilly, girly outfits — "marshmallow" — is also widely used in Taiwan.
"It's like saying that if you're a fat woman, you better be a cute fat woman," Lin says.
FINDING A HEALTHY BALANCE
One criticism that the duo frequently encounters from viewers is the state of their health.
"Where do you draw the line between naturally fat and unhealthy?" Is a recurrent question in the comments section of their videos.
Both Lin and Hsieh maintain that they have always been naturally fat. Hsieh professes a love for cholesterol food. Lin says her diet is "slightly better," though she still "eats more than the average woman in Taiwan."
"Right now, both of us do not have any health problems, but that doesn't mean that we won't in the future," Hsieh says. "It's a legitimate concern."
Hsieh's exercise regimen has been irregular — sometimes she'll pick up a sport like biking that she'll enjoy for a while but quickly grow bored of it.
"Last year I was addicted to Pokemon Go. I walked around a lot while hunting for Pokemon," Hsieh says. "That was good exercise."
Lin says she's been trying to focus on her mental health and being happy and is considering taking up swimming.
"The challenge is finding a swimsuit my size!" Lin laughs.
Comments will be moderated. Keep comments relevant to the article. Remarks containing abusive and obscene language, personal attacks of any kind or promotion will be removed and the user banned. Final decision will be at the discretion of the Taipei Times.