Skiing out of the shadows
The 2018 Winter Olympics can be seen as a coming-out party for South Korea as a winter sports destination
Emerging from the warmth of her car, Jung Sang-mi watched her husband trudge up a snowy hill, red sled in hand, as their 5-year-old son bounded excitedly ahead, ready for another run. Like many young South Koreans in the congested capital of Seoul, she and her husband escape to the nearby Taebaek Mountains to hit the slopes several times each winter, although she admitted they are still trying to find their legs as skiers.
"We are not really good at it," she said, "but we do enjoy the sledding."
There's another draw that keeps their son enthralled — a palm-fringed indoor water park called Ocean 700, whose attractions include a wave pool, a lazy river filled with bobbing inner tubes, and a water slide with the slightly intimidating name of Tornado. In fact, Jung, a 36-year-old bank employee, thought the ski season was over on this particular trip in mid-March last year, when some of the smaller resorts began to close, so her family had come only for the water slides. "It's very popular in Korea. Maybe even more than the skiing."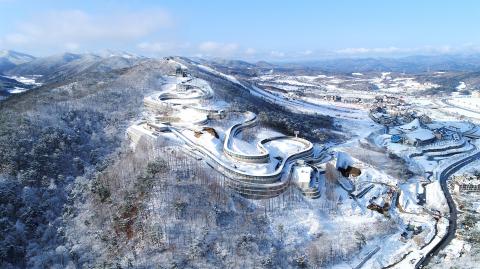 An aerial view of the Alpensia Sliding Center for the 2018 Pyeongchang Winter Olympics in South Korea.
Photo: EPA
Indeed, compared with neighboring Japan and its ingrained ski culture, deep-powder skiing and well-established resorts, South Korea is in many ways still coming into its own as a skiing and snowboarding destination. But this could soon change when Pyeongchang hosts the Winter Olympics next year from Feb. 9 to 25, only the third time the Winter Games will be held in Asia and the first time outside Japan.
It's a big moment for the country, which views the Winter Games as a huge source of national pride and is eager to put on a memorable spectacle on par with the 1988 Summer Olympics in Seoul and the 2002 World Cup that South Korea co-hosted with Japan.
With tens of thousands of athletes, journalists and spectators expected to descend on Pyeongchang for the Games, it's also a coming-out party of sorts for South Korea as a winter sports hub, a chance to show the world that it, too, has sparkling-white slopes and a top-notch skiing infrastructure that can continue to attract powder hounds long after the Olympics are over.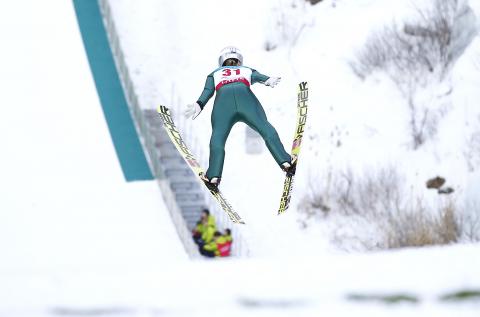 Maren Lundby of Norway in action during the trial round of the women`s Normal Hill Individual competition of the FIS Ski Jumping World Cup in Pyeongchang, South Korea.
Photo: EPA
WHERE IS PYEONGCHANG?
This quiet region of pine-covered mountains and potato fields not far from the North Korean border, long one of the country's least-developed areas, has overcome a number of obstacles just to get to this point. Pyeongchang, largely unfamiliar even to many Koreans before the Olympic bid, was once seen as a sizable underdog to win the Olympics. It finally succeeded in its third bid after razor-thin defeats to Vancouver in 2010 and Sochi in 2014.
Still, name recognition remains a problem. To avoid confusion with the North Korean capital of Pyongyang, the Olympic host was officially rebranded from its original name, Pyongchang, to PyeongChang, adding an all-important "e" and capital "C." The new spelling only partly worked, though, as some international media have not adopted the capital C. And travelers have still gotten confused, such as the Kenyan delegate headed to the ski center for a UN biodiversity conference in 2014 who accidentally booked a ticket to North Korea instead.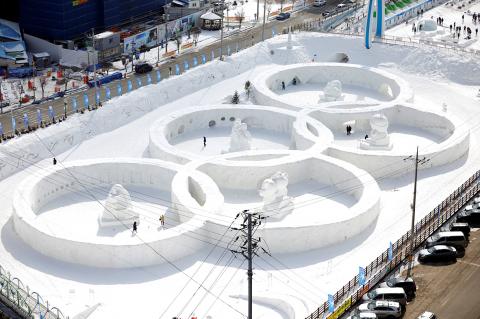 An ice sculpture of the Olympic rings is seen during the Pyeongchang Winter Festival, near the venue for the opening and closing ceremony of the Pyeongchang 2018 Winter Olympic Games in South Korea.
Photo: REUTERS
The preparations have also been rocky. There were struggles initially to find domestic sponsors and disputes over funding for venues and the plan to build a downhill course in a virgin forest on a protected mountainside. (The organizing committee has done damage control by promising to replant trees and return the mountain to its natural state after the games.)
The long-brewing corruption scandal involving the country's president, Park Geun-hye, has threatened to overshadow the Olympics, too, but organizers maintain that preparations have not been affected and that the games are free of corruption.
With one year to go before the opening ceremony, organizers are fervently trying to shift attention back to South Korea's moment in the sporting spotlight.
THE FACILITIES
Most of the venues are nearing completion, including a brand-new Alpine ski center, speedskating oval, figure skating arena and sliding track for the bobsled, luge and skeleton events. The two villages for athletes are about half-finished — one in the Pyeongchang mountain cluster, the other in the coastal city of Gangneung, where the ice events will be held. A new high-speed rail line is expected to be completed by mid-2017, too, whisking visitors from Seoul to Pyeongchang in just 69 minutes, compared with the current two-and-a-half hour drive.
And the Olympic spirit is finally starting to seep into Pyeongchang, a sprawling county made up of ski resorts and sleepy towns like Hoenggye, where the athletes' village and Olympic Stadium are being built.
Hoenggye is as far from a typical ski town as it gets. The streets are lined with homey dumpling and Korean fried chicken restaurants, as well as nondescript clothing stores with names like Barbie Fashion Shop that stock off-brand sweaters and windbreakers, with nary a ski jacket in sight. A small truck with a squawking loudspeaker makes the rounds in the afternoons selling fresh crab and squid from the coast, and on the outskirts of town, locals hang pollock on wooden racks for days in the winter sun until they become tough as leather, a popular Korean delicacy called hwangtae.
But even in this tranquil hamlet, the excitement is starting to build. The main road into town is already aglow with giant neon letters proclaiming triumphantly to motorists, "Yes Pyeongchang!" In a dry, shallow riverbed, five giant Olympic rings were fashioned from packed snow for the Pyeongchang Winter Festival this year, with tunnels in the curved walls large enough to stroll through and snow carvings of figures like a skiing rooster (for the Year of the Rooster) and the Olympic mascot Soohorang, a smiling white tiger, in the center.
A short drive away, the new Alpensia Ski Jumping Center has also become a draw for families, with young children bundled in heavy jackets warily eyeing the top of the steep, icy slope before heading to the observatory for popcorn and photos in front of a less frightening picture of the real thing.
The hope is that the Olympics can have a lasting impact on the tourism industry here and help South Korea rival Japan — and upstart China — as a winter sports destination.
SKIING in KOREA
South Korea actually has a long skiing history. Its first (and still biggest) resort, Yongpyong, opened in 1975, the same year it imported its first snow-making machine from Europe. (This moment is memorialized at Yongpyong in a grainy photo of officials surveying the foreign contraption above the very propagandist-sounding caption: "This artificial snow makes skiing more enjoyable.")
But one of the main impediments to the country's emerging from Japan's shadow has been geography: South Korea's mountains are just smaller than its neighbors' and receive far less natural snow. At Yongpyong, which will host the slalom and giant slalom events during the Olympics, the average annual snowfall is just 8 feet, and although it's cold enough to make artificial snow the entire winter, it's not quite the same as the deep powder in Hokkaido, the northern Japanese island. At Niseko, one of the most popular resort areas on Hokkaido, the average annual snowfall is an astonishing 15m.
Yongpyong has 28 slopes, served by 13 lifts and a gondola, but many of the trails are geared toward beginners and intermediates; an experienced skier can pretty much cover all the "super-advanced" diamond trails by lunchtime. Safety and proper decorum, not speed, also seem to be paramount concerns — fences prevent skiers from going off-piste, helmets are ubiquitous, and signs constantly remind visitors to select the appropriate slope for their skill level and slow down.
Sharing a Korean Hite beer with friends after a morning on the slopes, Ulrike Pertoll, an Italian who lives in Seoul, said she prefers the pure powder in Japan and the longer runs in the Dolomites back in Italy. But, she added, skiing in South Korea has its benefits: Ski rentals and lodging are cheaper than in Japan, and the proximity of the slopes to Seoul means you can leave work at 5pm on a Friday and be on the slopes several hours later. "Where else can you do that so easily in Asia?" she said. Yongpyong's slopes stay open until 2:30am.
Kyle Hughes, an Australian who has skied in South Korea for five years and runs an independent online travel guide called Korea Snow, points out other advantages: "The Koreans have the best skiing infrastructure in Asia — they have high-speed gondolas, fast quads, fast eights, the latest magic carpets," he said. "And they've become so efficient at making snow, it's ridiculous. One (resort) manager told me they don't care if it doesn't snow; they have the technology to open the whole season."
COOL FACTOR
Then there's the cool factor. Many Koreans started taking up snowboarding in the 1990s after a hugely popular K-pop boy band, Seo Taiji and Boys, showed off their boarding — and posing — skills in one of their videos. Since then, snowboarding has exploded in South Korea — as much for the style as for the sport itself. And just like the broader Korean wave sweeping Asia in music, television and film, Korean brands are now at the forefront of snowboarding style in the region, too.
These fashions are perhaps most visible at the Welli Hilli Park, a snowboarder's paradise about an hour's drive from Yongpyong. There are few downhill runs here; rather, the main attractions are the halfpipe, moguls and snowboard ramp where tricksters in hoodies entertain one another with flips and spins, sneaking cigarettes on the side.
The standard dress is a hooded sweatshirt down to the knees (and sometimes well beyond), along with hair dyed various shades of blond and cherry-red and an obligatory flat-brimmed baseball cap, usually covered by the hood for effect. Some boarders go for a head-to-toe ensemble in a glaring shade of pink or orange; the brighter the color, the bolder the fashion statement.
It's not unusual to see GoPro cameras attached to helmets and, on occasion, a rebel snowboarder with a selfie stick fully outstretched, filming himself as he recklessly, yet oh-so-stylishly, carves his way down the mountain. (A clear violation of the rules, mind you.)
It's part slope, part catwalk, with boarders trying as hard as they can to get noticed.
"Koreans are really into appearance," said Max Kim, founder of an outdoor adventure company called Teamax Adventure. "When they ski, they focus on how beautiful they ski, so they like to show off, take a selfie and post on Facebook."
Kim fancies himself a skiing purist — most of the time. "I just like an outfit I feel comfortable in. If I go with a girlfriend, that's a different story — then I like to wear Gucci or Chanel."
He hopes that as the industry matures, Koreans move beyond the image-conscious, fashion-oriented aspect of the sport and try something even more daring — backcountry skiing on untamed mountainsides far away from the safety of groomed trails. This is difficult to do at the rule-bound resorts around Pyeongchang, but his company organizes backcountry tours to snowy Ulleung island.
"When Koreans think about skiing, everyone thinks it's about skiing in a ski resort, surrounded by a fence," he said. "A couple years ago, people didn't understand about backcountry skiing, but nowadays lots of people try to do this."
Comments will be moderated. Keep comments relevant to the article. Remarks containing abusive and obscene language, personal attacks of any kind or promotion will be removed and the user banned. Final decision will be at the discretion of the Taipei Times.