Georgian singing for the ages
Lin Hwai-min used music by the Rustavi Choir for the score of one of his favorite productions. Next week, the Cloud Gate Theater is hosting the choir for two shows on their own
It is probably a safe bet that for many Taiwanese, their first exposure to many Western — and Asian — composers has come about because of Cloud Gate Dance Theater (雲門舞集) founder Lin Hwai-min's (林懷民) eclectic taste in music. Even non-dance fans will have been exposed to the company's televised performances over the years.
Lin has a massive collection of CDs that he has bought or been given. He says he listens to a work or a composer, sometimes for years, before using it in a new production.
He has used music from around the world and through the centuries, ranging from Johann Sebastian Bach, Javanese gamelan and Aboriginal songs Japanese composer Toshio Hosokawa, American modernist John Cage, Russian composer Alfred Schnittke and modern Chinese composer Qu Xiaosong (瞿小松).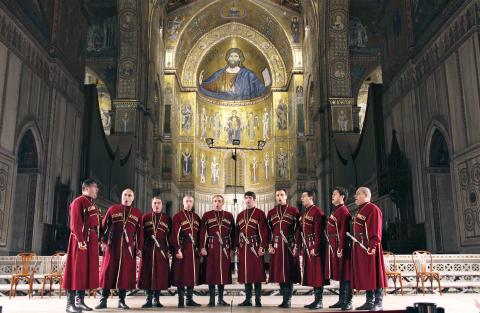 The Rustavi Ensemble from Georgia will give two performances at the Cloud Gate Theater in Tamsui District, New Taipei City, on Oct. 28 and Oct. 30.
Photo Courtesy of the Rustavi Ensemble
However, one of the strangest pairings of music and choreography has to be Lin's Songs of the Wanderers (流浪者之歌, 1994), which was inspired by Herman Hesse's account of Siddhartha's quest for enlightenment and Asian religious pilgrimage practices. Lin chose the polyphonic hymns and folksongs of an East European male chorale, the Rustavi Ensemble of Georgia.
Cloud Gate had been performing Songs of the Wanderers to recorded music for years, when a German promoter brought the troupe and the Rustavi Choir together for shows at the Dresdner Musikfestspielein June 2011.
Two years later, Taipei audiences caught their first glimpse of the Georgian singers when they joined Cloud Gate for performances of Songs at the National Theater as part of the Taiwan International Festival of Arts.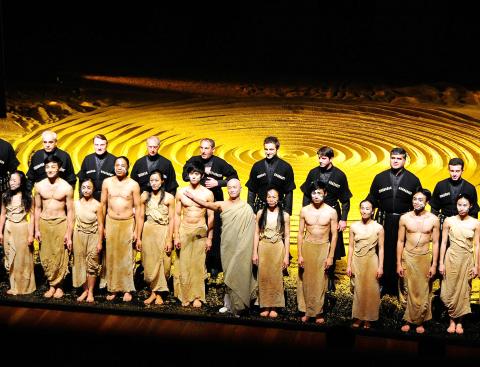 The Rustavi Choir and Cloud Gate Dance Theatre dancers take their bows after a performance of Songs of the Wanderers in an undated photograph.
Photo courtesy of Peter Fiebig
Lin is bringing the Rustavi Choir back to Taiwan next week, for two performances on their own at the Cloud Gate Theater in New Taipei City's Tamsui District (淡水) and in Kaohsiung the following weekend.
The show is called Rustavi Choir Georgian Voices (喬治亞魯斯塔維合唱團-傳奇之聲).
The ensemble was founded in 1968 by Anzor Erkomaishvili, who came from a prominent musical family and who remains its artistic director. His goal was to bring together the different regional styles of Georgian vocal music, which involve three types of polyphonic singing: complex polyphony, with techniques that can include falsettos and yodels; a polyphonic dialogue sung over a bass background and contrasted polyphony, which involves three distinct parts and partial improvisation.
Polyphonic, or overtone singing, means that the vocalists are singing two or more lines of independent melody simultaneously, in overlapping harmonies.
Choirs in Georgia have traditionally been divided by gender, and the Rustavi is an all-male group, although over the years the ensemble has grown to include musicians and a dance troupe of both genders. However, only the choir will be performing in Taiwan.
Like many of the songs of Taiwan's Aboriginal communities, Georgian folksongs evolved as music to be sung or chanted while working in the fields, in battle, for major life celebrations and banquets, as well as for religious services, although the choirs have always been a secular tradition.
The intimate 455-seat Cloud Gate Theater should be a perfect setting for a performance of the Rustavi's close-harmony ethereal chants and songs.
The theater has arranged for shuttle buses from the Tamsui MRT station for both shows, which will leave the station one hour before each performance and then return after the show. Reservations must be made by Monday, either through Cloud Gate Dance Company's Web site or by phone (02-2629-8558, extension 3404).
The following weekend, Nov. 5 and Nov. 6, the choir will perform outdoors on the grounds of the National Kaohsiung Center for the Arts at Wei Wu Ying Metropolitan Park (衛武營都會公園) as part of the Weiwuying Arts Festival. The 60-minute shows start at 5pm and are free. For more details, check the festival's Web site (waf.org.tw).
Publication Notes
Performance Notes
What: Rustavi Choir Georgian Voices
When: Friday, Oct. 28 at 8pm and Sunday, Oct. 30 at 3pm
Where: Cloud Gate Theater (淡水雲門劇場), 36, Ln 6, Zhongzheng Rd Sec 1, New Taipei City (新北市淡水區中正路一段6巷36號)
Admission: NT$1,200 and NT$1,500; available at NTCH box offices, online at www.artsticket.com.tw or www.service@cloudgate.org.tw and at convenience store kiosks nationwide
Comments will be moderated. Keep comments relevant to the article. Remarks containing abusive and obscene language, personal attacks of any kind or promotion will be removed and the user banned. Final decision will be at the discretion of the Taipei Times.