Theater review: Eight plays, 24 hours
There were no clown sightings, but The LAB's 24-hour play-writing project did feature some zombies, a black wig and lots of pressure
Hemingway described courage as "grace under pressure" and such courage, as well as professional dedication, was needed and shown by all involved in the LAB Space's second annual 24 hour theater festival held over the weekend.
Starting at 8pm on Friday of last week, eight directors drew by lot a playwright and a group of actors for the play they would direct. After that, each writer also drew a setting, a prop and a line that had to be included in the script, which they would spend the next 12 hours writing.
The script was then given to the director and crew. End result? By 8pm the following night, the audience was treated to eight plays that had been memorized, rehearsed and to be performed. It was an unusual display of ingenuity and creativity, theater at its most raw, most improvisational and most exciting.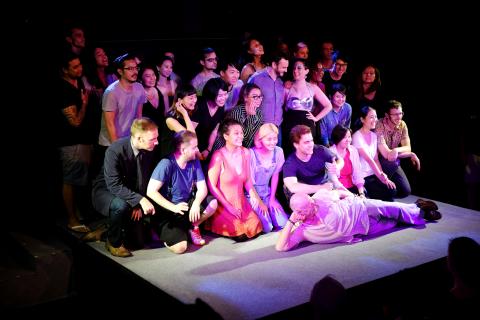 Actors participating in the 24-hour play-writing project pose for a group photo on Saturday in Taipei.
Photo courtesy of Jay Jay Chen
All plays had difficulties to overcome given the time constraints. However, the award for most grace under pressure has to go to the team that performed The Evaluation.
James Lo (羅濟豪) wrote this Chinese-language play for 11 characters, but only 3 people showed up — and the director was nowhere to be seen.
Derek Kwan (關顯揚) stepped in to direct and the remaining team of Lin Rou-chun (林柔君), Ho Kang-ting (何岡娗) and Fox Lee (李亞臻) put on a slam-bang performance with Lee and Lin using talking heads and multiple voices in lieu of actual human actors.
Next in the challenge of the draw, Lisa Kang's House of Days was the most creative and revolved around a black wig. When worn, it allows every member of a family of four living on a remote farm to express their inner dreams and wishes. The play closes with dreamy-eyed actress and step-in director, Miriam Laerke Harkenskov, slyly introducing a new blond wig.
Shashwati Talukdar gets the writer's "Say what?" award having to work zombies, outer space and the line, "You are not thinking of selling our camel to that madman are you?" into the delightful script of No Space for Brains.
It was great to see many established actors and actresses return, but new faces we expect to see more of are Lucie Liu, the "jilted" wife in Rick Monday's turnabout comedy Skullduggery and Althea Guiao, the sassy but savvy rocket mechanic in No Space for Brains.
The full program can be found at in English at: thelabtw.com.
Comments will be moderated. Keep comments relevant to the article. Remarks containing abusive and obscene language, personal attacks of any kind or promotion will be removed and the user banned. Final decision will be at the discretion of the Taipei Times.