A flourishing of festivals
The Tua-Tiu-Tiann International Festival of Arts aims to help revive Taipei's historic Dadaocheng area by making it the focus of a series of shows, lectures, street performances and street parades this month
This month is proving to be festival time in Taiwan, and Taipei is filled with performances, lectures, film showings, parades and art exhibits of all sorts.
The second annual Tua-Tiu-Tiann International Festival of Arts (TTTIFA, 大稻埕國際藝術節) opened last weekend in Taipei, as did the Kuandu Arts Festival ("Voyage to Kuandu and beyond," Sept. 29, page 13), and this weekend there is plenty on offer in both parts of the city from the two festivals.
TTTIFA organizers describe their festival as "a time tunnel connecting 1920s and 2020s" because all the events are centered in the historic Dadaocheng (大稻埕) area of the capital, which developed as a thriving port and center for foreign businesses during the late Qing Dynasty.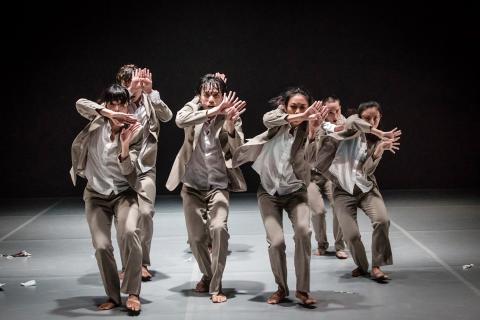 Singapore's T.H.E. Dance Company will perform Organized Chaos on Saturday and Sunday at the Taipei National University of the Arts Dance Theater as part of the Kuandu Arts Festival.
Photo Courtesy of Bernie Ng
The area became the base of the Taiwan Cultural Movement in the 1920s and a center for theater and modern art. The organizers — Bookstore 1920s, Thinkers' Theatre (思劇場) and the Chiang Wei-shui Cultural Foundation — are hoping that through the festival, Dadaocheng and its historic buildings will again play a vital role in developing Taiwanese art, culture and industry, as well as serving as a venue for cross-cultural exchanges with international artists.
The theme of this year's TTTIFA is "Roaring All The Way." While the 1920s are known as the "Roaring 20s," organizers said they think of the 1920s as a period of social movements and ideologies that challenged tradition and nourished a flourishing arts scene.
There are more than 60 performances and events on the TTTIFA calendar from Taiwanese artists as well as some from France, the US, Malaysia, Japan and Belgium, including street performances each weekend and a 1920s costume parade on Saturday, Oct. 15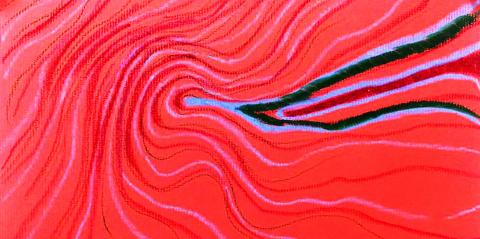 MAFIA Interdisciplinary Arts ensemble is giving two performances of Dimensions of Sound at Rice and Shine on Dihua Street tomorrow night and Saturday as part of the Tua-Tiu-Tiann International Festival of Arts.
Photo Courtesy of MAFIA Interdisciplinary Arts
One of the shows this week is by an experimental arts collective called MAFIA Interdisciplinary Arts (跨域藝術), founded by Chang Ya-wen (張雅雯) in 2011.
It is giving two performances of their latest creation, Dimensions of Sound (眾聲相) at Rice and Shine tomorrow night and Saturday.
The group describes the show as a mysterious encounter of visual and hearing sensation. They say it is about combining sound, painting and small objects and seeing what develops. The performers include musicians Chang and Chang Kang-te (張康德), artist Yuan Hui (元慧), with electronic music by 44-22.
More information can be found at www.tttifa.com.
Meanwhile, at the Taipei National University of the Arts, home to the Kuandu Arts Festival, T.H.E. Dance Company from Singapore is preparing for their performances of Organized Chaos (整理好的非理性) on Saturday and Sunday at the school's Dance Theater.
The contemporary dance troupe was founded by Malaysian dancer/choreographer Kuik Swee Boon (郭瑞文) in 2008 with the aim of fusing Asian/Singaporean/Malaysian identities with Western dance techniques and creating works that explore contemporary social issues. T.H.E. stands for "The Human Condition."
Kuik was a principal dancer with the Singapore Dance Theater for many years and then the Compania Nacional de Danza of Spain before returning to the city-state and founding his own company.
Organized Chaos, set on eight dancers, stems from an ongoing conversation between Kuik and T.H.E.'s first resident choreographer, South Korean Kim Jae-duk. about the universal human condition and current affairs. The piece, which premiered in 2014, was their second collaboration. Beginning from creative improvisation, they produced a work that combines text, sound, speech and movement and a view of life as "simply a dance of choice."
Next Thursday, I will preview the Weiwuying Arts Festival in Kaohsiung.
Publication Notes
Performance notes
What: Dimensions of Sound (眾聲相)
When: Tomorrow and Saturday at 7:45pm
Where: Rice and Shine (稻舍), Dihua Street, Sec 1, No. 329, Taipei (台北市大同區迪化街一段329號)
Admission: NT$600, available at www.accupass.com/event/register/1607150607566940562580
What: Organized Chaos
When: Saturday at 7:30pm and Sunday at 2:30pm
Where: Taipei National University of the Arts Dance Theater (國立臺北藝術大學展演藝術中心舞蹈廳), 1 Xueyuan Rd, Taipei City (台北市學園路1號)
Admission: NT$600, available online at www.artsticket.com.tw, at convenience store ticketing kiosks and at the door
Comments will be moderated. Keep comments relevant to the article. Remarks containing abusive and obscene language, personal attacks of any kind or promotion will be removed and the user banned. Final decision will be at the discretion of the Taipei Times.