The colors of Taitung
The Bulareyaung Dance Company will bring a bit of the ocean off the coast of Taitung to Tamsui with their founder's latest creation
The Bulareyaung Dance Company (BDC, 布拉瑞揚舞團) returns to New Taipei City's Tamsui District (淡水) next week for the world premiere of founder Bulareyaung (Bula) Pagarlava's newest work, Colors (漂亮漂亮).
The two-year-old Taitung-based company has had a busy year, with two world premieres — Qaciljay (阿棲睞) at the National Theater in May as part of the annual "1+1" double bill Ku Ming-shen's (古名伸) Sadhu (沙度) and now Colors — a trip to Hong Kong and some small shows around Taitung.
However, the troupe faced a major, almost devastating, challenge when its studio in the old Taitung Sugar Factory was hit hard, like many other places in Taitung city and county, by Typhoon Nepartak in July.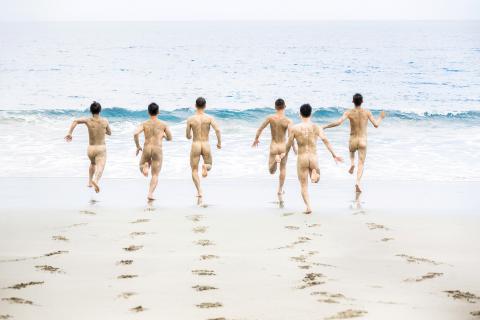 Bulareyaung Dance Company will premiere founder Bulareyaung Pagarlava's latest work, Colors, at the Cloud Gate Theater in Tamsui District, New Taipei City, on Friday, Oct. 14.
photo courtesy of Li Jia-ye
The typhoon ripped open huge holes in the building's roof, allowing the rain to pour onto the wooden dance floor and the office area, and leaving the rest of the roof at risk of collapsing. A plastic tarp had to be stretched over the roof until more permanent repairs could be made.
The damage caused by Nepartak would have been hard for even an older, more established troupe to recover from. Help came in the form of an open letter from Bula's mentor and Cloud Gate Dance Theatre (雲門舞集) founder and artistic director Lin Hwai-min (林懷民) that was widely published in the Chinese-language press, encouraging dance fans and other Taiwanese to help the company rebuild. Money and help poured in.
However, with its studio temporarily out of commission, Bula had to seek alternative rehearsal spaces.
One of the initial ideas behind Colors was to make something more colorful than Bula's other works for BDC; another was to explore the differences between Aborigines from the mountains, including Paiwans like Bula, and those who live closer to the sea, like the Amis in Hualien. A third was to work out how each dancer saw and defined beauty.
"Maybe the typhoon was good for us," Bula said in a telephone interview. "It came just two weeks after we started rehearsals for Colors and it forced us to think in new ways."
He decided to use the beaches near Taitung as rehearsal space. The idea was for the dancers to use the movements he had come up with to move in the water, since the ocean was a key theme for the work.
It didn't work that way.
"When you jump in the ocean, you can't really move because the waves push you around," Bula quipped. "We wanted to connect with the ocean, but it is hard to replicate in the studio how you move in water."
Colors is set on seven dancers: three Paiwan, three Han and one Amis. It comes with a parental warning that there will be some nudity, but "nothing erotic."
As usual with performances at the Cloud Gate Theater, the theater has arranged for shuttle buses from the Tamsui MRT station, which leave one hour before each performance and then return after the show.
However, reservations must be made in advance, either through Cloud Gate Dance Company's Web site or by phone (02-2629-8558, extension 3404) by Monday.
Publication Notes
Performance Notes
WHAT: Colors
WHEN: Friday, Oct. 14 and Saturday, Oct. 15 at 8pm. Saturday and Sunday (Oct. 15 and 16) matinees at 3pm
WHERE: Cloud Gate Theater (淡水雲門劇場), 36, Ln 6, Zhongzheng Rd Sec 1, New Taipei City (新北市淡水區中正路1段6巷36號)
ADMISSION: NT$700 and 1,000; available at NTCH box offices, online at www.artsticket.com.tw or www.service@cloudgate.org.tw and at convenience store kiosks nationwide
Comments will be moderated. Keep comments relevant to the article. Remarks containing abusive and obscene language, personal attacks of any kind or promotion will be removed and the user banned. Final decision will be at the discretion of the Taipei Times.