Documenting the online world
CNEX's ninth annual documentary film festival kicks off today with 21 Taiwan premieres exploring the Internet and its effect on modern life
They've explored money, dreams, education and trust in past years, and starting today, the ninth edition of CNEX's Documentary Film Festival will be taking a look at the Internet and its effect on the world.
Every year, CNEX, a nonprofit founded by documentary enthusiasts from Taiwan, China and Hong Kong, calls for film proposals from young or aspiring directors of Chinese descent based on an annual theme and helps them develop and produce the final piece.
The festival then draws from CNEX's theme from the previous year so that selected finished productions can be screened alongside international offerings exploring related topics. All 21 films shown this year will be making their Taiwan premieres, and the five house films will make their first world showing.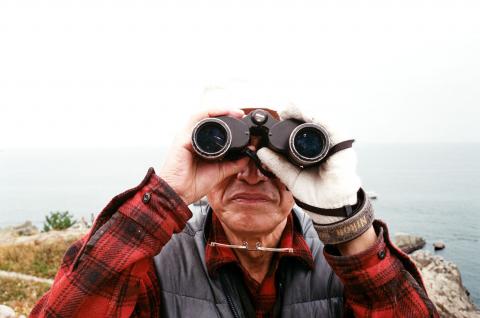 Gatekeeper, by Canadian director Yung Chang, follows a retired detective who patrols the Tojinbo Cliffs of Japan, a popular suicide spot.
Photo courtesy of CNEX
The flagship piece for the festival is foreveryone.net by American director Jessica Yu (虞琳敏). It tells the story of Tim Berners-Lee, the man who invented the World Wide Web and decided to make it free to the public.
"If I had to recommend one film to watch first, this would be it because it's like a general introduction to our entire festival," says the festival's Andre Wu (吳定翰).
Another film Wu recommends is Song of Lahore, which depicts a group of classical musicians trying to preserve their traditional craft under Taliban rule. They decide to use Pakistani instruments to reprise jazz standards, and unexpectedly become an international sensation through YouTube.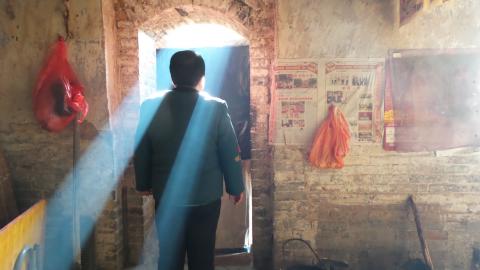 The Spokesperson, by Chinese director Xu Huijing tells the story of a village barber who became possessed by Mao Zedong's spirit.
Photo courtesy of CNEX
The third film Wu suggests is another CNEX production, Look Love (對看), which examines two Chinese families from opposite ends of the economic ladder who, for different reasons, send their children away to attend school.
The programming is divided into four sections. Virtual Empire looks at the possibilities and generally positive effects of the Internet, while Part of the Digital Game explores the bad and ugly such as privacy, piracy and the controversy behind drone technology.
The third, War and Peace, Offline, examines the struggles people face outside of the Internet, and the last, In Love We Unite looks at now technology has changed human relationships and the way we connect with each other.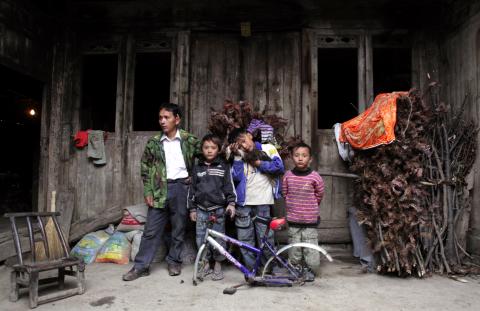 Look Love, by Chinese director Ye Yun explores two families from contrasting educational backgrounds who, for different reasons, send their children away for school.
Photo courtesy of CNEX
Wu adds that in accordance to the Internet theme, the festival has also been screening films online and on CNEX's multimedia-on-demand (MOD) channel since the beginning of this month. The remaining screenings are tomorrow and Sept. 30 at 9:30pm.
With such a large international offering, how does the festival fulfill its mission statement of "guiding the viewers to reflect on the changes the Internet has brought to ethnic Chinese society?"
"I think we can compare and contrast with the stories and cases from other countries," Wu says. "The Internet is already an international phenomenon. We are living in the same virtual environment and there should be plenty of parallels."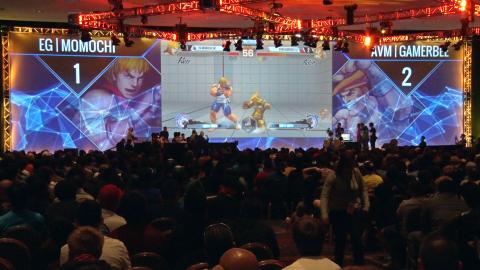 Living the Game, by Japanese director Gotsu Takao takes a look at the life of professional video game players.
Photo courtesy of CNEX
Publication Notes
Event notes
What: CNEX Documentary Film Festival (CNEX主題紀錄片影展)
When: Today through Sept. 29, screenings all day
Where: Spot — Huashan Cinema (光點華山電影館), 1, Bade Rd Sec 1, Taipei City (台北市八德路一段1號)
Admission: Tickets are NT$120 per show, NT$60 for elderly. Packages of NT$420 for four films and NT$800 for eight are also available on a limited basis
On the Net: festival2016.cnex.org.tw
Comments will be moderated. Keep comments relevant to the article. Remarks containing abusive and obscene language, personal attacks of any kind or promotion will be removed and the user banned. Final decision will be at the discretion of the Taipei Times.