Gay across the Taiwan Strait
Petrus Liu, associate professor at Singapore's Yale-NUS College, argues — in language that is abstruse and paradoxical — that queer theory in Taiwan and China is more than just a Western import
Sometimes the acknowledgements appended to a book can feel distinctly intimidating. The author of Queer Marxism in Two Chinas, Petrus Liu (劉奕德), states, for example, that portions of his book were given as talks in no fewer than 16 universities, and that some of the material appeared earlier in four academic journals. A reviewer for a family newspaper such as the Taipei Times may naturally wonder whether such a text can be presented without appropriate reverence in the face of such apparent and widespread authentication.
But review it we must, because Taiwan forms the subject of well over half the text. There is another problem, however, and that is that this book is written in the context of the academic area known as "queer theory." The practical result of this is that it contains terms the general reader may not be over-familiar with, such as "imaginary" used as a noun (all the dictionaries I've consulted give it only as an adjective), "cisnormative," "alterity" and "desynchronizingation." Non-academic readers in Taiwan, nonetheless, will no doubt be curious to know what a book with such a title, let alone such a cover image, contains, and so the following remarks are aimed in part at easing their discomfort.
The essence of what Liu argues is that "Queer Marxism" in Taiwan and China is not simply the US product imported into Asian universities. Instead, these two places have their own queer Marxist traditions and founding texts, and the US and European assumption that the relative freeing up of gay life in China today is a result of the disappearance of Marxism there is wide of the mark.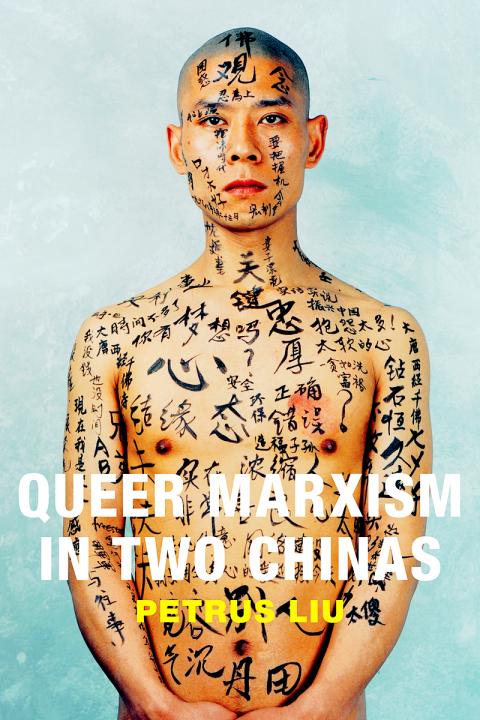 Queer Marxism in Two Chinas, by Petrus Liu
Of course, readers are likely to react with surprise to learn of Marxism of any kind in Taiwan. They would be wrong, argues Liu. In the KMT-dominated 1960s, he points out, a journal, Literature Quarterly (文學季刊), was founded in Taipei that was heavily influenced by Marxism, so much so that one of its leading lights, Chen Ying-zhen (陳映真), was sentenced to ten years in prison in 1968 for, among other things, participating in a reading group on Marx and Marxist authors. In addition, today Taiwan's cultural queer theorists "adamantly refuse to let the official political identity of anticommunist Taiwan define them."
As for individuals who represent this home-grown queer theory, significantly different from the Western variety, Liu concentrates on Cui Zien (崔子恩) in China (of whom more in a moment), and Josephine Ho (何春蕤) and Ding Naifei (丁乃非) in Taiwan. All three set their sights against the focus in US culture on gay life being little different from the heterosexual form, and being happily focused on domesticity and consumption. "My gay lifestyle? Eat, sleep, go to work, pay taxes," as a popular T-shirt had it on a Pride March in San Francisco.
Instead, these three iconic academics here in Asia all prefer to look at sexual outsiders for whom gay marriage, for instance, holds little attraction. What about these people, they ask. Aren't sex workers, people with HIV/AIDS, and lovers of sexual variety in general, human too, and with rights?
Cui claims to be China's only openly gay academic. He's a professor at the Beijing Film Academy, but without any teaching assignments. He makes improvized, unscripted films featuring transvestites, dinosaurs, reptiles and extra-terrestrials, all beings he considers "queer" in that they live at some remove from conventional society. His attempt to found China's first gay pride march in 2005 was blocked by the authorities. His purpose in producing his films, he once said, was to "destroy the respectability of gays." He is therefore the last person to want to import US "queer theory" into Asia.
So what does a Chinese version of "queer theory", whether in Taiwan or in China, look like? Here Liu has to fall back on what could be thought of as over-familiar literary examples — Pai Hsien-yung's (白先勇) Crystal Boys (孽子), Chen Ruoxi's (陳若曦) Paper Marriage (紙婚), which was filmed by Ang Lee (李安) in 1993 as The Wedding Banquet, and Xiao Sa's (蕭颯) Song of Dreams (如夢令), all three first published in Taiwan, plus a few others. Liu has to lean over backwards to make the last of these fit into his queer discourse; it's the story of a straight woman, after all, and has only one minor gay male character.
For a while I was unsure what to make of this book, but my eyes were opened when I saw Liu described in the post-Sunflower movement online publication New Bloom (破土) as a member of "the pro-unification left". This, if true, would explain why, despite so much of his material coming from Taiwan, he has a section close to the book's end on "Queer Illiberalism in Taiwan" in which he states: "While rhetorically endorsing human rights, the Taiwanese state regularly mobilizes the police to raid gay parties and harass gay bars." Unfortunately, of the four instances he cites, the most recent comes from 12 years ago. This hardly adds up to "illiberalism" of any kind in contemporary Taiwanese society.
Elsewhere he writes: "In fact, the rhetoric of tolerance, liberalism, and progress is a political ruse designed to win over the sympathy of the American public, since Taiwan's continuous de facto and imagined future de jure status as a sovereign nation-state depends on American military protection and support."
This may be the reason why Liu, who is an associate professor at the Yale-NUS College in Singapore, is in places less than fully enthusiastic about Taiwan's gay scene, and certainly about what he calls "the Taiwanese independence project," despite his admission that Taiwan has created "a greater civic space" than anywhere else in the region for gay concerns in general.
Queer Marxism in Two Chinas, then, is a comprehensive but fundamentally paradoxical book that may end up flattering and infuriating Taiwanese readers in approximately equal measure.
Publication Notes
Publication Notes
Queer Marxism in Two Chinas
By Petrus Liu
244 pages
Duke University Press
Softback: US
Comments will be moderated. Keep comments relevant to the article. Remarks containing abusive and obscene language, personal attacks of any kind or promotion will be removed and the user banned. Final decision will be at the discretion of the Taipei Times.