Art exhibition listings
This Saturday is the opening of Smart Landscapes (智慧風景), a solo exhibition by Danish artist Mikkel Carl at Taipei's Caves Art Center. The exhibition marks Carl's debut show in Taiwan and will showcase works from his anodized titanium series — i.e. paintings on titanium sheets. Carl's interests in industrial design, fashion and pop culture are all evident in his artwork which is bold and rebellious. A lot of the paintings in the series are blotchy and pigmented. They appear futuristic but are also strangely reminiscent of a lost era of when inkjet printers were first invented.
■ Caves Art Center (敦煌藝術中心), 91, Fujin St, Taipei City (台北市富錦街91號), tel: (02) 2718-2091. Open daily from 11am to 7pm
■ Opening reception is Saturday, 3pm. Until Aug. 7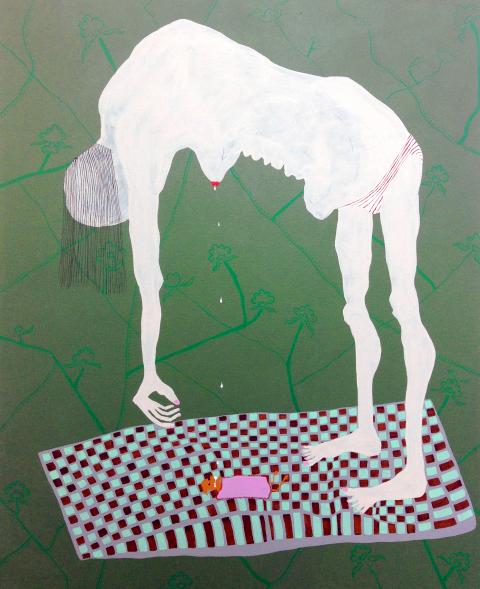 Thordis Adalstinsdottir, Hot Yoga Self Portrait (2016).
Photo courtesy of Nunu Fine Art
"Art and design hub" is not what normally comes to mind when thinking of Israel, but the country of 8 million by the Mediterranean Sea is slowly seeking to change this. On display at Taipei's Songshan Cultural and Creative Park is Creative Roughness: Contemporary Israeli Design, an exhibition showcasing the works of 45 Israeli designers, including Michael Tsinovsky's coffee tables inspired by Arabic motifs, and wooden lamps designed by Studio Vayehi. The emphasis of many of these designers and design studios is on using local materials. A lot of the furniture also blends various influences, including Jewish and Arabic, while still managing to be sleek, minimalistic and industrial — all of which is a testament to the country's diversity.
Remember having to memorize how many milliliters there are in a liter in elementary school? As if that weren't boring enough, if you were like me and attended international schools, chances are you had to learn both metric and imperial systems, too. Well, no exhibition makes learning about units of measurement more appealing than the traveling exhibition from Tokyo, Measuring: This Much, That Much, How Much?, which is currently making a stop at Songshan Cultural and Creative Park. The exhibition includes a number of interactive displays including one that allows visitors to use their hand as a unit of measurement, which is then translated into a fruit of a similar size. Each display forces the viewer to give second thought to aspects of everyday life that we normally take for granted, and in the process, enabling us to better understand the way in which we structure and interpret the physical world.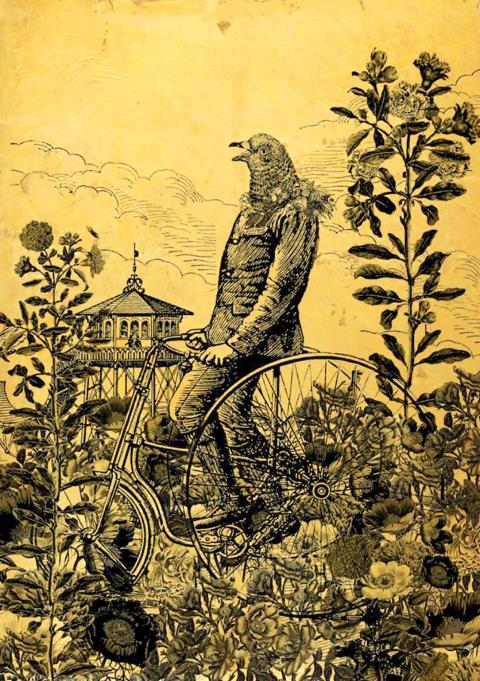 Huang Chih-cheng, Garderner 24 (2016).
Photo courtesy of Telling Arts
■ Songshan Cultural and Creative Park (松山文創園區), 133, Guangfu S Rd, Taipti City (台北市光復南路133號), tel: (02) 2765-1388. Open daily from 9am to 6pm
■ Admission to Creative Roughness is free. Until Aug 14.
■ General admission to Measuring is NT$280. Until Sept. 16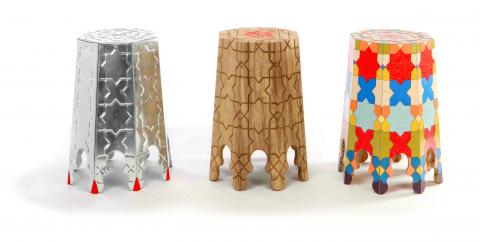 Coffee tables by Israeli designer Michael Tsinovsky.
Photo courtesy of DDG
Un Nomade (「房」特刊) is a joint exhibition organized by Telling Arts (疊藝術) and held at b.LAB in Taichung featuring the works of three artists that deal with the concepts of nomadism, identity and other fluid concepts. Taiwanese artist Huang Chih-cheng (黃至正) uses gold foil to represent the fragility and ephemeral nature of life. The part-human, part-pigeon figures he depicts alludes to the interconnectedness between human beings and their natural surroundings. The birds also symbolize freedom, as birds usually do. Malaysian artist Wong Xiang-Yi's (黃向藝) delicate pieces of artwork created by ink on silk are influenced by her travels to Hong Kong and Taiwan, and her love for manga comics. Feminism is a predominant theme in her work, as well as the idea of gender fluidity. Finally, the Malaysian-Taiwanese artist who goes by the name Cindy fuses her dual identity into her drawings of iconic consumer and pop culture images she saw while growing up.
■ b. LAB (基礎實驗), 2F, 76, Chaoma Rd, Taichung City (台中市朝馬路76號2樓), tel: (04) 2254-0778. Open daily from 10am to 6pm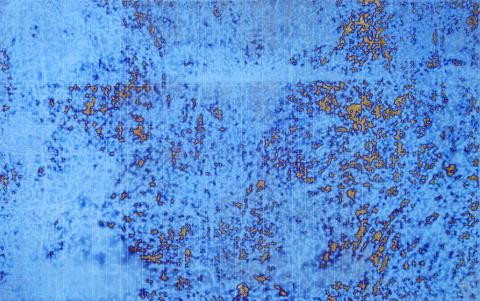 Mikkel Carl, Untitled (2016).
Photo courtesy of Caves Art Center
■ Until Aug. 28
The New York-based Icelandic artist Thordis Adalsteinsdottir has her first solo exhibition in Taiwan this month. Other Voices, Other Rooms (別的聲音,別的房間) opens on Saturday at Taipei's Nunu Fine Art. The exhibition title is derived from Truman Capote's 1948 gothic novel of the same name. Set in the American south, it follows the journey of an effeminate 13-year-old boy as he goes to live with his estranged father, meeting a slew of characters, including a transvestite and a specter, along the way. Capote's characters are brought to life in Adalsteinsdottir's paintings which depict ghastly, boney figures exhibiting raw human emotions such as lust and despair. Her paintings are more fantastical than realistic, mapping the subconsciousness of the boy's mind, rather than his actual physical journey. Be forewarned though: this exhibition is not for the faint-hearted.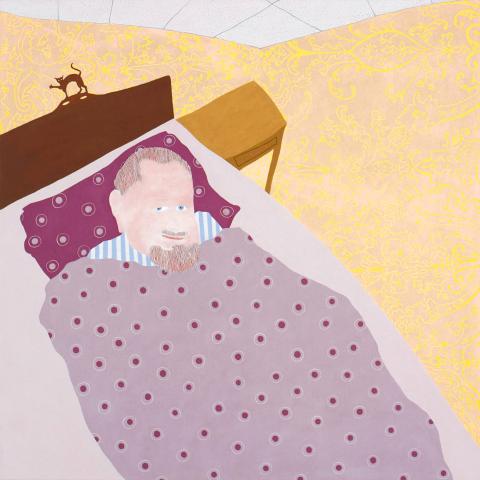 Thordis Adalsteinsdottir, Man Sleeping (2012).
Photo courtesy of Nunu Fine Art
■ Nunu Fine Art (路由藝術), 5, Ln 67, Jinshan S Rd Sec 1, Taipei City (台北市金山南路1段67巷5號), tel: (02) 3322-6207. Open Wednesdays to Sundays from noon to 7pm
■ Opening reception is Saturday, 3pm. Until Aug. 31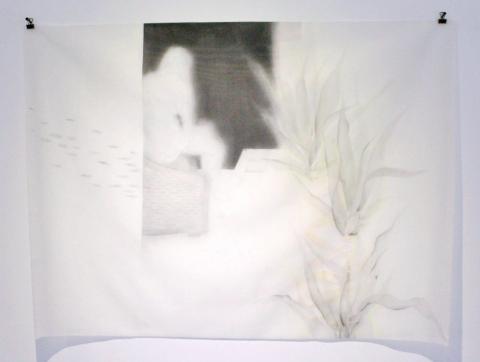 Wong Xiangyi, Summer Turn to Fall 2 (2015).
Photo courtesy of Telling Arts
There seems to be a fair number of international artists exhibiting in Taiwan this weekend. Currently on display at TKG+ Projects is Brothers (兄弟), a solo exhibition comprising of video, light and sound installations by Japanese artist Tadasu Takamine. After the earthquake and tsunami in March 2011, Takamine's work has focused on portraying the Japanese collective subconsciousness. The idea that there is something in universe that's greater than us, and the view of the earth as an omnipotent force, are both evident in his artwork.
■ TKG+ Projects, B1, 15, Ln 548, Ruiguang Rd, Taipei City (台北市瑞光路548巷15號B1), tel: (02) 2659-0798. Open Tuesdays to Sundays from 11am to 7pm
■ Until Sept. 11
Tadasu Takamine, Brothers - Synesthesia (2016).
Photo courtesy of TKG+ projects
Comments will be moderated. Keep comments relevant to the article. Remarks containing abusive and obscene language, personal attacks of any kind or promotion will be removed and the user banned. Final decision will be at the discretion of the Taipei Times.